IQ Robots project has been closed down due to technical imbalance
Incredible news – IQ Option presents service for creating and using binary options robots – IQ Robots. If you have experienced trading on IQoption, you will associate them with fast execution and an excellent trading platform. IQoption is a regulated binary options broker offering a free demo account, a minimum deposit of $10 and bets starting from $1. You can read the full review of IQoption here;
Until now, most binary options brokers' platforms did not allow creation of automated trading systems. This led to binary options being offered by Metatrader 4 brokers using various binary options plugins. This made it possible for the creation of Expert Advisors; using the MQL4 language,to trade binary options. This had several limitations, for instance, EAs trading 60 seconds binary options are disallowed by most MT4 brokers.
Given that third party robots are not compatible with the IQoption trading platform, IQoption has implemented trading with robots on its own platform for free with no limitations.
IQ Robots Features
IQ Robots platform is completely open and free.
Constructor – There are simple and complicated constructors for creating robots.
Each parameter can be tested on historical quotes without risk.
Successful robots created by users automatically get on the general list of robots.
Easy to use
IQ Robots platform currently available in Russian and English language
There are three ways to get trading robots on Robots.IQoption; choosing from the robots catalog, creating a robot using the wizard and creating a robot using the constructor. We will look at each of these options.
IQoption Robot Catalog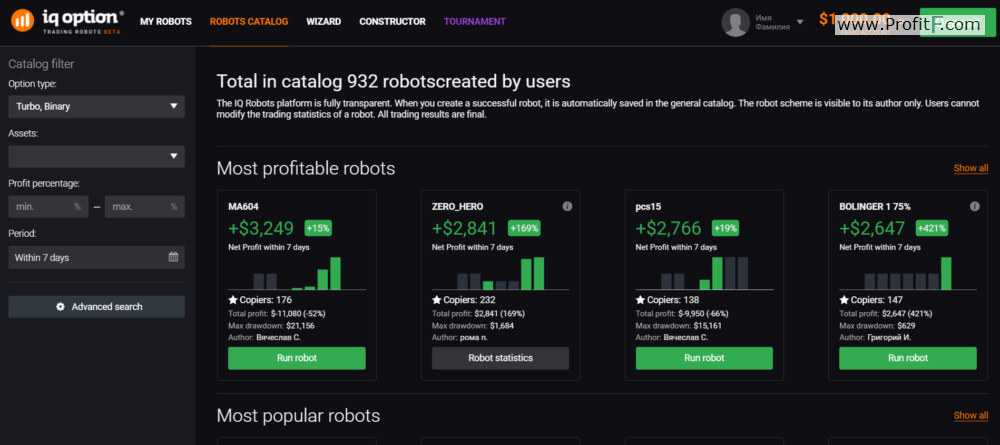 In Robots-IqOption catalog you can search robots using "Catalog Filter"…See Most profitable robots. Most popular robots
Once a robot is created by a user on Robots.IQoption, it is available for all in the robot catalog. However, only the creator can see modify the robot algorithm. Robots in the catalog are categorized into; the most profitable and the most popular. One can peruse the robots available and select one or more on the basis of profit accumulated, percentage return, and drawdown.

Figure; Robots.IQoption Robot Catalogue
One can also filter the robots further by looking at the robots' performance within a specified period of time e.g. 24hours, 7 days, 30 days etc. More filtering in terms of asset, minimum profit percentage, and whether turbo or binary (turbo options have an expiry period of 5 minutes and below while binary option have an expiry of above 5 minutes). You can also use the advanced search button for further filtering.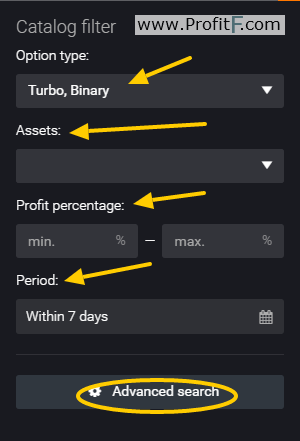 Figure; Robots.IQoption Catalog Filter
After finding a suitable robot, the run robot button allows one either to launch the robot on a real/demo account or test it first. The platform allows you to either use the creators recommended settings or key in your own. You can choose your own asset, transaction amount and amount allocated for trading. However, by using your own settings, your results may differ form those of the creator. After putting in the preferred setting you can either choose to run the robot or test it; it is recommended to test first especially is you selected different settings from those of the creator.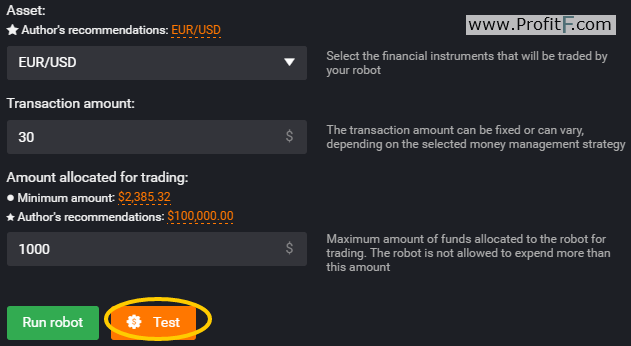 Figure; Robots.IQoption Robot Settings
Backtesting of the trading robots is one of the most important feature of IQoption-trading with robots. Before implementing a strategy on a real account, you can now test it first instead of taking weeks or months gathering statistics from demo trading.
During backtesting; you can also use your own custom period in which the robot will be tested. Below is a quick test of one of the robots in the catalog using my own settings;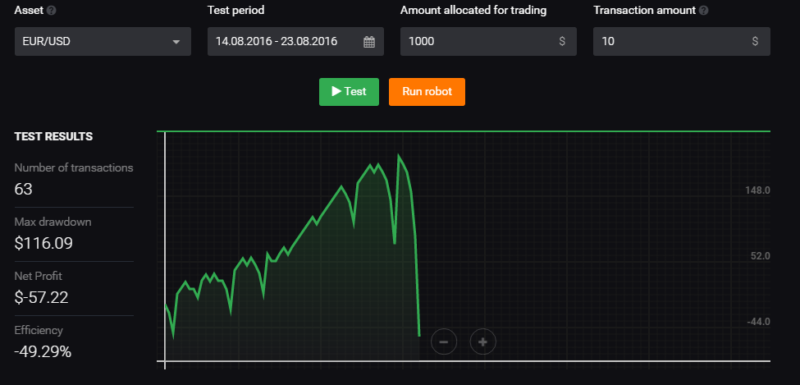 Figure; Robots.IQoption Backtester
Robots.IQoption backtester also shows more statistics on the backtests plus a list of all transactions done by the robot during the backtest.

Figure; Robots.IQoption Backtesting Statistics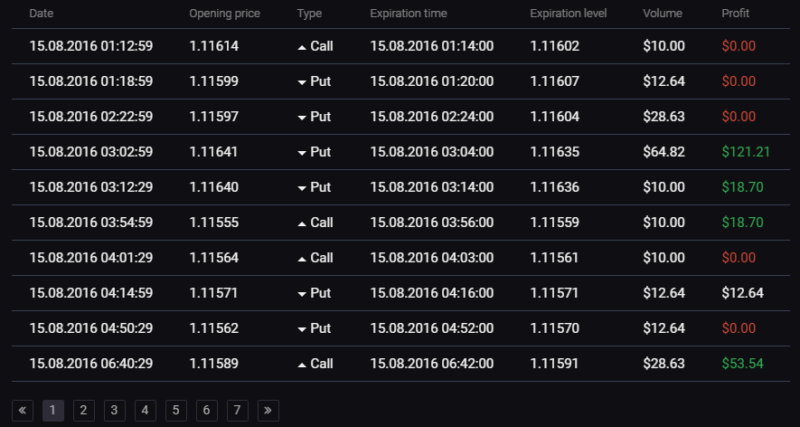 Figure; Robots.IQoption Backtester Trading Results
Robots.IQoption also gives you control of the robots you select both on a live account and on the backtester. It does this by allowing you to place a profit target, loss limit and the maximum number of consecutive losing trades. Once one of these three is reached, the robot stops trading until you activate it again or discard it.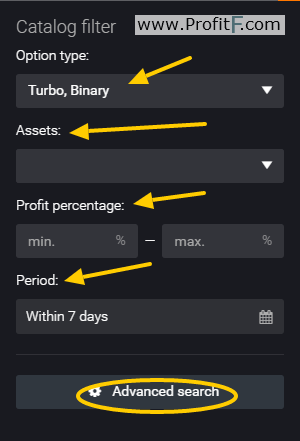 Figure; Robots.IQoption Risk Management
After finding a good robot and having satisfactory backtesting results, you can then run the robot on either a demo account or a real account. You can run several robots at the same time with the option of stopping or deleting them when you need to. Your selected robots will be in the 'My Robots' section of Robots.IQoption.
Figure; Robots.IQoption Selected Trading Robots section
Clicking on the orange-circled button on the figure above will open more statistics on the highlighted robot as shown below;
Figure; Robots.IQoption Robot Statistics
Robots.IQoption Wizard
Wizard – tool to create a Binary robot for beginners
Robots.IQoption has created a wizard to enable beginners to create their own robots. The best place to start before using the wizard is watching an introductory video provided by Robots.IQoption on how to use it. Using the wizard, you can choose from ready made strategies or create your own strategy from scratch. Below are examples of ready made strategies on Robots.IQoption;
Figure; Robots.IQoption Ready Made Robots in the Wizard section
Creating your own strategy is done by the use of operators 'AND' and 'OR'. One can choose various signals from the inbuilt indicators and combine them with 'AND' and 'OR' to form a series of rules that lead to opening of a position. For instance the moving average has the following conditions that can be used to create a robot;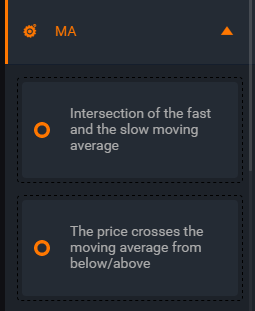 Figure; Moving Average Conditions to create a robot using Robots.IQoption Wizard
You can combine conditions from several indicators and use some as filters to create your robot algorithm. This step is followed by choosing the money management method to be used by the robot. The money management methods available are; Percentage of balance, martingale, reinvestment of profits and fixed amount. After this, one can set the settings of the robot in terms of asset, transaction amount etc. and proceed to testing before publishing the robot.
Constructor Robots.IQoption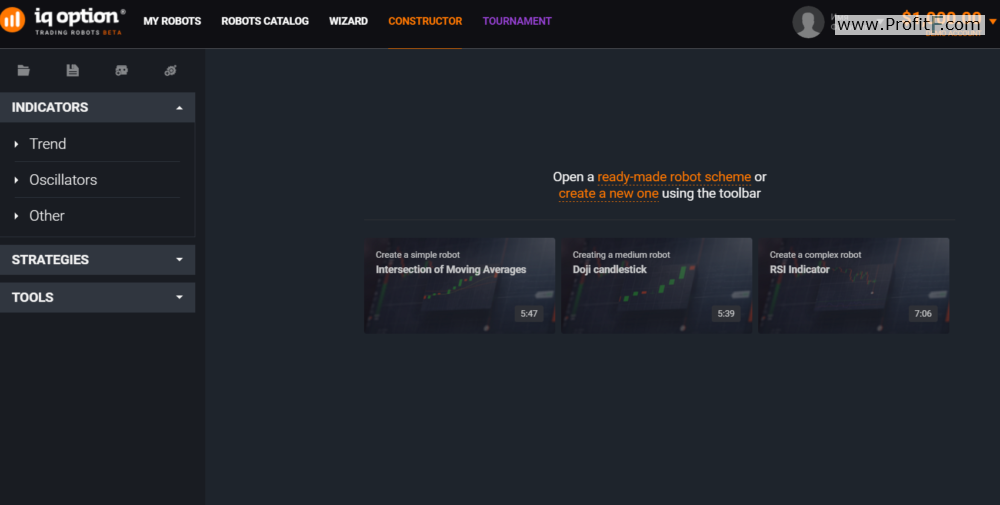 Constructor – tool to create a Binary robot for for experienced traders. Trader able to create your own algorithmic
The constructor on Robots.IQoption is built for experienced traders who wish to build their trading robots. Again, before starting on the constructor, it is advisable to view the example videos available on how to create various robots using the constructor. Building using the constructor entails obtaining candlestick or tick value and combining it with several signals and filters to create a trading algorithm. More operators and functions are available when using the constructor. The constructor can be used to create a more complex robot as compared to the wizard. Below are the various resources available for use in the constructor;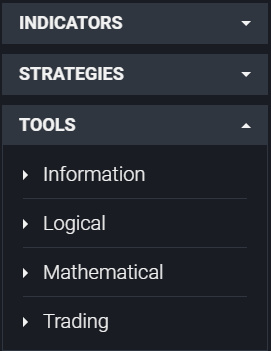 Figure; Resources Available in Robots.IQoption's Constructor
IQ Robots Videos:
Promo Video about "IQ Robots":
Video –  

How to Create a IQ binary Bot in constructor (based on RSI indicator):
Video –  

How to Create a IQ binary Robot in constructor (based on MA indicator):
Video –  

How to Create a Binary Options Bot in constructor (based on Doji candle):
Video –  

How to Create a IQ binary Bot in constructor (based on

ready made signals):
IQ Robots Tournament
Robots.IQoption has a robot trading tournament for user-created robots trading on a real account. The tournament is held within a period of one month in which the robots have to make a minimum of 20 transactions. At the end of the competition period, the robots are evaluated in terms of efficiency and profits with the winners in each category getting $2000, $1000, and $500 for 1st, 2nd and 3rd place respectively.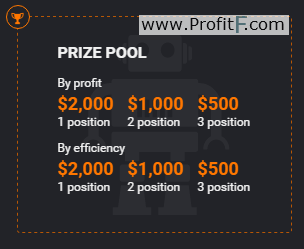 IQ Robots 

Tournament Rules

:
Duration

:

16 august 03:00

to

16 september 03:00

The tournament is open for all user-created robots that trade on a real account during the tournament time period.
The robot must close at least 20 transactions over the entire period of the tournament.
The robots are evaluated in two categories: by profit and by efficiency.
Join to IQ Robots Tournament >>
Robots.IQoption  Pros and Cons
Pros
No programming knowledge is required to create robots
One can copy trades from available robots
Backtesting using historical data is now possible
Full control of the robots with options to set profit targets and loss limits
IQoption is free
IQoption is available in Russian and English
Cons
Not available to US traders
Creating complex robots requires an advanced level of skill
Conclusion
Creating of an automated trading system to trade binary options has never been easy until the launch of Robots.IQoption. Everyone; from beginners to advanced level creators can participate for free to create their on binary options trading robots. A growing number of numerous robots is also available for copying with full control of the risk involved by copying the robots.
---
Please post comment/review about IQRobots, if you have any experience with this Service/Platform!