IQ option Overview
  IQ Option (official website) is unquestionably one of the first brokers you may think of, when it comes to selecting a really good and proficient binary options broker. It can grant you an unsurpassed and unforgettable trading experience along with simplicity. If you desire to learn more, then our review is for you.
Basically, IQ Option does not hide any important information from its customers or just site visitors. It is known that the company was set up in 2013. Even though it may seem a young age for a company, IQ Option has proved its proficiency along with winning some rewards.
It is significant to mention the variety of languages that this broker supports. Well, their list is impressive. IQ Option supports these languages that include: English, German, Italian, French, Swedish, Russian, Korean, Chinese, Portuguese, Turkish, Indonesian and Spanish. Unfortunately, IQ Option does not accept clients from the US.
Regulation
As for the regulation, it is good to know that IQ Option is regulated by CySEC. This makes IQ Option even more trustworthy.
Quotes are provided to you by Thomson Reuters, the world's most reliable leading source of intelligent information for businesses and professionals
IQ Option Minimum deposit 
In IQ Option traders can open real account with just $10
Demo in "IQ Option"
If you need time for consideration whether choosing this broker or not, demo account is here to end your uncertainty. Demo account is available for free, with $1000 virtual money. We are sure that trading without using real money is nice, if you want to test out the trading platform IQ Option offers.
Trading Platform
IQ Option understands that creating their own platform was a bright decision, as copying others simply kills imagination and sense of innovation. That is why IQ option software is top-notch, demonstrating great performance in a couple with a nice and user-friendly interface.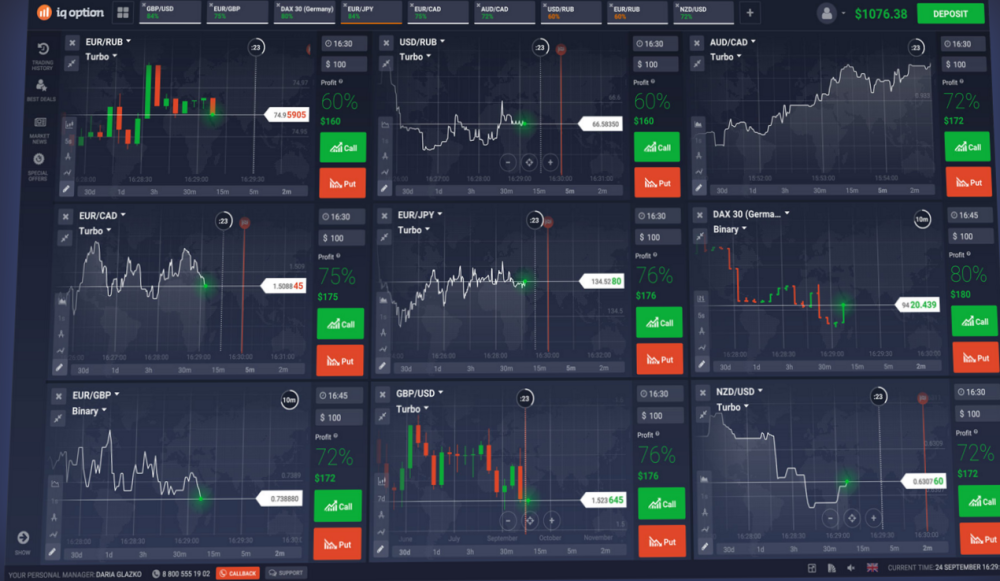 If you think that you are not proficient enough to trade binary options, then forget about it. Why? IQ Option trading platform v4 is so simple and intuitive, so that you do not have to be a pro binary options trader to master it. (YouTube video about  IQ option Trading platform 4.0)
Periods for candlesticks of up to a month
Indicators for technical analysis
Bar charts
and much more…
This trading platform allows you to trade simple binary options of multiple assets like currencies, indices, equities and turbo options as well.
As one of the attractive features, you do need to sit in front of your PC all the time. IQ Option has developed a good mobile trading. Their platform has been designed exactly for Android and IOS devices. Go to the AppStore or GooglePlay if you want to install it.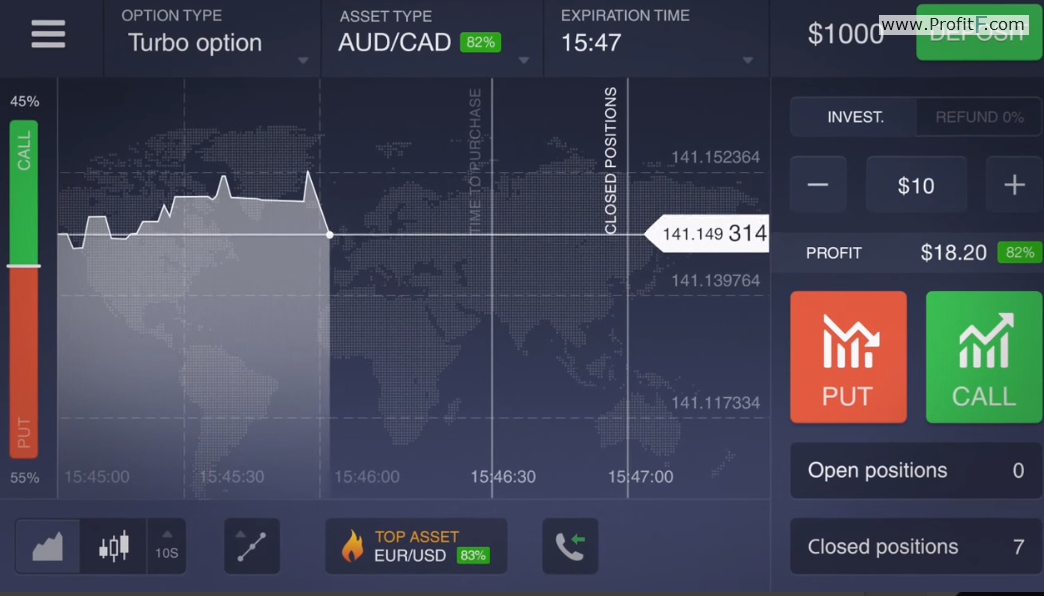 Download Android Mobile application   /  Download iOS application
Deposit and withdrawal
A good broker always cares about the deposit and withdrawal system. Withdrawals are made in the same way as the deposits. However, you cannot withdraw using wire transfers. The exact time your withdrawal request needs to be processed depends on which account Real or VIP you have (read more about IQ Option VIP account). Deposit/withdrawal methods: Credit Card, Wire Transfer, Skrill, Qiwi, WebMoney, CashU, iDeal, Fasapay, Neteller, Boleto
Bonuses
Now, Iqoption doesn't provide any bonuses, like any othe CySec broker
IQ Option – Scam?
IQ Option binary options broker is licensed by CySEC with many satisfied customers. Has user-friendly Trading platform and fast withdrawal. So, our verdict  IQOPTION – is NOT scam! (99%)
Registration
"IQ option" Account application is not an interview, but a formal procedure you normally go through. That is why, at IQ Option your registration process is not complicated at all and you do not have to give tons of personal information to this broker. Such adequate conditions is another "yes" why this broker should be your choice.
Customer Support
IQ option Support available via:
United Kingdom +44 20 8068 0760 (London)
Russia +7 800 333 47 55 (Toll-free)
Brazil +55 61 3550 0929 (Brasília)
Portugal +351 308 807 766
France +33 184 887 636 (Paris)
Germany +49 30 255558698 (Berlin)
+49 80 07237957 (Toll-free)
Singapore +65 3163 7458
Spain +34 91 123 87 48 (Madrid)
Italy +39 06 9480 2920 (Rome)
India +91 000 800 040 13 61 (Toll-free)
Thailand +66 2 104 07 95 (Bangkok)
Australia +61 261 452 936 (Canberra)
Austria +43 7 202 30 905
South Africa +27 87 550 21 61
Conclusion
IQ Option can serve you quite well. You undoubtedly can benefit from this mutual partnership. With a colossal amount of assets available, decent trading conditions and one of the most advanced trading platforms, IQ Option is unique in its own way. Weighing all that, you may consider IQ Option your primary choice and your future money maker.
Traders, What you think about "IQOption" ?
Your opinion is VERY important to us. Please write your review/feedback (use tab "Comments" in top of the page)