Binary.com is probably one of the most unique binary options trading platform that without a doubt separates the trading platform from the rest. Unlike most other binary options trading platform, Binary.com uses a proprietary trading platform that is browser based and allows traders a simple approach to trading binary options. However, there is a bit of a learning curve involved when it comes to using the Binary.com trading platform. In this article we take a detailed look into the Binary.com trading platform so the reader gets a better understanding of how to trade with Binary.com ( see review of Binary.com here >>)
Binary.com Trading Platform Interface
After you create your account and login, the Binary.com trading interface shows you a main screen that is divided into the main section which includes:
My Account
Cashier
Resources
Charting
From here, traders can choose how or where they want to navigate next. Below is a quick summary of the various options available to the trader at Binary.com
Binary.com Trading Interface
My Account: Under the 'My Account' section traders can choose from the following categories:
Portfolio
Profit Table
Account Statement
Password modification
Trade settings
Each of the above categories is quite self explanatory and can be used by the trader to access their trading history, open trades, transactions and other details.
Cashier: The Cashier section allows traders to deposit or withdraw funds to their Binary.com trading account.
Resources: The Resources section shows traders a snapshot of the various assets available to trade including trade details such as the typical payouts, trading times, as well as a special filter that shows the list of assets available to trade and their payouts.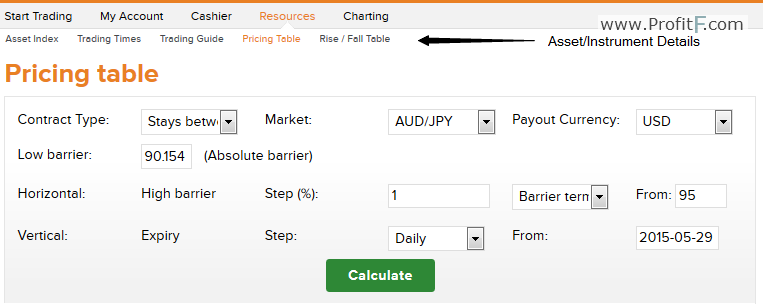 Binary.com – Asset/Instrument Details
Trading with Binary.com
The trading interface at Binary.com can be accessed by clicking on 'Starting Trading' and selecting from the markets that are available which include:
Forex
Commodities
Stocks
Indices
Randoms
Smart markets
After selecting a market of your choice, traders can then trade the various types of contracts that are available which include:
Up/Down
Touch/No Touch
In/Out
Based on the binary options type that a trader selects, the payouts vary. The picture below gives a snapshot.
Binary.com – Trading
After a trader selects their preferred markets and type of contract, they can they choose from the various instruments available. Further options include the ability to select the start time, duration of the contract and the amount they wish to invest. Clicking on the 'Get Prices' button shows the payouts that are available based on the user's selection and then opens a small chart with the trade details as shown in the next picture below.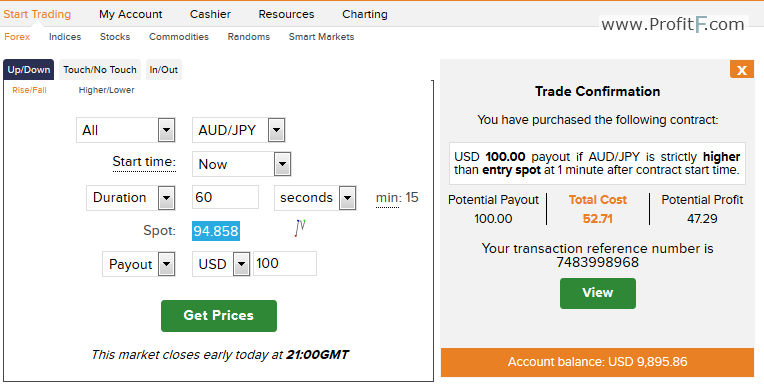 Binary.com – Trading Interface, Placing a trade
Binary.com – Charting Interface
Binary.com also offers a stand-alone charting interface which can be accessed by clicking on the 'Charting' section from the main navigation section.
Binary.com – Charting Interface
After selecting 'Charting' traders can then choose the type of charting interface which includes:
Java Charts (Requires Download): This is a downloadable charting interface that comes with additional functions such as drawing and trading indicators. However, traders will not be able to place any trades or binary options contracts directly from the charts.
Live Charts (Browser Based): This is a basic charting interface that allows traders to view the chart for their selected asset or instrument. It is very basic and does not offer any additional functionality such as drawing tools or the ability to add any indicators.
Light Charts (Browser Based): This is the most advanced browser based charting interface and also offers functionality in terms of adding indicators to the charts, navigating between different time frames. The picture below shows the Light charts in action. Also you can use Advanced Live forex chart on our website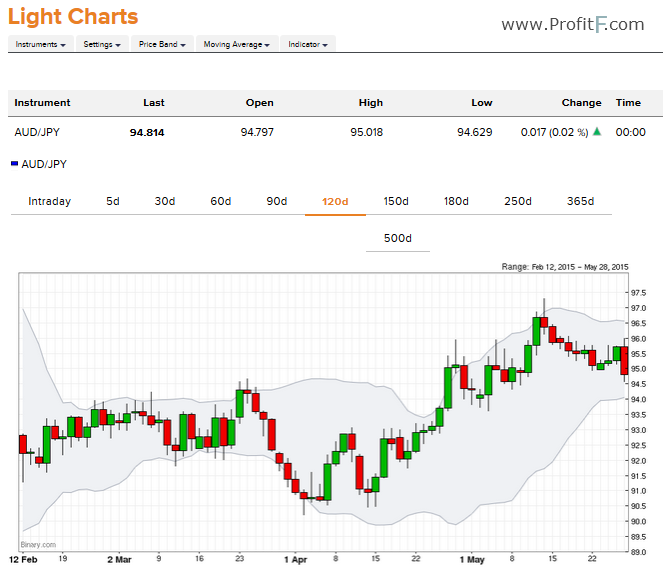 Binary.com – Light Charts
Binary.com – Trading Platform conclusion
Overall, we find the Binary.com trading platform to be fairly advanced offering a good selection of charting options. The main drawback being that trading from the charts is not possible and therefore traders will have to switch between the different windows. Binary.com also does not offer any mobile trading apps and it is not compatible for mobile browsers either.
However, considering the unique binary options contracts that Binary.com offers, traders will be largely satisfied with the functionality that comes with Binary.com
Open account with Binary.com broker