RISK WARNING
The products offered via this website include binary options, contracts for difference ("CFDs") and other complex derivatives. Trading binary options may not be suitable for everyone. Trading CFDs carries a high level of risk since leverage can work both to your advantage and disadvantage. As a result, the products offered on this website may not be suitable for all investors because of the risk of losing all of your invested capital. You should never invest money that you cannot afford to lose, and never trade with borrowed money. Before trading in the complex products offered, please be sure to understand the risks involved and learn about Responsible Trading.
Binary.com – Binary.com boasts to be one of the earliest brokers, established in 1999. It was first established as a gambling entity, hence, it is mostly licensed and regulated by gambling regulation bodies. Binary.com regulation includes; MFSA (Malta Financial Services Authority), IOM (Isle of Man Gambling Supervision Commission) and the UK Gambling Commission. Binary.com also boasts offices in Malta, Malaysia and Japan.
Binary.com Trading Conditions
Binary.com has very flexible trading conditions putting the client in control of most tradable variables. They have three option types;
Up/down; The trader selects whether the price of the option will be above the entry point or below the entry point at expiration.
Touch/no-touch; The trader selects a barrier/price and predicts whether the option will touch or not touch that barrier before the expiration time.
Stay in/ Goes Out; In this option, the trader has to select two barriers/prices; a high barrier and a low barrier and predict whether the price will stay within the two barriers or break-out.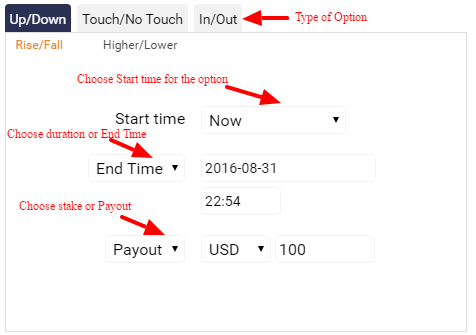 Figure; Binary.com Trading Conditions
Unlike most binary options brokers; binary.com lets you either choose the expiration period (duration), or the end time of the option. One is also able to select the starting time and date of the option as well. More flexibility is given to the trader by enabling the choice of either stating the stake/bet size or the preferred payout.
Binary.com Assets
A wide range of assets is available on Binarycom ranging from Forex pairs, Indices, Commodities and Stocks. These can also be easily selected from the trading platform. One can also view the type of option available for each asset as well as available durations and end times.

Figure; Assets Availability Details
One can also see the closing time and opening time of assets available on Binary.com. This is mostly resourceful for stocks and indices since they have different trading times.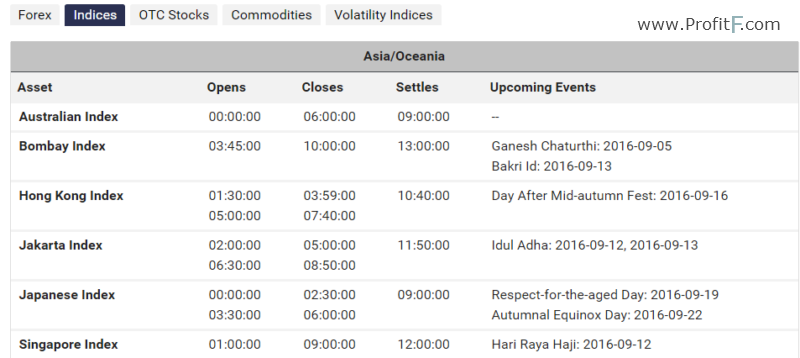 Figure; Assets Open and Close Time Section
Binarycom Trading Platform
Binary.com is has a web-based trading platform very minimal features but easy and convenient to trade on. Below is the binary.com trading platform interface;

Figure; Binary.com Trading Platform Interface
Trades are placed as easily as selecting the preferred trading conditions as explained above in the trading conditions sections and then purchasing the option. The platform auto-calculates and displays the net profit expected as well as the percentage return on investment.
One unique advantage Binary.com has over other binary options brokers is that once a binary options contract is selected; one can read its explanation on how to win or lose before even purchasing the contract. This is very helpful for newbie traders to understand the different option types available.

Figure; Option Contract Explanation
Binary.com also has a detailed historical trades section, giving all the details regarding individual closed trades on the platform as shown below;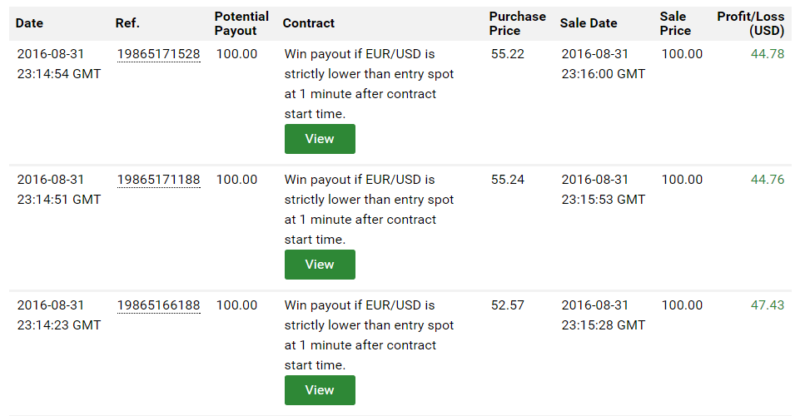 Figure; Binary.com Historical Trades Section
The view button on the historical transactions section opens up more details on a specific transaction including the trade chart at the time of trading. This enables traders to view past trades and learn from mistakes while building on strengths.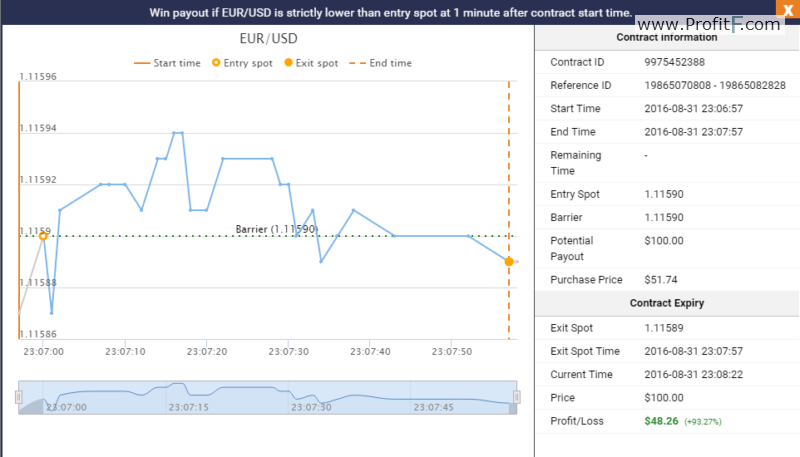 Figure; Binary.com Specific Trade Details
More charting tools can be accessed by using Binary.com's webtrader.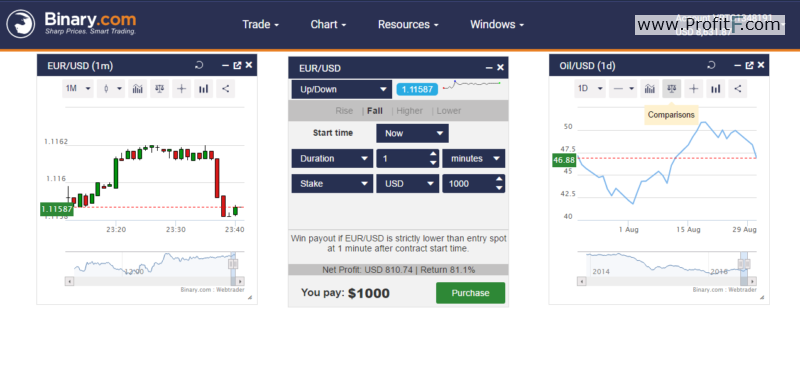 Figure; Binary.com Webtrader
Below are the features of Binary.com Webtrader;
Multiple chart types including; tick, candlestick, OHLC, line, dots, line dot, spline and table.
Multiple chart timeframes.
Multiple indicators including candlestick patterns and studies
Drawing tools
Ability to compare between tow instruments
Chart templates and themes
Ability to directly charts share via social media
Ability to open multiple chart windows
Historical chart data on traded instruments
Read our full  review of Binary.com trading platform
Binary.com Education
Binary.com has huge learning resources ranging from webinars, ebooks, trading videos, newbie section, daily and weekly market updates, and a commodities trading corner which also has resourceful videos.
Binary.com Shop
A shop is featured on binary.com with paid and free products ranging from applications, apparel, and trading guides.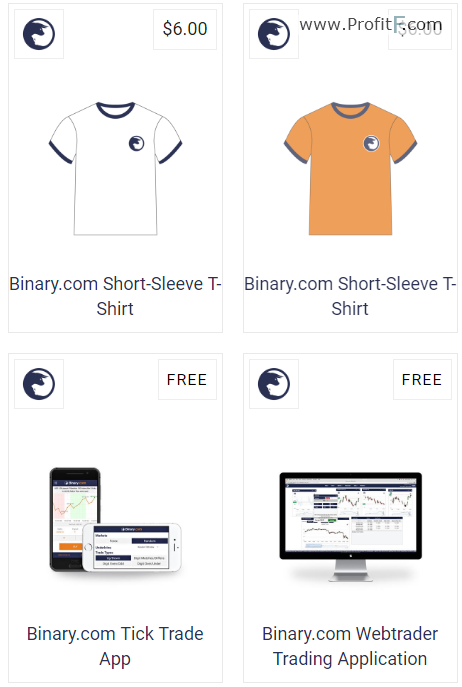 Figure; Binary.com Shop Example Products
Binary.com Awards

Figure; Binary.com Award
BinaryCom Pros and Cons
Pros
Powerful trading platform with multiple features
Different option types
Flexibility in trading conditions
Multiple payment methods
Tick expiration options starting from 5 ticks duration
Online trading account verification
Available in multiple languages
Multiple trading assets
Free demo account
Cons
No bonuses and promotions
No trading tournaments
Associated with gambling
Not available to US traders
Conclusion
Having been founded ahead of most binary options brokers, Binary.com has had a lot of time to innovate and increase its resourcefulness towards traders. From the trading conditions, support and the trading platform; Binary.co exudes excellence.
---
Now, everything seems OK with Binary.com broker.  ProfitF will keep monitoring this broker and update this review if any changes take place.