In our previous article (Types of Forex orders), we wrote about the various order types that can be used. In this article, you will learn about how to place these orders using the MT4 trading platform. This article specifically teaches you the following aspects of order management:
How to place orders
How to manage existing orders
By the end of this article, traders will be able to confidently place different types of orders and as well as manage both pending orders and open trades. But before we begin, let's take a quick look at the MT4 platform for bringing up the order management window.
Placing orders with MT4 – Order Management Window
There are two (four) ways that you can place orders/trade via the MT4 trading platform.
Method 1: Click on the 'New Order' icon on the tool bar, which opens up the MT4 order window.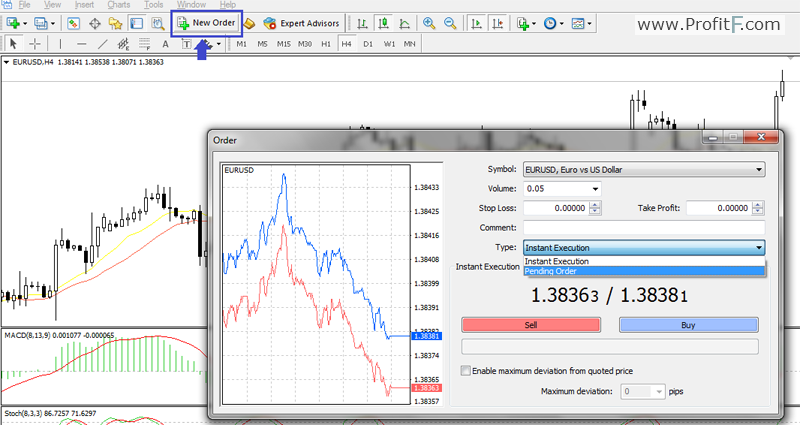 Method 2: Right-click on the chart, select 'Trading' and choose the appropriate selection: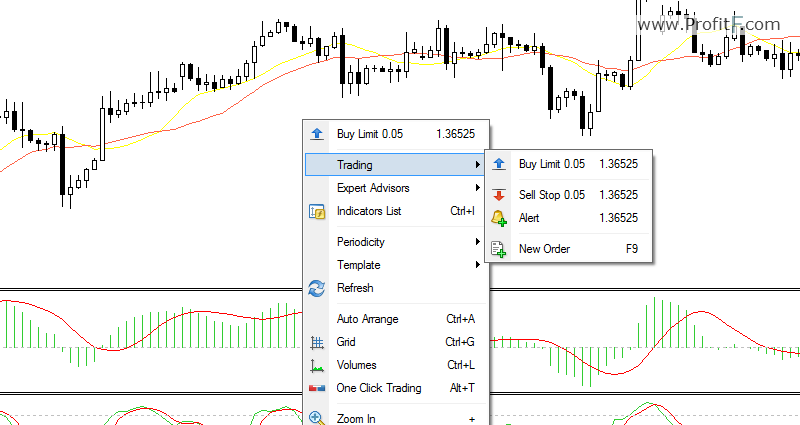 Method 3 is a keyboard shortcut key 'F9' which opens the order window. This is very quick and once you remember the hotkey 'F9' it makes it a lot easier to bring up the order window.
Method 4: And finally, the fourth method is to make use of the MT4 (build 600) 'One Click Trading' feature which displays the Buy/Sell button directly on the top left corner of the chart. To enable this feature, you must first go to Tools>Options>Trade and select 'One Click Trading' When you select this the first time, you will have to accept the terms and conditions before you can make use of this feature. Note that this feature allows you to place orders with just a click and therefore should not be used unless you really know what you are doing.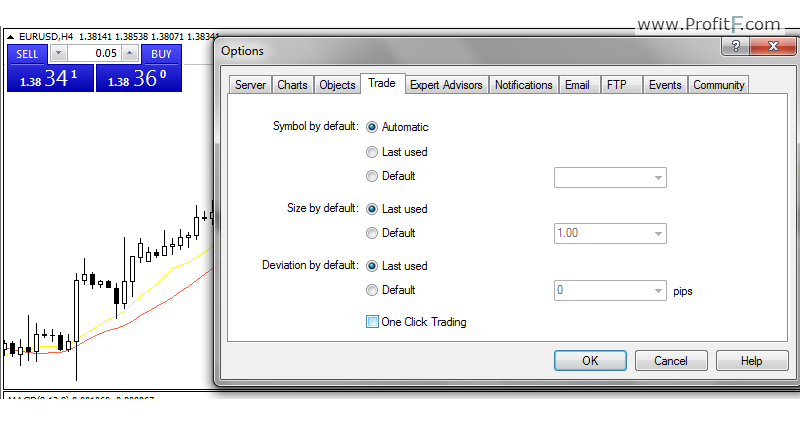 As you might already know, we can place market orders and limit orders. Let's take a look at each of these in detail.
Placing Market Orders with MT4
To place a market order, you can press 'F9' from your keyboard to bring up the order management window. Here, you can select
And click on 'Buy' or 'Sell'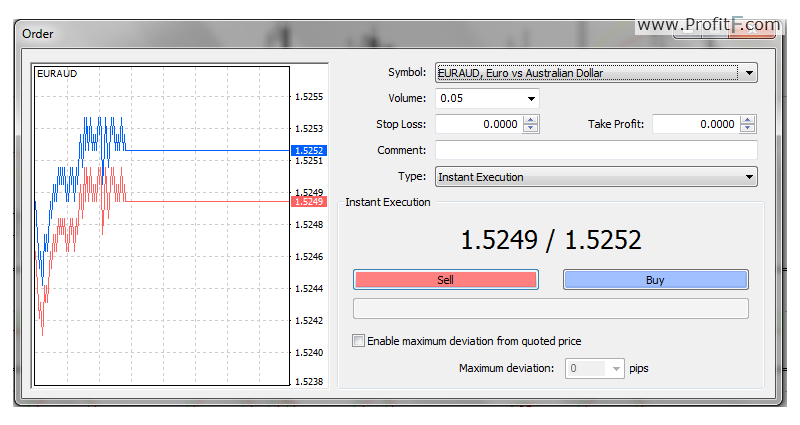 You can also check the 'Enable maximum deviation from quoted price' option and select up to 10 pips deviation from the market quoted price. This ensures that there are no re-quotes or when the market price moves away too much from your price level of interest. Once an order is place, you will see a confirmation message in the order management window.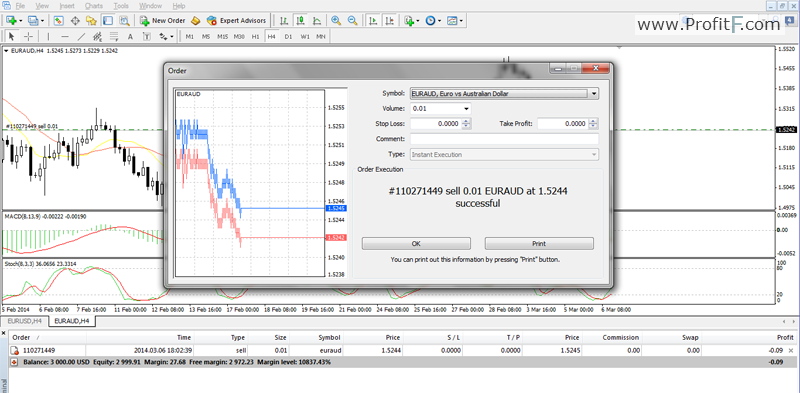 You can also view your executed order in the 'Terminal' section of MT4.
Managing open trades
Open trades can be managed such that you can change the Stop Loss and Take profit levels as well as close your trades partially (if you trade more than 0.01 lots).
To manage open trades, right click on the open trade in the 'Terminal' section of MT4 and select 'Modify or Delete Order' from the menu. This will open up the 'Order management window' which allows you to change the stop loss and target profit levels.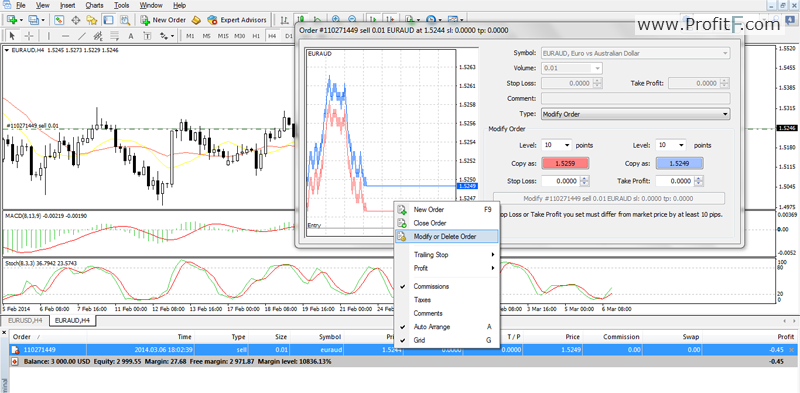 To close an open trade at market order, click on the 'X' next to the open order or right click on the order and select 'Close order' (which works when one-click trading is enabled) which opens the order management window with the option to 'Close' the trade at market.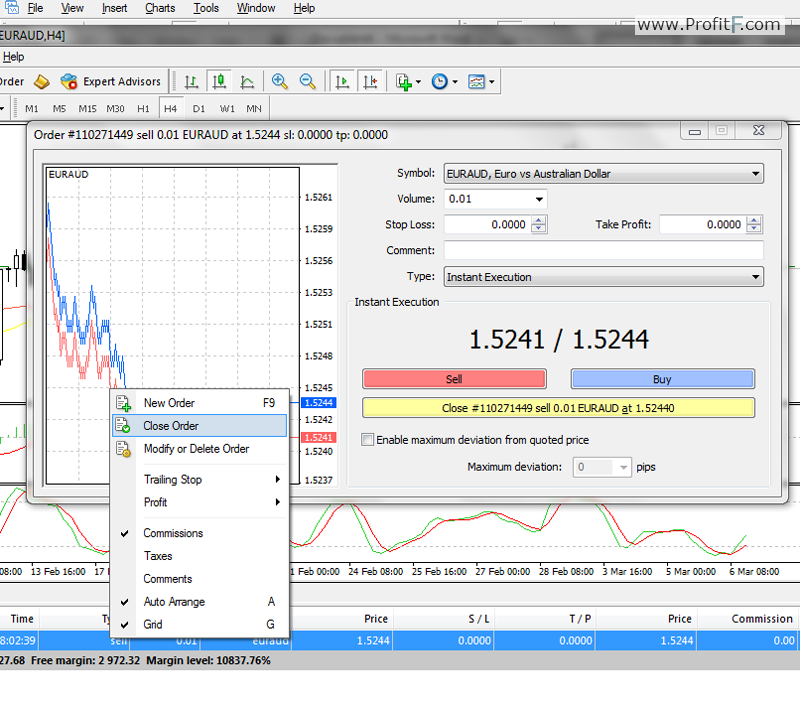 How to place pending orders with MT4:
For example – Placing Limit orders with MT4:
To place pending or limit orders with MT4, follow the same procedure as above and type in the Entry/Stop/Target price. So, you press 'F9' change 'Instant Execution' to 'Pending order' and fill in the price levels. Select Buy or Sell Limit or Stop orders.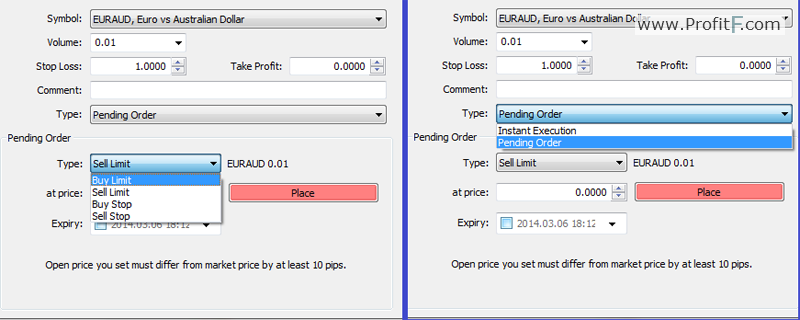 You can also set the expiry time for the limit orders, or leave it unchecked to keep the pending limit order open with no expiry time. Upon successful placement of the limit order, the order management window will show you a confirmation on the screen: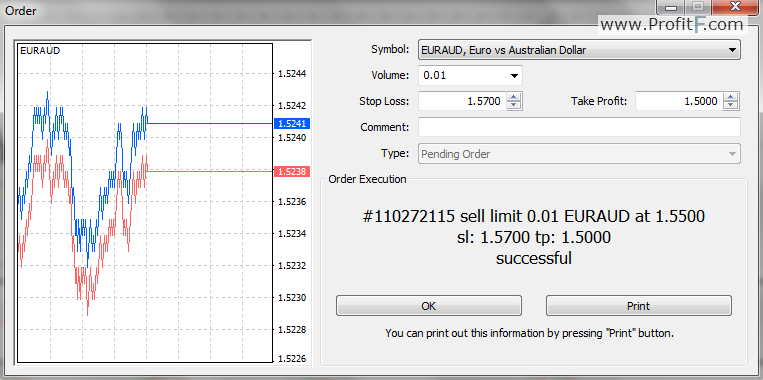 If you want to modify the pending limit order, you can right click on the pending order and click on follow the same procedure mentioned earlier for managing open trades.
As you can see, order management is very simple and easy with the MT4 trading platform. With a bit of practice, traders will be able to manage/place market and limit orders with ease.