CloseOption Review 
CloseOption is a Binary Options trading platform that serves many traders worldwide and is among the earliest binary options platforms. CloseOption's authenticity is approved as time passes, and this broker is committed to providing unique features that help traders profit in the binary options market.
CloseOption Trading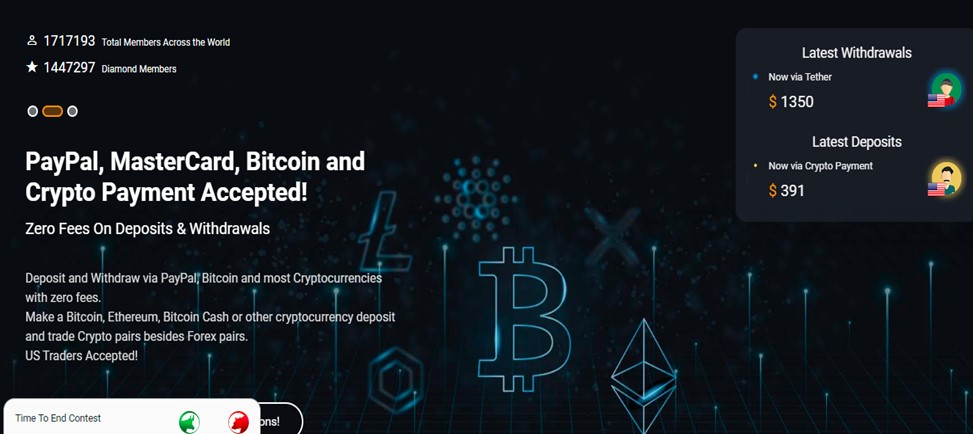 CloseOption offers 30 seconds to one-month trading, and this broker accepts the most used payment options like PayPal, MasterCard, Bitcoin, and other cryptocurrencies. CloseOption not only charges no fees to make a deposit but also has a deposit bonus for some deposit options. The maximum order position is $1000, and the minimum is $1. Furthermore, the maximum amount a trader can deposit in one single transaction is $5000, and the minimum is $5.
 CloseOption Account Types

Demo account: No KYC, free to join, and the trader only needs to enter an email address. Traders can test the platform using a demo account type and gain information about the features in a risk-free trading environment. The features offered in the demo account type are approximately the same as the Real account type.
 Contest account: CloseOption offers a weekly contest, and they giveaway $3000 weekly to the contestants. In the contest account type, traders join and bid against each other, and at the end of the Contest, the traders with the most balance will be ranked, and the $3000 prize pool will be distributed to 20 winners. The contest account type is risk-free; traders can experience semi-live trading and earn money.
Real account: Real account type is like any other platform in the binary options market. The traders can make a profit using analysis tools, and a trader must know technical analysis together with fundamental analysis to succeed. The payout rate in CloseOption is competitive, and the traders can experience the %95 payout rates. In addition, CloseOption offers the minimum trade size of $1 for those scrupulous traders to test and back test.
 CloseOption Deposits and Withdrawals

CloseOption is highly competitive in this area, and they offer many deposit and withdrawal options, including Perfect Money, Web Money, PayPal, MasterCard, Bitcoin, and other cryptocurrencies.
The minimum deposit amount is $5, and the maximum is $5000 in one transaction. The processing time for withdrawal is mostly a few hours to one day, and the processing time for deposits is almost a few minutes.
CloseOption Trading Platform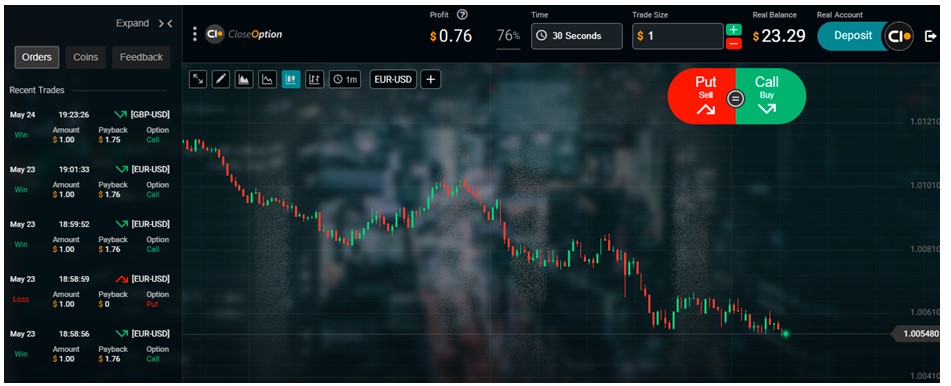 CloseOption is a web-based trading platform, and the trade room is designed for PCs, mobile phones, and tablets. As the newest developments, they have announced that they are also working on their mobile app, which is compatible with both iOS and Android. CloseOption offers trading tools like a bar chart, candlestick chart, and line chart, to name a few, together with analysis tools like Fibonacci lines, horizontal lines, and trend lines, to name a few. For the convenience of traders, they have included all necessary links to other parts of the website, and the traders can access all aspects of the website. In addition, the trader can easily access live support 24/7 while trading.
* The contest account type has a unique and amazing head and tail coin. This coin will double your balance if you win, and the coin is offered only once throughout the Contest.
* Traders have access to the history of the orders by expanding the icon and seeing the live order position they opened.
* An astonishing and beautiful feature is that the trader can design the trade room background, choose among the pictures, set and alter the brightness or opacity, etc.
CloseOption Bonuses/Promotions
 CloseOption is famous for the bonuses, giveaways, and creativity to make trading more engaging. They offer various bonuses and promotions.
 Unconditional Bonuses: as the name suggests, it's unconditional, and all traders will see the gift in their account once a month. This bonus type is unconditional, meaning traders can withdraw or use it for trading.
Deposit bonus: some deposit options in CloseOption have a bonus. Depending on the deposit option, the traders will be given an additional amount for making a deposit.
No fees Contest: they offer no entry fee contest for some contests, so all can join and enjoy trading in a semi-live trading environment.
Affiliate program: traders, especially those who have community, can make money in this promotion, and their commission is pretty competitive.
VIP plans: depending on the amount the trader deposit, they will be ranked in 5 VIP levels. The VIP members can request weekly and monthly cash gifts.
 CloseOption Education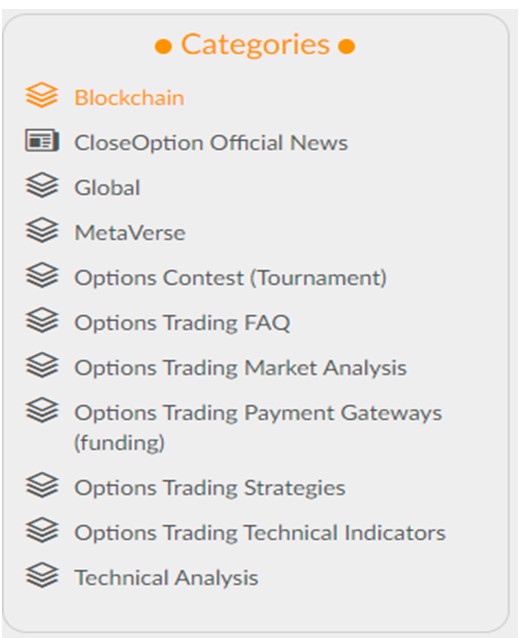 CloseOption blog is a bona fide source of technical and fundamental analysis, and they recently added a section that covers Blockchain, Metaverse, and the new inventions in financial markets.
 Conclusion
CloseOption is a user-friendly binary options broker, and the traders can test this broker by entering their free demo account. CloseOption broker is known chiefly for the competitive payout rates and their weekly and semi-live Contest, where they have a prize pool of $3000. Before entering the real account type, make sure you have read the articles published on CloseOption's Knowledge Base; it will help traders to learn more about binary options and financial markets.