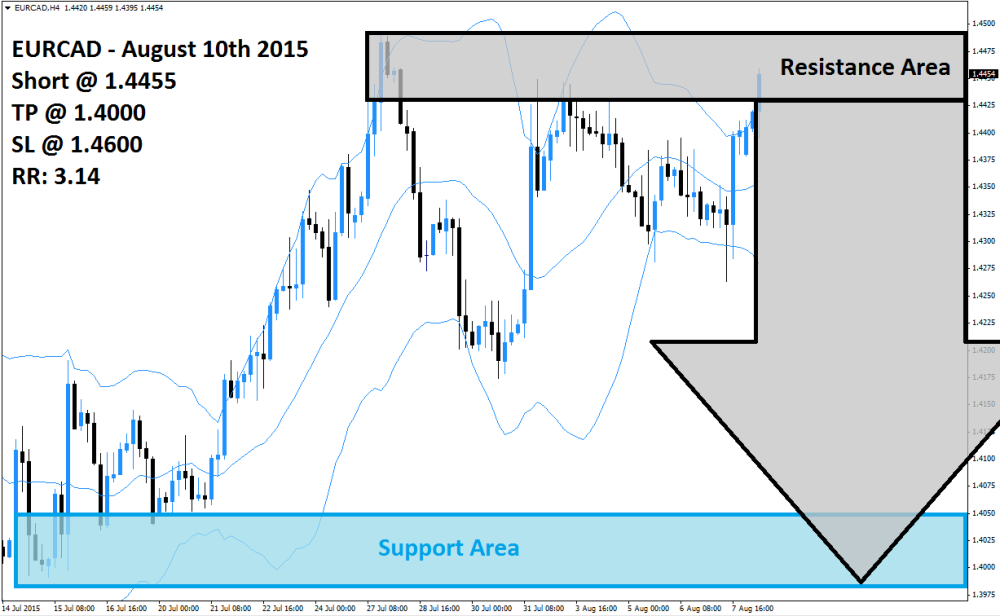 The EURCAD has rallied into its resistance area which is visible in light grey in the above H4 chart. This is the third attempt at a breakout above this level by the EURCAD currency pair. The first attempt was reversed down to the lower band of its Bollinger Band indicator. The second advance resulted in a lower high which was also reversed back to its lower band. Another reversal is expected as a result of the third attempt.
Forex traders may decide to realize floating trading profits inside of a solid resistance area and close long positions which may result in a profit taking sell-off. Price action is currently trading above of the upper band of its Bollinger Band indicator. A breakdown below the middle band is expected to further increase selling pressure in this currency pair from where the EURCAD will be able to sell-off into its support area marked in light blue.
Forex traders are recommended to seek short positions at 1.4455 and above which will position them to profit from a sell-off in the EURCAD. Conservative forex traders should wait for price action to break down below the middle band of its Bollinger Band Indicator as this would result in a change of momentum to bearish. A take profit target of 1.4000 has been selected for a potential trading profit of 455 pips.
Forex traders should protect this trade with a stop loss level at 1.4600 for a potential trading loss of 145 pips which will result in a Risk-Reward (RR) ratio of 3.14.
EURCAD
Short @ 1.4455
TP @ 1.4000
SL @ 1.4600
RR: 3.14