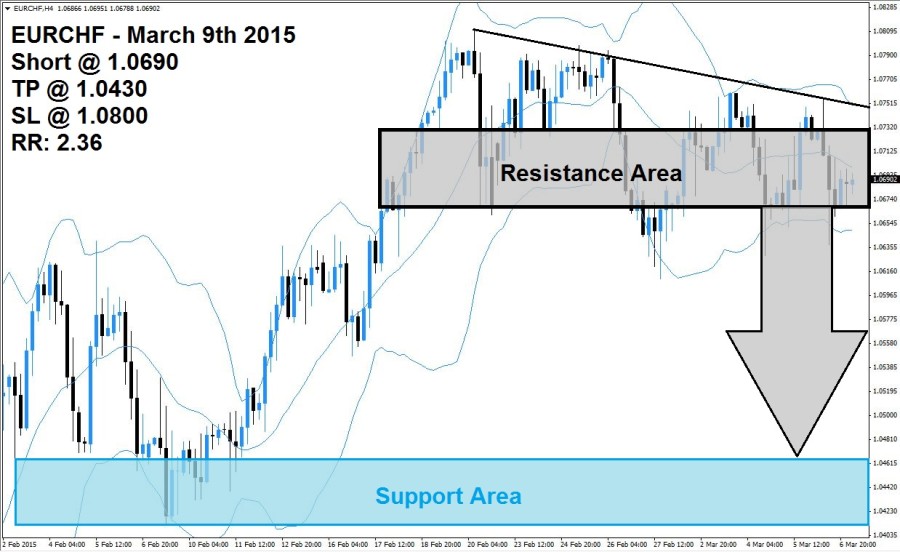 The EURCHF enjoyed a solid rally, but three lower highs have taken the steam out of the bullishness and this currency pair is trending lower. The descending resistance level is now approaching the resistance area and is expected to increase bearish pressure in the EURCHF. Any rally from current levels should be taken as a good entry opportunity for short positions. The Euro has come under more pressure after the European Central Bank President Draghi confirmed the start date of sovereign bond purchases which are set to begin today.
The Bollinger Band indicator has stabilized and the upper band as well as lower band is trading just above and below the resistance area while the EURCHF is trading between the lower band and the middle band. Forex traders should look for short entries above 1.0690. The descending resistance level is expected to limit upside potential and invite new net short positions as bearish pressure is increasing while currently no factors support a stronger EURCHF. The Bollinger Band indicator is also expected to slope downwards which further supports a sell-off.
Forex traders may opt to realize floating trading profits and close their long positions in order to lock in profits after a strong rally and as price action is weakening. A breakdown below the lower band of the Bollinger Band is expected to increase the sell-off which faces no major support level until the EURCHF will reach its support area. A take profit target of 1.0430 has been selected for a potential profit of 260 pips.
Forex traders should protect this trade with a stop loss level at 1.0800 for a potential trading loss of 110 pips which will result in a Risk-Reward (RR) ratio of 2.36.
EURCHF
Short @ 1.0690
TP @ 1.0430
SL @ 1.0800
RR: 2.36