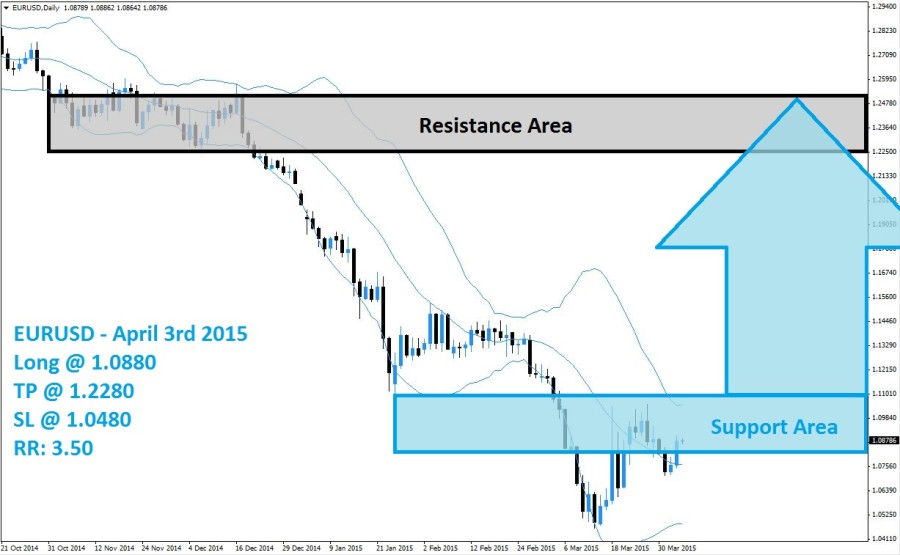 The EURUSD started to recover from its capitulation sell-off which took this currency pair far below its current support area, marked in light blue in the above D1 chart, and the excessive downward momentum has been replaced with cautious bullishness. A short covering rally has contributed to the advance and took the EURUSD out of extreme oversold territory. The low band of the Bollinger Band indicator has also ended its decline and started to trend higher which is an encouraging sign and suggests that more upward potential is possible.
This currency pair has now managed to break-in into its support area which is another bullish trading signal. The final technical bullish trading signal comes from price action which is now trading above the middle band of the Bollinger Band indicator which suggests an outright change from bearish momentum to bullish momentum. This development on the D1 chart lends support to a stronger EURUSD going forward. On the fundamental side the NFP report today out of the US is likely to disappoint and further advance the rally in the EURUSD.
See "NFP Dates" here
Forex traders are advised to seek out long positions at 1.0880 and below in order to profit from the expected volatility after the release of today's NFP report and the rally which is likely to follow a lower than expected labor report. A take profit target of 1.2280 is recommended for a potential trading profit of 1,400 pips on the D1 Chart. Please keep in mind that this is a long time frame. A breakout above the support area will further provide bullish momentum and add to gains in the EURUSD.
Forex traders should protect this trade with a stop loss level at 1.0480 for a potential trading loss of 400 pips which will result in a Risk-Reward (RR) ratio of 3.50.
EURUSD
Long @ 1.0880
TP @ 1.2280
SL @ 1.0480
RR: 3.50