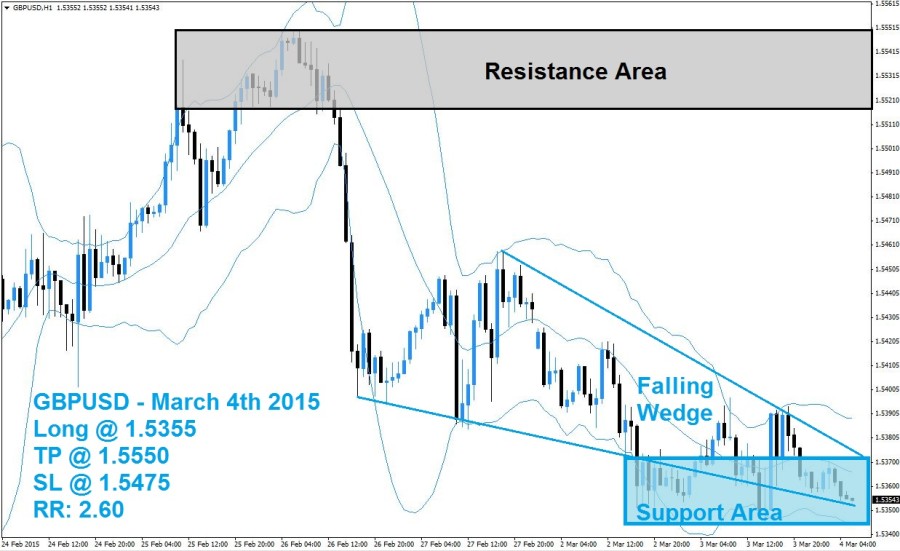 The GBPUSD entered a sharp sell-off after a strong rally took this currency pair into its resistance area marked in grey in the above chart. After the initial drop the GBPUSD rallied until it reached the upper band of the Bollinger Band indicator from where the sell-off continued until it reached its new support area which is marked in light blue in the above chart. The Bollinger Bands confirm the support area and a falling wedge formation has formed which is a bullish chart pattern.
The GBPUSD is also trading in oversold territory and new short orders are unlikely given two strong bullish signals which is expected to result in a short-covering rally as forex traders will realize floating trading profits. A breakout above its falling wedge formation will fuel the rally as new net long positions in this currency pair will be entered and forex traders are advised to enter their long positions at 1.5355 or below.
The Bollinger Band indicator started to trend sideways and therefore assists the support area which is expected to prevent any further downside. Forex traders should set a take profit target at 1.5550 for a potential trading profit of 195 pips. Forex traders should enter their long positions while the GBPUSD trades inside of its falling wedge formation as well as of its horizontal support level in order to take full advantage of the pending rally. Any potential dip below the descending support level of its falling wedge formation, but above the lower Bollinger Band should be taken as a good entry level for long positions.
Forex traders should protect this trade with a stop loss level at 1.5475 for a potential trading loss of 75 pips which will result in a Risk-Reward (RR) ratio of 2.60.
GBPUSD
Long @ 1.5355
TP @ 1.5550
SL @ 1.5475
RR: 2.60