Launched in the 4th quarter of 2018, PrimeXBT is a Bitcoin-based derivatives trading exchange that allows you to trade not only cryptocurrencies but also traditional financial instruments such as Forex, S&P 500 and Nasdaq composite indices, commodities like crude oil and natural gas, and more.
Exchange Name – Prime XBT
Country –  Seychelles, St. Vincent & The Grenadines
Cryptocurrencies Accepted – Bitcoin (BTC), Ethereum (ETH), Litecoin (LTC), Ripple (XRP), EOS (EOS)
Traditional Instruments – Forex, Equity Indices, Metals and Energies.
Deposit Methods – Crypto Transfer, Credit/ Debit Card (through Changelly)
Trading Minimum –  0.001 BTC
Cryptocurrency Trading Fees – 0.005%
Deposit and Withdrawal Fees – Commission-free
Banned countries – United States, Québec (Canada), Algeria, Ecuador, Ethiopia, Cuba, Crimea and Sevastopol, Iran, Syria, North Korea, and Sudan.
Opening an Account
Creating an account at Prime XBT is a straightforward process: just enter your email address, choose a password and confirm your email. That's it.

Trading at Prime XBT
At the time of writing this review, it is possible to trade the following pairs at Prime XBT:
Bitcoin Pairs: BTC/USD, ETH/BTC, LTC/BTC, EOS/BTC, XRP/BTC.
Ethereum Pairs: ETH/USD, ETH/BTC.
Litecoin Pairs: LTC/USD, LTC/BTC.
Ripple Pairs: XRP/USD, XRP/BTC.
EOS Pairs: EOS/USD, EOS/BTC.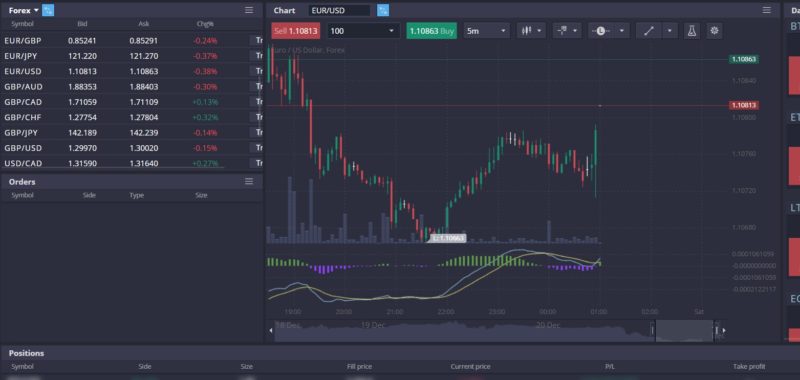 Traders can also operate the following traditional crosses:
AUD/CAD, AUD/CHF, AUD/JPY, AUD/USD, EUR/AUD, EUR/CAD, EUR/CHF, EUR/GBP, EUR/JPY, GBP/AUD, GBP/CAD, GBP/CHF, GBP/JPY, USD/CAD, USD/CHF, USD/JPY, XAG/USD, XAU/USD
Regarding the PrimeXBT trading platform, the interface is clean and user-friendly. Sections are clearly delimited and can be set up as desired – disabling and resizing the modules so you can customize the interface to your needs.
Trading Fees
Prime XBT takes a clear approach to its commissions.  The Trade Fee is charged every time you open or close a position:
– 0.05% for cryptocurrency trades
– 0.01% for indices and commodities
– 0.001% for Forex
Deposits and Withdrawals
The minimum deposit on PrimeXBT exchange is 0.001 BTC. You can directly transfer your bitcoins to your balance.
Alternatively, you can use your credit or debit card with the help of integrated service Changelly. It allows you to buy bitcoins directly from your card. The entire operation costs approximately 10% of your purchase amount.
Concerning withdrawals, there are no limits, but the amount should be higher than the pre-set bitcoin network transaction fee of 0.0005 BTC.
PrimeXBT processes withdrawals only once a day, somewhere between 12:00 and 14:00 UTC. Any withdrawal requested before 12:00 UTC will be processed on the same day, withdrawals requested after 12:00 UTC will be processed the next day only.
Safety of Funds
PrimeXBT was founded and registered in Seychelles in 2018 under the holding company name PrimeXBT trading services. In 2019, PrimeXBT also opened an office in St. Vincent & The Grenadines and moved its domain and trading infrastructure to the so-called world's capital of cryptocurrency – Switzerland.
That's why PrimeXBT enforces strict security measures to protect its users. In particular, PrimeXBT compels its users to enable Google Two-Factor Authentication (2FA) before they are able to trade, deposit, or withdraw their coins.
PrimeXBT users' funds are stored in cold wallets, thereby minimizing the risk of a hacker stealing crypto assets.
PrimeXBT's security gets significant props for protecting their user's privacy. It does not force you to pass any mandatory KYC (know your customer) checks and doesn't link your data to your name, which is a major win for their customers' security. You can't become a victim of targeted hacking if no one can identify you.
On the other hand, privacy is the biggest enemy of regulators. Hence, PrimeXBT is an unregulated exchange and does not comply with any local banking restrictions.
In case someone does manage to get into your account anyway, your funds are also protected by the mandatory Bitcoin address whitelisting feature. It ensures that your bitcoins can be withdrawn only to your pre-approved BTC addresses.
The platform lets you control whether you want to receive email notifications once someone signs into your account or your position is liquidated.
Prime XBT Support email – support@help.primexbt.com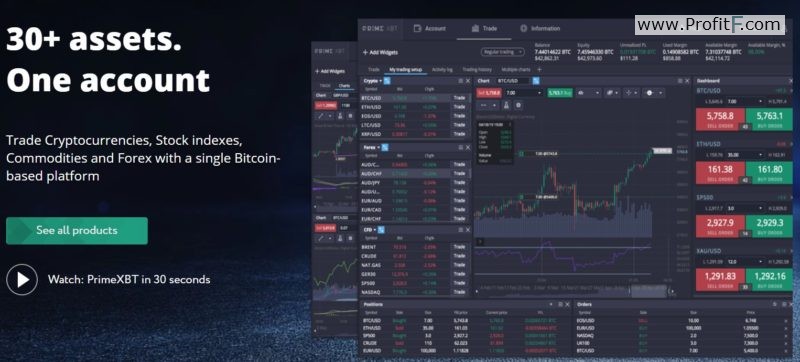 Conclusion
Considering the dynamics of development of the company in the financial markets, PrimeXBT will soon become a relevant competitor both in the cryptocurrency exchange market and in traditional forex market arena. While some improvements in its platform would be welcome, the security measures that have been taken by the company to protect users' funds, undoubtedly make a difference.
To conclude, Prime XBT provides a safe trading environment, a regulated crypto exchange, and a set of traditional financial instruments for successful trading and capital growth.