NOTE: Your opinion is very important to us. Use tab "Comments" in top of the page to write your comment/review/feedback, if you have any experience with "AutoBreakoutPro forex EA !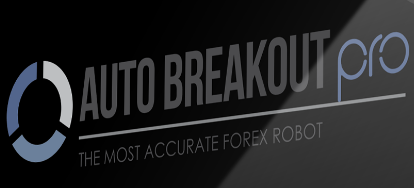 AutoBreakoutPro was created by professional traders from three countries after 7 years of hard working. This robot can run with other Forex EAs at the same time so there will be no conflicts with other EAs or trades placed manually.
Trading Style – n/a
Developer – "vincent"
Forex pairs – EURUSD, GBPUSD, USDCHF, USDJPY
Timeframe – M15
Broker – MT4 broker with micro account
Recommended Minimum deposit – $500-$1000. If you don't have much money you can use micro account
Price – $330 (Basic license) or $280 with $50 CashBack from ProfitF $589 (Pro license – 5 accounts)
Manual (User guide) – download Installation guide in PDF format
Refund policy – 60 days money back (by developer – if EA failed in your account) through CLICK2SELL payment processor    

Auto Breakout Pro Live myfxbook statistic:
Real (USD), PaxForex, Technical, Automated, 1:500 , MetaTrader 4
AutoBreakoutPro –  Analysis of Myfxbook
After one and a half month, the time-weighted returns is incredibly high at 1265.99% while the absolute gain reaches 800.09%. This means that the total profit is eight times of initial deposit of $2,000. Highest balance is recorded at $15,238.13. However, in general, after a month of high-speed growth, the EA is experiencing a hard time as the profit is squeezing, not to mention a slide lately.

The EA is recommended to run on 4 pairs which are EURUSD, GBPUSD, USDCHF, and USDJPY on M15 timeframe and looks quite profitable with long positions when it shows great outcome on all four instruments.
The win ratio is around 50% for both long and short positions. As the EA runs on M15 timeframe, the average trade length is quite short, only about 14 hours.

The first month performance was really impressive with 1141.05% gain, equivalent to $14,904.13 profit. In April, 25 out of 27 orders locked in profit with 60-pip earned after each winning position, while the total losing pips was under 50.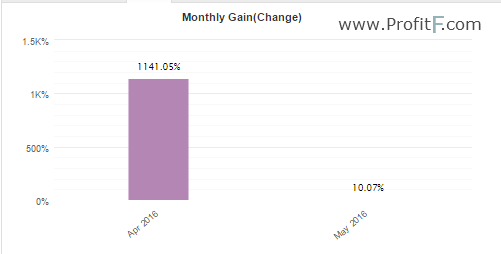 Aautobreakoutpro monthly gain
However, from the beginning of May, the table has turned. We have been witnessing a period of losses. So far, only 10.7% ($1097.68) gains recorded. Meanwhile, the performance of thesecond week of May is even out of rhyme with nearly 20% loss.In 33 orders so far, only 8 orders closed in green.
It is quite hard to point out how this no-martingale Forex EA calculates its lot sizes as it increased even after some profit has been withdrawn and after a long range of losses. With losing pips hovering from 20 to under 30 pips, the risk ratio is quite low, with an average of 2%. The deepest loss only took away 5.14% account while the most thunderous victory boost the balance more than 25.78%.
However, the drawdown ratio has extremely soared in May, with the peak of 26.91%. Consecutive losses make nobody happy. You still can lift the trophy after a season with some losing matches, but no champion can secure his spot with tons of defeats in a row.
The main point is it's hard to believe such a difference between these two months. Everyone knows that no EA can be immoral as the market changes and the situation changes. But that's the yearly matter, quarterly matter, not monthly 180-degree reversal like this.
The win ratio in short time even fell below 50%. This means whenever the Auto Breakout Pro robot close your order early, above or below one hour after it opens the position. Then BAM! You know you're gonna lose your money.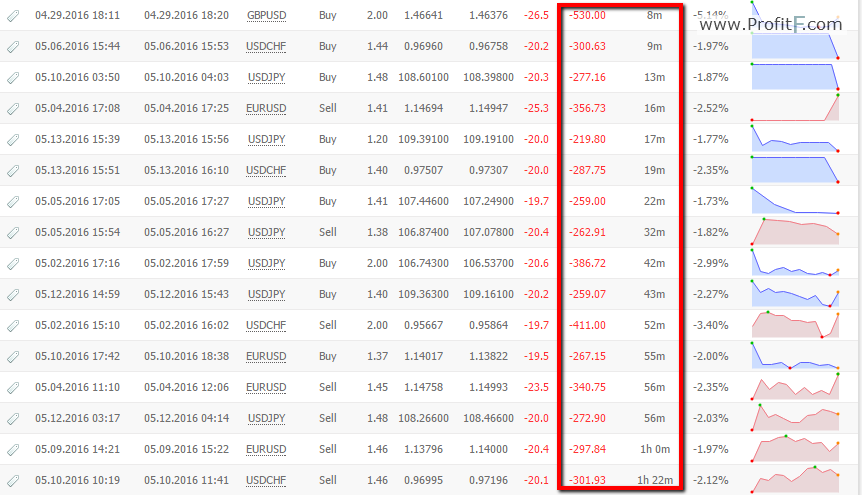 Auto Breakout Pro robot StopLoss trades
Advantages and Disadvantages of exit mechanism in AutoBreakoutPro
The EA automatically cuts the winning at 60 pips. This is classic and sounds like lessons from school. Based on the profit missed data, we can see that the capability of giving trend change signal of AutoBreakoutPro is quite good as two-third of orders were cut with the number of missed profit is under 10 pips. The one third left witnesses the order cover from 75-85% profit which can be earned.
However, trading on time frame M15 and setting 60-pip target for all instrument is quite rigid. This may be the reason why all orders closed within around one hour end in failure. This also results in some missed profit. About one third of losing orders run in the right direction for most of the time, but because it hasn't reached the target, then the price reverses and goes against expectation.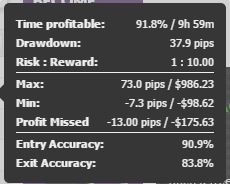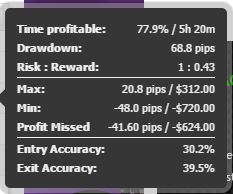 There is one another guy has run "Auto Breakout Pro" on real account too (http://www.fxblue.com/users/autobreakoutpro).This may partly help us clarify some deficientinformation. The unlucky guy has lost half of his deposit of $5000 with this EA. Out of the total 65 orders have been placed, only 8 times has he tasted sweet fruition. And there were only 4 orders were set with exact 20-pip stop loss. The other part looks the same when orders were automatically closed with more or less 20 pips.
What you'll get

– Lifetime license for one real or Demo account with Basic License  and lifetime license for 5 accounts when purchase Pro License.
– Free update
– Detailed user manual of each EA
– Full support 24/7
Conclusion
AutoBreakoutPro is worth considering with no martingale, no hedge, no scalping and no latency trade. The last two weeks may disappoint some traders but tough time can happen with any EA. No victory is easy, we may need more time to see if this EA actually works.
Author working to improve "AutoBreakoutPro forex EA". So after buying this robot all updates of the Auto Breakout Pro EA will be sending for free.
Please post comment/review about AutoBreakoutPro, if you have any experience with this EA!
AutoBreakoutPro price = $330, however you can buy it with Discount. ProfitF offers BONUS – $50 Cashback. … more info >>