NOTE: Your opinion is very important to us. Use tab "Comments" in top of the page to write your comment/review/feedback, if you have any experience with "Forex Trend Detector !

Forex Trend Detector –  Expert Advisor (EA) developed by "FXAutomater" team. They created a lot of other time-proven trading robots like widely known (for those who took an interest in Forex EAs just for once) "Wall Street Forex Robot", "Volatility Factor" and "Forex Diamond". It is one of the reasons why "Forex Trend Detector" should be treated with a respect. As the name suggests, it is a robot that trades with a trend and uses indicators. By purchasing a license you will not only get the EA and a manual, but also its regular updates in a real-time mode, namely: part of important data comes from a server, such as GMT, and many inputs like stop-loss and take-profit size, etc.
Trading Style – n/a
Developer – "FXAutomater"
Forex pairs –EURUSD,
Timeframe – M5
Broker – Any MetaTrader Broker
Recommended Minimum deposit – $200
Manual (User guide) – download Installation guide in PDF format
Price – $227,  $187 with  discount from "ProfitF"
Refund policy – 60 days money back (through clickbank payment processor)  

Forex Trend Detector-2 live myfxbook statistic:
Demo (USD), Alpari, Technical, Automated, 1:500 , MetaTrader 4

Algorithm of operation: It is said on the official website that the EA doesn't use exotic trading techniques. The EA operates based on the following systems: "Smart Money" + sophisticated drawdown compensating algorithm + volatility breakout strategy. It is suspected that the EA uses volatility breakout methods similar to the ones implemented in "FGB" and "Volatility Factor" EAs
The bad news is that the EA deals with "grid trading" (read more about Grid trading here>>). It can open up to 10 trades simultaneously, and it is not a very good idea. However, the input parameter can be configured.
Analysis of Myfxbook statement
One can see that history of trades made by the EA was verified ("Track Record Verified") on Myfxbook website (Myfxbook received an investor's password and verified the EA's trading history for compliance) and also that "Trading Priveleges Verified". The broker is rather well known – ThinkForex. It is a good thing, because when Forex EA seller trades with little known brokers and also strongly recommends trading with them only, it raises suspicions. For example, developers of "AeronScalper" recommended trading by their EA with GCG or FXCH brokers only. You can trade by "Forex Trend Detector" with any broker. It is a very good thing.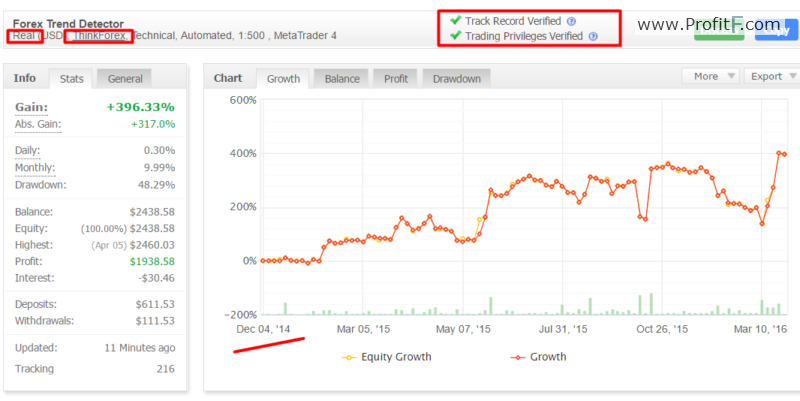 forex trend detector myfxbook statement
Let's look at its performance. Its total profit hit almost 400% as of this article. Its monthly gain is 9.9%. In our opinion, its drawdown is rather large and amounts to 48.29% so far.
Forex Trend Detector performance
Duration of open order is not too short – about an hour – and it is a very good indicator. Although Myfxbook shows that "Avg. Trade Length = 9h 20m", it is not quite so. It is due to the fact that there were several trades for a duration of 4-5 days. It is the fact that resulted in the "Avg. Trade Length" value. One may state that the EA will not be very broker sensitive as it happens with those EAs, whose orders have a duration of 2-3 seconds.
"Forex Trend Detector" money management
A convenient risk management was implemented in the EA. You can set a fixed lot size or enable "AutoMM" option so that the lot size will change automatically depending on the percentage value of risk set in input parameters. At that, info panel (in the left upper chart corner of the chart) will change its color depending on the risk level. See an example below: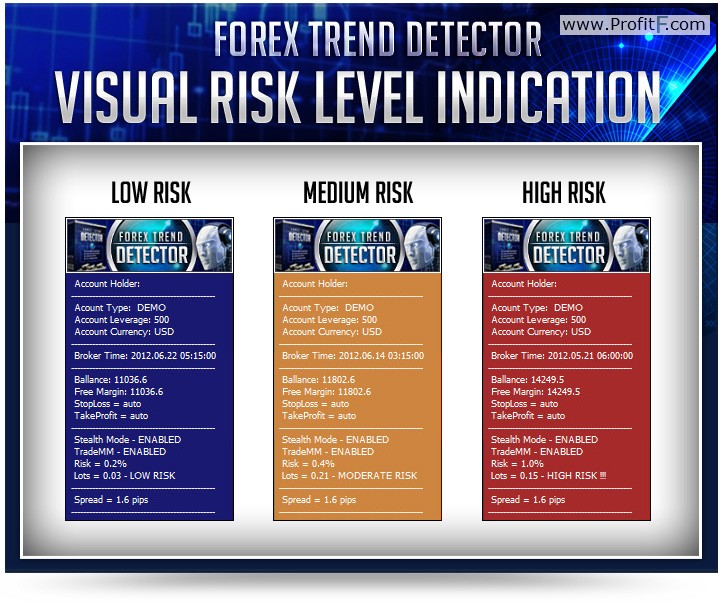 Forex Trend Detector money management
Forex Trend Detector  Parameters:
Magic – a unique identifier through which Forex Trend Detector recognises and manages its own positions.
If you use other expert advisors on the same account, please ensure that each of them has a distinct, unique identifier.
Never run more than one copy of Forex Trend Detector in the same account!

Backtest_GMT_Offset – this parameter is very important for back-tests. If you do not enter the correct GMT Offset for the back-test history data loaded in your MT4 terminal, your back-tests will be incorrect.

EA_Comment – enter comments here if you'd like to record comments about your Forex Trend Detector trades.

MaxSpread – maximum allowed spread in standard 4-digit pips. You can also enter partial values.

MaxSlippage – maximum allowed slippage in standard 4-digit pips. You can also enter partial values.

StealthMode (true/false) – in this mode, StopLoss and TakeProfit levels in program logic are hidden (i.e. brokers can't see them). If you use this mode, StopLoss and TakeProfit orders are not located in the trading server, which means if your trading terminal is not connected, or if the robot is not working, your orders are not protected.
Forex Trend Detector MM Parameters:
RecoveryMode (true/false) – when RecoveryMode is activated, an algorithm effectively compensates the current drawdown by smoothly increasing trading volumes. This mode is active only when AutoMM is greater than zero. Before activating RecoveryMode, please bear in mind that it can increase the risk to your account. For this reason, RecoveryMode should only be used at low values of the AutoMM parameter. We recommend RecoveryMode with AutoMM values below 1.

RecoveryMultiplier – the multiplication factor used from the RecoveryMode. The default value of RecoveryMultiplier is 1.05, which means that the trading volume of each next trade will be multiplied by 1.05, until the drawdown is not fully compensated.

FixedLots – the extent of the fixed trading volume. If you use AutoMM>0, the value of the FixedLots parameter will make no difference.

AutoMM – automatic risk management activates at values greater than zero:
– Example 1: at AutoMM = 0.5, Forex Trend Detector opens positions equal to 0.05 lots (5,000) given account extent of 10,000. This places 0.5 per cent of the account extent at risk per individual transaction at a loss of 100 pips.
– Example 2: at AutoMM = 2, Forex Trend Detector opens positions equal to 0.2 lot (20,000) given account extent of 10,000. This places 2 per cent of the account extent at risk per individual transaction at a loss of 100 pips.

AutoMM_Max – the maximum permitted risk expressed as a percentage of the account per individual transaction, calculated on the basis of a 100 pip loss. When RecoveryMode is used, this parameter limits the upper value of the risk per trade.

MaximalLots – maximum allowed lots

MaxTrades – maximum allowed trades
The default value is 10 trades, opened in 5 minute intervals in the direction of a strong market impulse. This could happen during very rare and very strong market impulses, which are the most profitable for Forex Trend Detector EA. The risk in situations like that, even with 10 open trades is minimal, because only a few of these trades could be closed at Stop Loss. In fact in 90% of the cases you will have up to 5 trades at a time.
Conclusion
"Forex Trend Detector" has been showing satisfactory results over a year and a half. The EA deserves its place in a portfolio of EAs in spite of its relatively large drawdown. However, it can be regarded as a moderately aggressive trading robot rather than a safe EA. Such factors as Authority of its developer, Extended period of profit growth verified on a real-money account held with ThinkForex, and broker insensitiveness allow taking a decision to purchase the given Expert Advisor.
In addition to the above, one can safely assert that "Forex Trend Detector" will be constantly improved allowing for changing Forex market conditions as well as other EAs of the developer. Updates of the software are free of charge and available in Members Area.
---
Please post comment/review about Forex Trend Detector, if you have any experience with this forex EA!
ForexTrendDetector robot = $227, however you can buy it with Discount. ProfitF offers BONUS – $40 Cashback. … more info >>