NOTE: Your opinion is very important to us. Use tab "Comments" in top of the page to write your comment/review/feedback, if you have any experience with "FXSplitter Forex EA !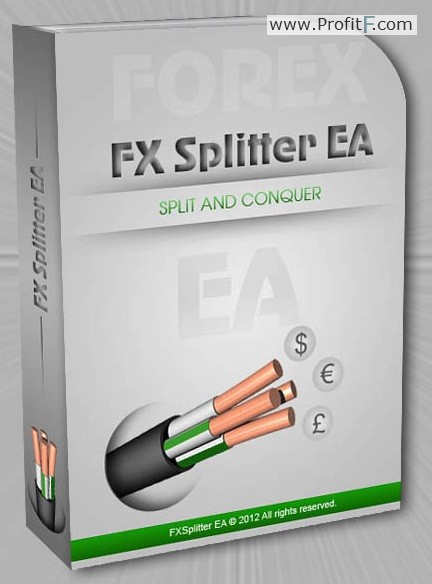 Trading Style – Time Based Martingale Grid (read more about Grid and Martingale)
Developer – Argolab
Trade Length – 4-8 hours
Forex pairs – EURUSD
TimeFrame – H1
Broker – FXSplitter EA work with any broker with a relatively small spread and moderate slippage
Recommended Minimum deposit – N/A
Price – $169 $152 (with coupon code from ProfitF)
10% Discount Coupon code – profitFcom
FXSplitter Manual – Download
Refund policy – 60 days money back (through avangate payment processor)  

FXSplitter is among the non-conventional EAs that utilize martingale and grid trading. Being a grid trader, FX Splitter opens a basket of trades both long and short with each new trade having a larger lot size. It thencloses the basket of trades when a take-profit level is reached and starts a new fresh grid. However, FX Splitter differs from other grids in that it creates grid trades based on time and not price levels. Let as look at a diagram showing how it takes its trades;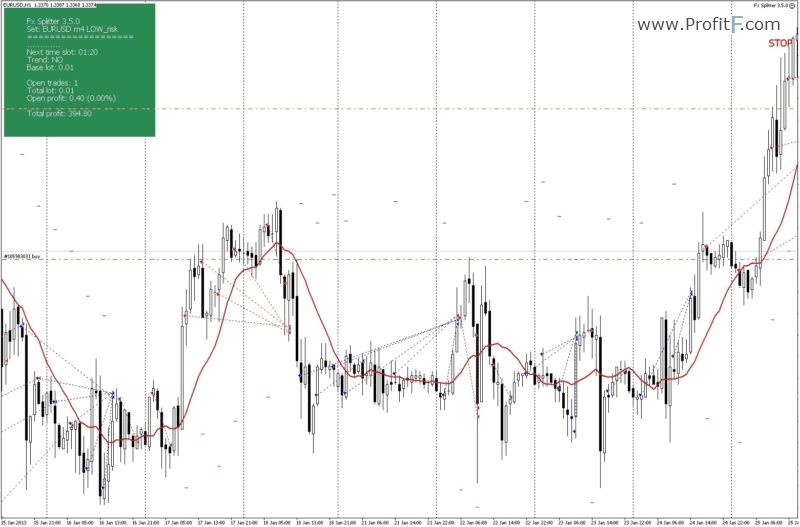 Figure; FX Splitter EA trading strategy
As you can see from the above diagram, it takes a series of buy and sell trades as a basket and closes them after a take-profit point is achieved. To get more insight into FX Splitter, let us look at the performance of the EA;
FXSplitter Performance
The developer of FX Splitter EA has no official performance records but rather points us to those used by clients. There are several given accounts showing the performance of the EA via myfxbook. We will begin by looking at the account with the biggest growth;
The account with the biggest growth shows a 219.32% increase in equity over a period of 15 months. This is a very low growth for a martingale grid EA. Most martingale EAs show percentage growth in the thousands. The drawdown of the account is 81.97% which is expected of a martingale grid system.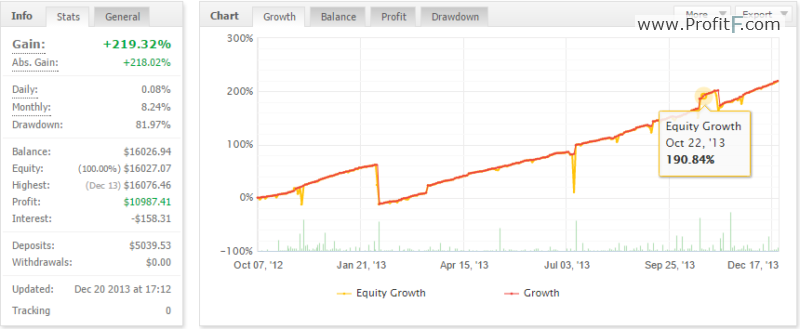 Figure; FX Splitter EA Performance
Looking closer at this particular account on myfxbook; the last time it was updated was December, 2013. This means the client either chose to stop updating FX Splitter EA or it was not just worth it. All other FX Splitter EA accounts are also either out of date or stopped.



Figures; FX Splitter EA accounts either out of date or stopped
The others were simply deleted by the users for unknown reasons, but since most users delete systems from myfxbook pages after bad runs; we assume they accounts had a bad run.

Figure; Example of an FX Splitter EA account deleted
FXSplitter – forex EA is characterized by very huge drawdowns that will blow up your trading account. (see our other Forex EA reviews)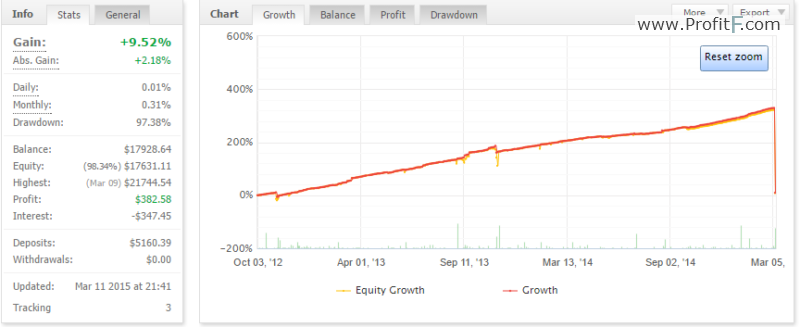 Figure; FX Splitter EA, huge drawdown
Note that the drawdown of FX Splitter's account above is 97.38%. This kind of a system will make profits on a good run and lose on a bad run as shown below where it makes losses in one month and gains on the next month hence no predictability or consistency in performance;

Figure; FX Splitter EA, inconsistent returns
It is important to note a few more things on the performance records of FX Splitter EA. One is that most accounts have been run for just a few months with only one or two that exceeds 5 months. For instance the account below was only run two months;
Figure; FX Splitter EA only run for two months in 2013
Secondly, all the accounts of FX Splitter EA on myfxbook are demo accounts. Real money has not been committed in testing this EA yet. Thirdly, the verification of trading privileges and track record required by myfxbook has not been done on any one account trading the FXSplitter EA.

FX Splitter EA trading privileges not verified
FX Splitter Pros and Cons
Pros
It is a forum supported EA
Cons
It has extensive parameters hence not newbie friendly
It is a martingale and grid EA
Huge drawdown
Limited and not up to date performance records
Only tested on demo accounts
Conclusion
If you are curious on testing a time based grid EA, then FX Splitter is suitable. However, it is important to note that FX Splitter is not safe for a real trading account and all your capital could be at risk, you can only use it if you are experienced with martingale and grid systems. See our article 10 keys to successful trading by "not-sage" Forex robots. Finally, from the available performance, you can see it is not as easy as  "split and conquer" as the developer claims.
---
Please post comment/review about FXSplitter, if you have any experience with this forexexpert advisor!
FXSplitter price = $169, however you can buy it with Discount. ProfitF offers 10% Discount Coupon code – profitFcom