NOTE: Your opinion is very important to us. Use tab "Comments" in top of the page to write your comment/review/feedback, if you have any experience with "FXTurbine forex EA !
FXTurbine v2.0 – Forex robot. As the developer claims; gives a return of over 70% per month. Profits are also guaranteed every month hence this could be a very reliable EA given that the developer also offers a 30 day money back guarantee
Trading Style – n/a (Not Determined)
Developer – fx-builder
Forex pairs – EURUSD
TF (TimeFrame) – 30m
Broker – FXTurbine work with MetaTrader4 forex broker
Recommended Minimum deposit – $100
Manual: Available after Purchase
Price – $195
Refund policy – 60 days money back (through avangate payment processor)  

FXTurbine live myfxbook statistic:
Real (AUD), IC Markets, Technical, 1:500 , MetaTrader 4
FXTurbine Performance
Since the trading strategy has not been disclosed, let us look at backtests and live performance to get more insight into FXTurbine 2.0 EA trading style.
Backtests on FXTurbine 2.0 EA have been done using two different money management approaches. One uses compounding of profits while the other keeps the trading size constant for all trades.
Backtests using the compounding method, where profits are invested back by the EA, is done for less than two years giving a return of more than 18000%, which is an extremely high return.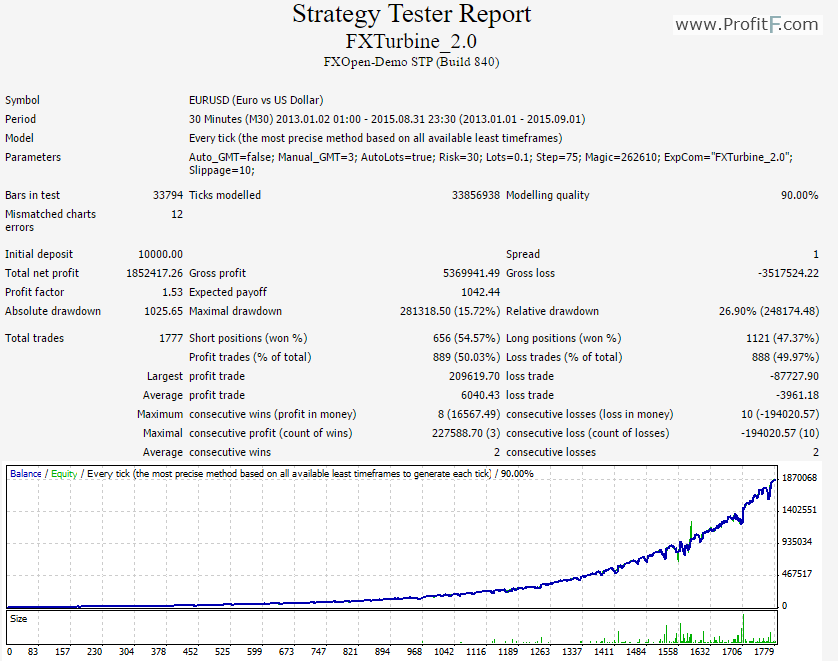 Figure; FXTurbine 2.0 EA Backtests using Re-invest Money Management
The maximum drawdown on this backtest with such huge returns is only 15.72% taking 1777 trades during the testing period. However, it can be observed that FXTurbine 2.0 uses a loss recovery mechanism as can be seen by the sharp drawdowns in the equity curve accompanied by spikes in lot sizes.
FXTurbine 2.0 EA is also ECN compatible as can be seen from its backtests; it modifies a trade to place the stoploss and takeprofit levels as required for ECN brokers.

Figure; FXTurbine 2.0 EA is ECN Compatible
Backtests using the simple/non-compounding method also shows high returns of over 1700%. The maximum drawdown using this money management method is relatively lower at only 5.86%. However, the loss recovery feature of FXTurbine 2.0 EA is more elaborate by looking at the equity curve, occasional spikes in lot sizes after a loss, leading to a relative drawdown of 41.58%.
Both backtests on FXTurbine 2.0 EA have been carried out using tick data, however, the modelling quality of the tests is only 90%. For this reason, backtests results may vary greatly from live trading performance necessitating verification by looking at the real account trading results.
Live performance of FXTurbine
FXTurbine 2.0 EA has been tested on a real account since June 2015 to date. Over that period of time, it has made a444.77% gain with a drawdown of 58.95%. Link to  FXTurbine 2.0 EA Real Account Performance
Though the drawdown on live testing is 50%; FXTurbine 2.0 EA has made clear profits of over $13000 from a $3000 deposit in just over a year. FXTurbine 2.0 EA is also very different from most of the other auto trading systems in that it holds trades for quite a long period of time sometimes over 8 days. Its average trade length is 2 days.
Monthly trading performance show that FXTurbine 2.0 EA started live trading period with high performance which has been declining; hence a good reason to check if the EA should be adjusted to fit current market conditions.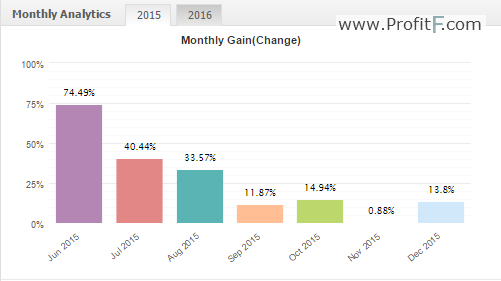 Figure; FXTurbine 2.0 EA Declining Monthly Performance
It is also important to note that FXTurbine  2.0 EA will experience some losing months as observed in real account performance. This is contrary to what the developer states; profits every month.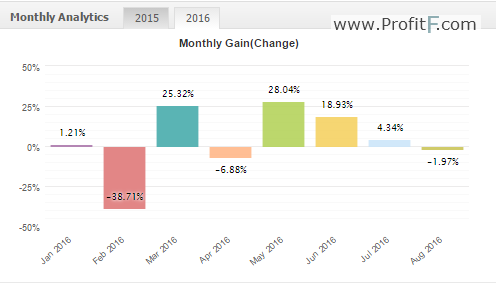 Figure; FXTurbine 2.0 EA Losing some months Vs Developers claim
Though the trading privileges on myfxbook are verified, the track record, which requires the user to verify trading results so that it can be compared directly to broker data, is not verified.

Figure; FXTurbine 2.0 EA Track record unverified on myfxbook
FXTurbine – Pros and Cons
Pros
Real Account Performance on myfxbook is available
Profits have been made on a real account
30 Day money back guarantee is available
ECN Compatible
Fully automated forex expert advisor
It is a non- scalping EA with an average trade length of 2 days
User can choose the money management model
Detailed backtest results are available for download
Cons
Backtests done with only a 90% modelling quality
Huge drawdown on live account performance
Track record on myfxbook is not verified
FXTurbine Conclusion
The results shown on FXTurbine 2.0 EA backtests are excellent and the real trading performance also shows a return of over 400%. However, the drawdown on the live account is also relatively high at over 50%. Hence, FXTurbine 2.0 EA would be suitable for a user who is able to sit through periods of drawdowns in return for a high profit.