NOTE: Your opinion is very important to us. Use tab "Comments" in top of the page to write your comment/review/feedback, if you have any experience with "Pips Cannon !
Pips Cannon is a revolutionary forex indicator that utilizes sophisticated proprietary algorithms to generate trading signals. It's not the perfect solution to trading, neither can it replace an experienced trader. But it offers a real, profit making set of algorithms that know when the market is predictable and to trade it with some risk, but also these algorithms know when it's too risky and you have to stay out of the market altogether. It works on multiple times frames, and in many different markets, which is not surprising because key technical analysis patterns also work in many time frames, and in all markets. So we suspect Pips Cannon must work on technical analysis patterns, but somehow it filters out many conflicting and ambiguous readings.
Pips Cannon works best when the user also does some manual work and intervention, and when the user has some judgment on the longer term trend. Nonetheless, Pips Cannon can still work profitably even in the hands of a clueless beginner, albeit less profitably than in semi manual mode.
Example of trades with Pips Cannon indicator
Small profits add up to huge amounts.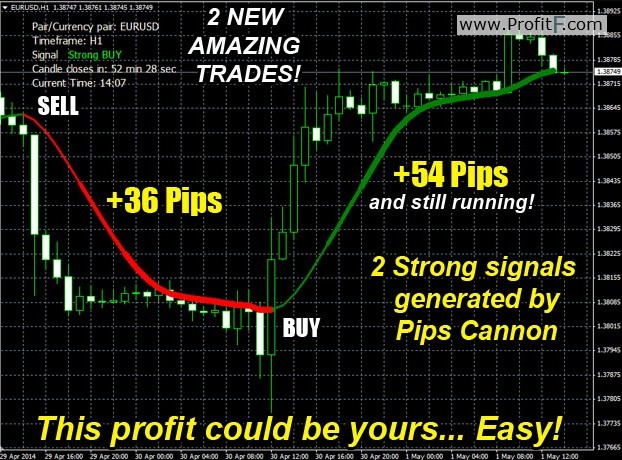 Below you can see actual trading results from semi automatic trading, achieved in 2012 using some personal judgment, and the trading signals generated by another proprietary software, inferior to the Pips Cannon software. Pips Cannon tends to trade even more selectively, aiming for larger market moves when possible, while staying out of the market completely when volatility criteria change. Pips Cannon can make 120 – 180 pips per week (more than the technique of the system shown in the image), and it is recommended to use Pip Cannon with at least a $300 trading account balance, which is a bargain starting point. (see our forex brokers list if you want find best forex broker)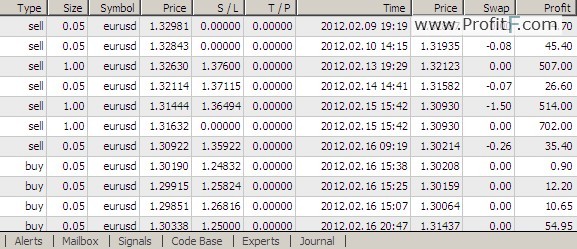 Even if your market of choice, generates smaller profits, even those small profitable trades add up to surprisingly large totals. Testing of Pips Cannon is currently under way, and so far the results are encouraging, it seems perfectly capable of generating signals that no other forex indicator software has generated before. And even without intervention, it comes very close to our semi automatic trading.
Pros: It trades all markets, all time frames, it detects volatility changes and ambiguous signals, which it avoids. It trades very well the dips and rallies within established trends.
Cons: Slightly overrated by promoters, yes it works, but it cannot match the profitability of human traders. It can however save a good trader a lot of time since it can do all the monitoring for them. But for mere trade following, we believe it will be less profitable in the hands of anyone, especially novices.