NOTE: Your opinion is very important to us. Use tab "Comments" in top of the page to write your comment/review/feedback, if you have any experience with "RobinVOL 3 forex EA !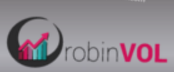 Trading Style – Breakouts and Retracement
Developer – OpenSistemas (Fernando Monera)
Forex pairs – Multi-currency trading
TF (TimeFrame) – 15Min
Broker – RobinVOL work with any MetaTrader broker. (see our Rating of Forex brokers )
Recommended Minimum deposit – $100
Price – $395
Refund policy – 60 days money back (through AvanGate payment processor)  

RobinVOL myfxbook statistic:
Real (JPY), 1:400 , MetaTrader 4
RobinVOL 3 is an Expert Advisor built to trade on MT4 on a fully automated basis. The developer has produced earlier versions but this version is very different from all earlier versions since it is built from scratch. Before we go into further details of this Expert Advisor let us look at the developers behind it;
RobinVOL Developer
Unlike many other EA developers who come from the field of Investment Banking and Quantitative trading; the developers of RoBinVOL 3 are from data related fields. The developers, OpenSistemas, offer solutions such as storage, analysis, processing and visualization of Big Data. Using their knowledgebase, OpenSistemas developed the Robin Trading Hub family that is home to the RobinVOL 3 EA.
RobinVOL 3 EA Strategy
RobinVOL 3 EA looks for volatility breakouts in the market and makes entries using two methods;
Entry when the breakout happens
Entry on the retracement of the breakout
It then keeps on adding a position on every par to the direction of the breakout. RobinVOL 3 only trades on the start of a new bar protecting itself from false breakouts and market spikes. Similarly, when take-profit and stop-loss levels are reached; the EA will close trades only after the bar closes hence the closing price may be a little further from these levels.
RobinVOL 3 EA is also able to operate in non-standard timeframes on the Metatrader 4 platform (this includes a timeframe such as 7mins which is not available on MT4).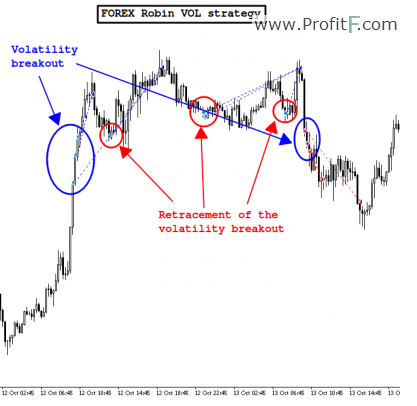 Figure; RobinVOL 3 EA Long Trades Examples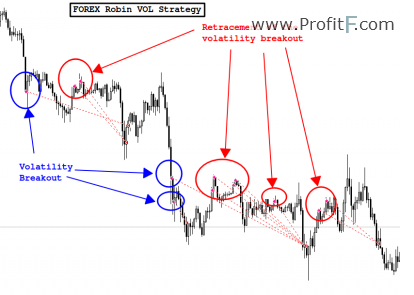 Figure; RobinVOL 3 EA Short Trades Examples
It is also able to operate on a portfolio of currency pairs. The developers provide numerous settings every week depending on timeframe and currency pair traded. RobinVOL 3 EA has a simple and clean graphical user interface that gives all important information to the user.
RobinVOL 3 EA Portfolio Features;
Able to trade on multiple pairs and timeframes
Correlation analysis; it selects uncorrelated strategies to trade in the market
Market adaptation; it always selects new strategies as well as adapt the existing ones to current market conditions
RobinVOL Performance
We will look at both the back-test and live performance of RobinVOL 3 EA since its release in July, 2012. Back-tests without compounding always show a better reaction of the trading strategy to different market conditions. The back-test without compounding show few periods of drawdown that are not deep.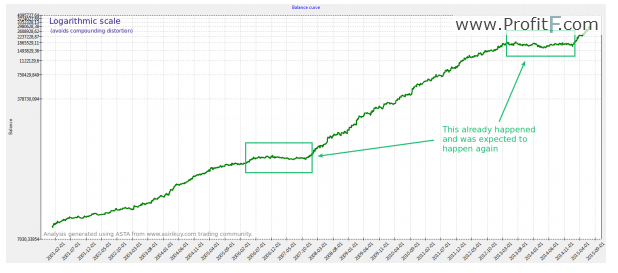 The same back-test can be seen with compounding effect below (not the in sample data is the data used for parameter optimization while the out of sample data uses those optimizations).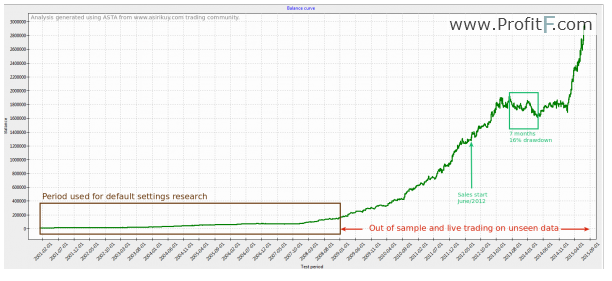 For most trading systems; back-test data does not match that of live trading due to over-optimization and curve fitting. However, RobinVOL 3 EA shows a match between back-test results and live trading. Let as look at a comparison example;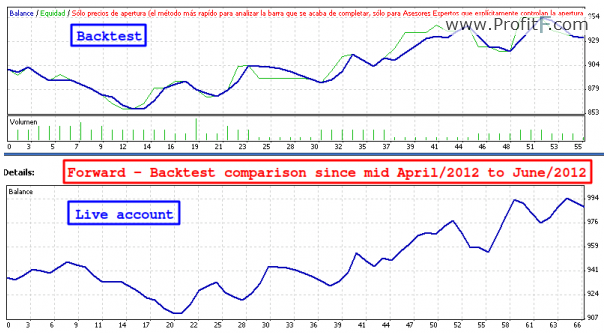 The longest live trading performance tracked by myfxbook is available. This particular account uses the portfolio concept of the RobinVOL 3 EA and has been tracked for more than two years from as early as September, 2013. The overall gain has been 327.19% with a drawdown of 18.09%. Since most high performing EAs show huge drawdowns, it is a plus for Robin-VOL 3 EA since it has shown only a small drawdown compared to the growth. (like many other Forex Robots)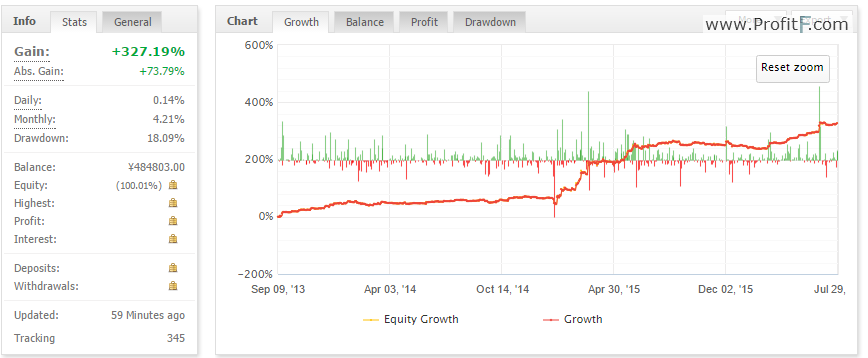 RobinVOL Pros and Cons
Pros
It has shown consistent profits for over two years as shown in live trading performance
Advanced risk management; it only trades at the beginning of a new bar
Market adaptation; the developer publishes new setting every week in the EAs private area
Performance is based on a live account
It is a non-martingale forex EA and shows good reward to risk
Cons
Loosing periods may last up to several months
It does not allow manual intervention at the moment
Requires change in parameter settings now and then
Conclusion
It is also important to mention that the main developer at OpenSistemas, Fernando Monera has been an active contributer in major forums in regards to EA development. Robion VOL 3 EA also has a very active twitter account hence the user is in a position to follow up on developments as well as air their queries. A long standing live trading performance coupled with a team that is involved in innovative projects makes RobinVOL 3 EA standout.
---
Please post comment/review about RobinVOL, if you have any experience with this Expert Advisor!