The Trend Momentum Binary Option strategy a bit more complex yet sophisticated binary options trading system which works best on 30 minute and up to 60 minute expiry contracts and works across all asset classes (forex, commodities, indices, metals).
Who is this strategy ideal for?
The binary options trend and momentum strategy is ideally suited for more advanced binary options traders as it involves more than two indicators. It does make for a perfect intraday binary options trading strategy.
Indicators
SpudFibo
Heiken Ashi Smoothed
Double CCI Woody's
RSI
How to install Indicators in MT4
The default settings to use are:
Double CCI Woody's
Trend CCI Period: 170
Entry CCI Period: 34
Trend Period: 2
Count bars: 1000
RSI: 14 with levels 45 and 55
Timeframe: 30 minutes chart
Recomended Binary Options Broker – See here >>
Signals:
For PUT options:
Trend CCI (170) and Entry CCI (34) crosses below zero line
RSI indicator falls below 45 or is below 45
Heiken Ashi indicator is red
For CALL Options:
Trend CCI (170) and Entry CCI (34) crosses above zero line
RSI indicator rises above 55 or is above 55
Heiken Ashi indicator is blue
Trend Momentum Binary Option system Examples:
PUT Options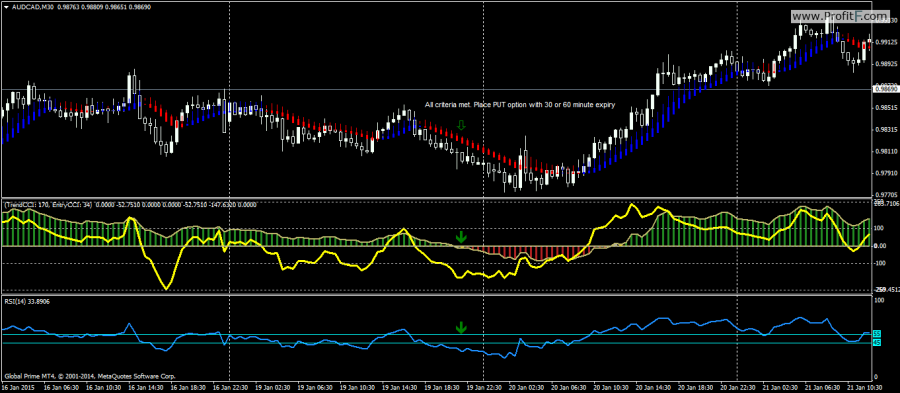 Explanation:
Trend CCI and Entry CCI both fall below the 0-line
Few candlesticks later, RSI falls below 45
Heiken Ashi candlesticks are Red
Place a PUT option with 60 minute expiring contract
Trade resulted in a profit
CALL Options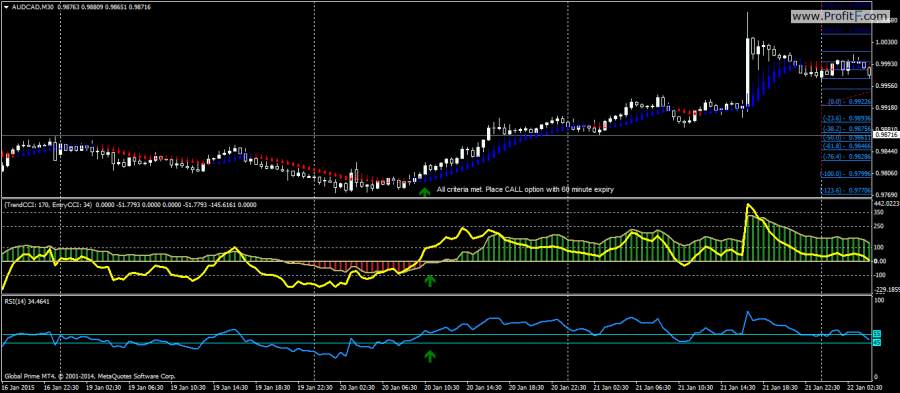 Explanation:
Trend and Entry CCI crosses above the 0-line
RSI rises above 55
Heiken Ashi is blue
Place a CALL option with a 60 minute expiry
Trade resulted in a profit
Strategy Tweaks and Tricks
The Spud Fibo indicator is an optional use. While its usage doesn't quite improve the probability of trades, it is worth considering for traders who make use of Fibonacci. However, the system is also know to work best even without the Spud Fibo indicator. We also find that placing 60 minute expiry contracts works best.
Conclusion:
The binary options trend momentum strategy is known to work very well however its usage is better suited for advanced traders as it involves using three different indicators. The strategy performs best when analyzing 30 minute charts and for placing 60 minute expiring contracts.
     Download Trend Momentum Binary system