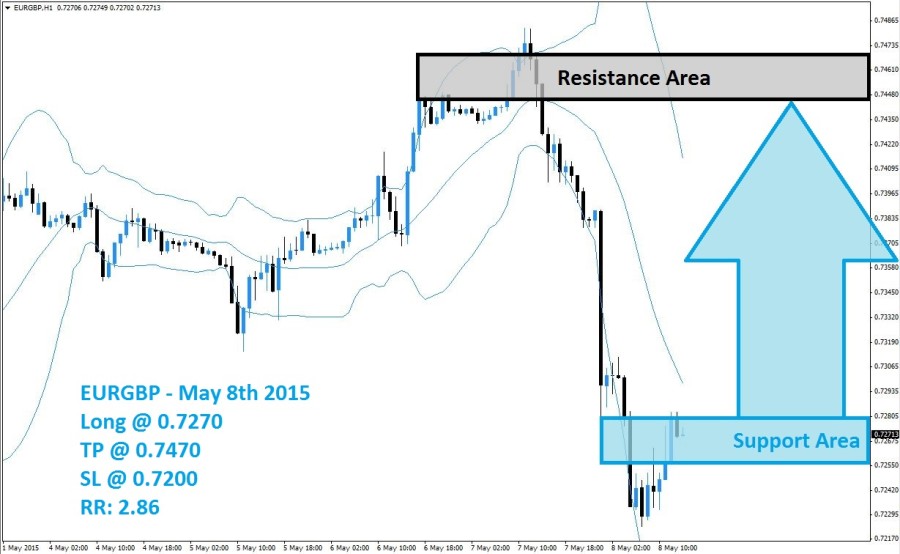 The EURGBP dropped sharply as the British Pound rallied once election results shaped up for a majority government. Forex traders welcomed the results and bought the British Pound which pushed the EURGBP to the downside. After the initial buying euphoria this currency pair bounced higher as a result of a short-covering rally. As more and more election result came in forex traders decided to take advantage of the sell-off and lock in profits.
The Bollinger Band indicator has dropped together with price action and a sideways trend could be the result until the Bollinger Band indicator can catch up with the sell-off in the EURGBP. This will also be able to confirm the support area, which is visible in light blue in the above H1 chart, from where another round of short-covering should be expected. This can take the EURGBP back into its resistance are which is visible in light grey.
Forex traders are advised to position their forex portfolios with long positions at 0.7270 and below in order to capitalize on the expected short-covering rally. More conservative traders are recommended to wait for a breakout above its support area before taking positions. A take profit target of 0.7470 is recommended for a potential trading profit of 200 pips on the H1 Chart. A breakout above the support area is expected to further drive this currency pair ahead.
Forex traders should protect this trade with a stop loss level at 0.7200 for a potential trading loss of 70 pips which will result in a Risk-Reward (RR) ratio of 2.86.
EURGBP
Long @ 0.7270
TP @ 0.7470
SL @ 0.7200
RR: 2.86