Above the daily support trend line (currently approximately 1,11 1,115), buy dips on supports, or buy confirmed break out of resistances on the way up. I will not sell any signals as long as the pair remains above 1,11, for I consider them to be counter trend.
On the monthly chart, and after having retested a broken resistance around 1,12,the euro starts the month with a very powerful bullish move, triggered by a weaker than expected NFP. If the pair starts to go up seriously, and I think it may, keep an eye on the strong resistance at 1,22, with a 50 Fibonacci level and the 200 SMA resistance, for this level has still to be retested.
EURUSD MONTHLY CHART.

On the wekly chart, and after making a low by November last year, the pair entered a bullish consolidation, with higher highs and higher lows. this move is supported by a trend line, that will be my "last line in the sand" to keep a bullish bias. The current candle is a bullish engulfing one, coming after 4 smaller bearish candles, and bouncing from a very strong support , with a trend line and two SMAs (40 and 55). It is a valid bullish signal, but I will wait for some pull backs and a proper signal before buying the eurodollar, as we are just after the week end break. This chart is also good one to check for previous highs, or for SMAs that the pair may meet on its way up. Those will be the resistances I will use to enter longs on signals.
EURUSD WEEKLY CHART.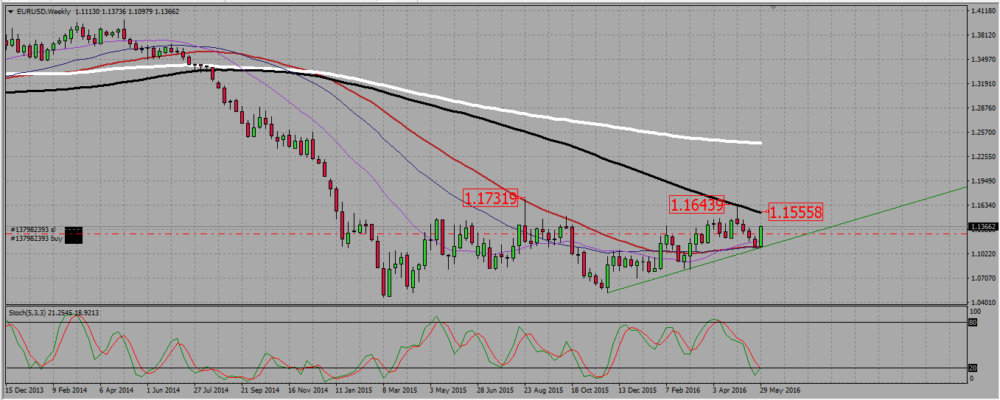 The daily chart paints the bullish consolidation, the support trend line, and a huge Friday bullish candle. That candle is something you do not want to go against, even if the pair is getting into a resistance zone (the huge down wicks just above the blue box). Those wicks are the main reason you should not buy the euro at that level; there is quite a strong possibility it will consolidate down on the beginning of the week.
EURUSD DAILY CHART.