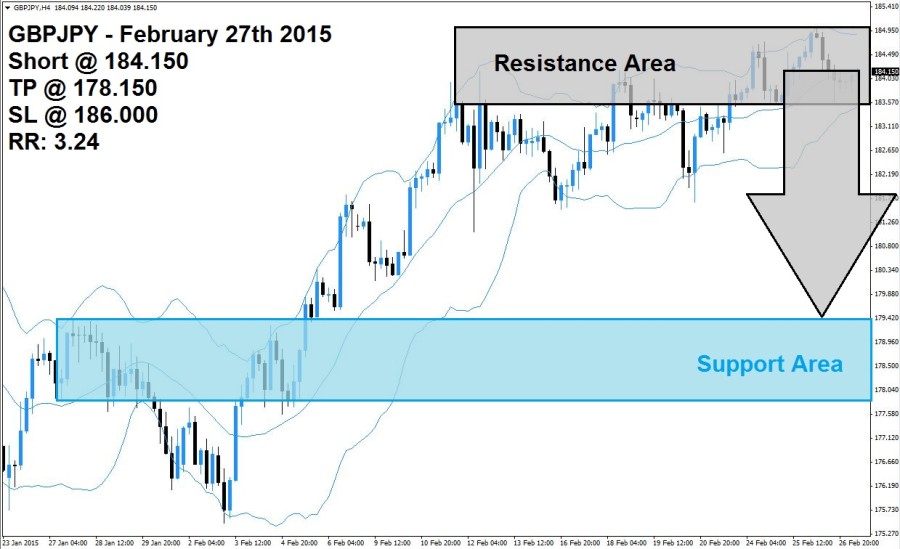 The GBPJPY enjoyed a strong rally after it broke down below its support area which was temporarily turned into a resistance area; this is visible by the light blue area in the above chart. A small double bottom chart pattern formed below the support area which gave this currency pair enough strength to initially advance back into its temporary resistance area in order to turn it back into support. After this level held firm during a reversal the GBPJPY accelerated higher and broke out of its support area. This allowed a strong rally to form which took the GBPJPY into its current resistance area visible in grey in the above chart
Forex traders are now advised to seek out profitable short entries above 184.000. Economic data out of the UK came in below expectations while the Japanese economy printed some better than expected data. This has already started to move the GBPJPY away from the top end of its horizontal resistance are and is now approaching the low end of it where the lower band of the Bollinger Band is located as well. A breakdown below this area is expected to result in a profit taking sell-off.
A breakdown below the lower band of the Bollinger Band is additionally expected to invite new short positions on top of the closure of long positions as forex traders realize floating trading profits and swing traders seek to capitalize on the sell-off. Any move above 184.000 should be taken as a good short entry opportunity. A take profit target of 1.7815 has been selected for a potential profit of 600 pips.
Forex traders should protect this trade with a stop loss level at 186.000 which will result in a Risk-Reward (RR) ratio of 3.24.
GBPJPY
Short @ 184.150
TP @ 178.150
SL @ 186.000
RR: 3.24