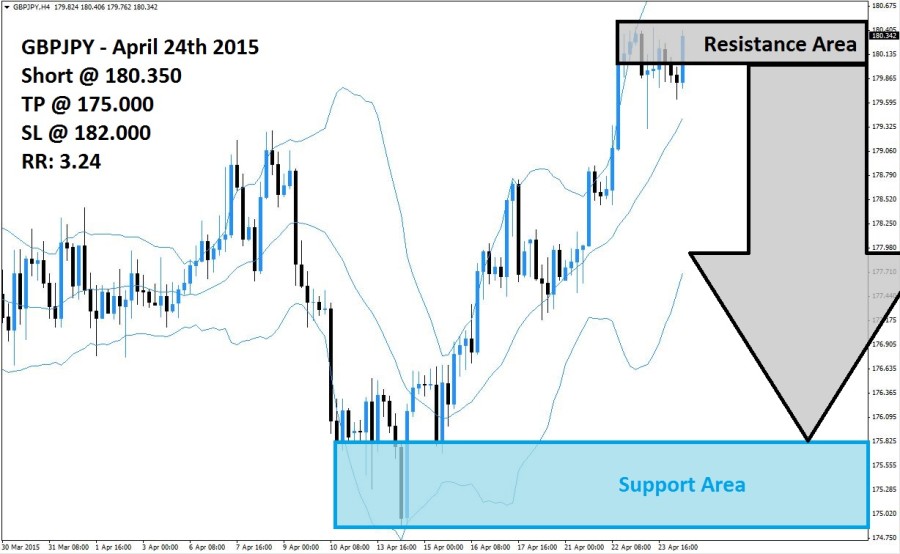 The GBPJPY rallied strongly after a previous sell-off took this currency pair into its support area which is visible in light blue in the above H4 chart. A bullish H4 candlestick initiated the change in momentum and after a brief test of its support area the GBPJPY advanced. A breakout above the middle band of its Bollinger Band indicator resulted in a short-covering rally which was met by fundamental reports support a stronger GBPJPY currency pair. The middle band of tis Bollinger Band indicator has acted as solid support throughout the rally.
Upward momentum was strong enough to result in a higher high as compared to its previous rally which added to the gains. The rally has now paused inside of a new resistance are, visible in light grey in the above chart, and forex trader may opt to lock in gains and realize floating trading profits around current levels. The most recent H4 price spike also offers a good opportunity to take short positions as the GBPJPY may develop a sideways trend until its next move will unfold.
Forex traders are recommended to seek out short positions at 180.350 and above in order to position their forex portfolios for a potential profit taking sell-off. Forex traders are also advised that a sell-off is unlikely to occur during today's trading session and new sell orders may not arrive until fundamental data will be released next week. A take profit target of 175.000 has been selected for a potential profit of 535 pips.
Forex traders should protect this trade with a stop loss level at 182.000 for a potential trading loss of 165 pips which will result in a Risk-Reward (RR) ratio of 3.24.
GBPJPY
Short @ 180.350
TP @ 175.000
SL @ 182.000
RR: 3.24