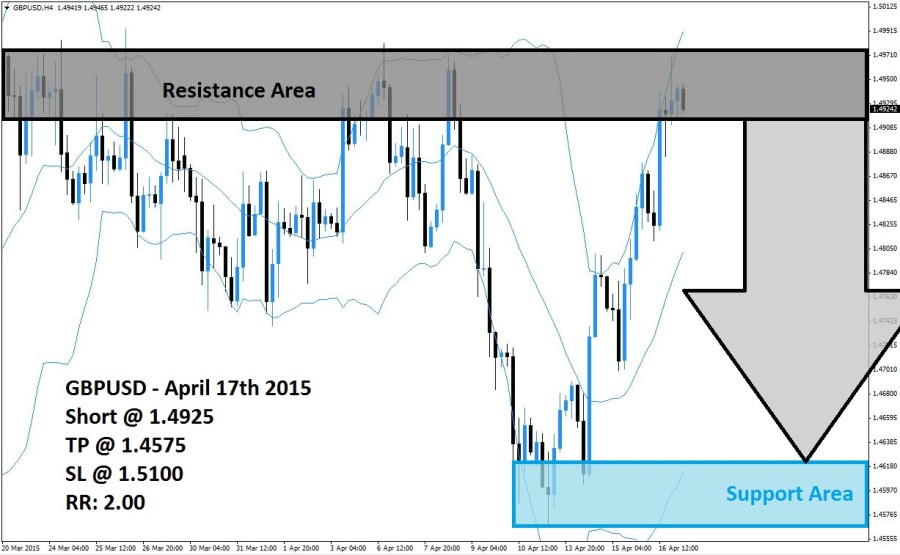 The GBPUSD has rallied sharply after a brief sell-off took this currency pair from its resistance area, visible in light grey in the above H4 chart, to its support area which is visible in light blue. The increase in selling pressure was a combination of technical factors as well as fundamental factors. The inability to breakout above its resistance area has caused a shift in momentum and forex traders opted to realize floating trading profits by exiting long positions in the GBPUSD. Fundamental data released out of the UK as well as US have additionally increased downward momentum.
After the breakdown below its resistance area new short orders further fueled the sell-off which took this currency pair down into its support area. The Bollinger Band Indicator dropped together with price action and the middle band acted as solid resistance. After spending only a short period of time in its support area the GBPUSD rallied sharply and recovered all of its losses. A short-covering rally powered the strong advance and this currency pair shot back into its resistance area where a double top formation has formed.
Forex traders are advised to take advantage of the bearish chart pattern with short positions at 1.4925 and above. The increase in selling pressure is expected to result in a breakdown which will be further fueled by another round of profit taking. Fundamental data set for release today could trigger an end-of-week sell-off in this currency pair. A take profit target of 1.4575 has been selected for a potential profit of 350 pips.
Forex traders should protect this trade with a stop loss level at 1.5100 for a potential trading loss of 175 pips which will result in a Risk-Reward (RR) ratio of 2.00.
GBPUSD
Short @ 1.4925
TP @ 1.4575
SL @ 1.5100
RR: 2.00