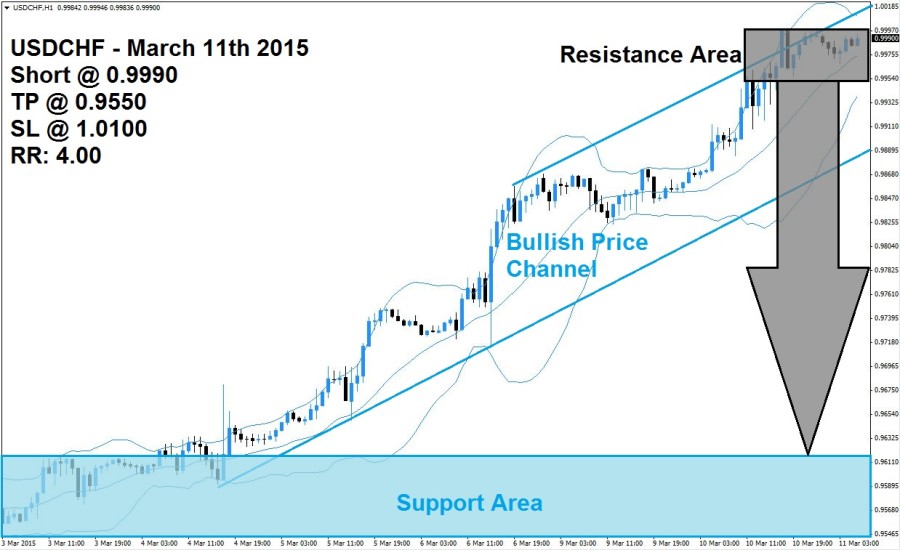 The USDCHF has enjoyed a sharp rally and last Friday's NFP report out of the US which showed a bigger than expected increase in the headline figure gave forex traders another excuse to buy the US Dollar. The primary reason behind this new wave of buy orders was the miniscule increase in expectations that the US Federal Reserve may increase interest rates sooner than expected. Given the fact that the USDCHF did not have a pause in its rally makes this currency pair very vulnerable to a counter-trend move which may be fueled by profit taking.
A bullish price channel has formed which fueled the advance and the Bollinger Band indicator has traded inside of this bullish price channel, but price action never dipped below the middle band and together with the steep angle of the bullish chart pattern a reversal should be accounted for. Forex traders are advised to seek short entries above 0.9990. The psychological resistance level of 1.0000 is also expected to provide a barrier to the upside which appears to be rather limited.
Forex traders may take the multiple bearish factors as a chance to realize floating trading profits and close their short positions in order to lock in profits after a strong rally. A breakdown below the middle band of the Bollinger Band is expected to invite new short positions in the USDCHF and a breakdown below the bullish price channel will clear the way for more downside. A take profit target of 0.9550 has been selected for a potential profit of 440 pips.
Forex traders should protect this trade with a stop loss level at 1.0100 for a potential trading loss of 110 pips which will result in a Risk-Reward (RR) ratio of 4.00.
USDCHF
Short @ 0.9990
TP @ 0.9550
SL @ 1.0100
RR: 4.00