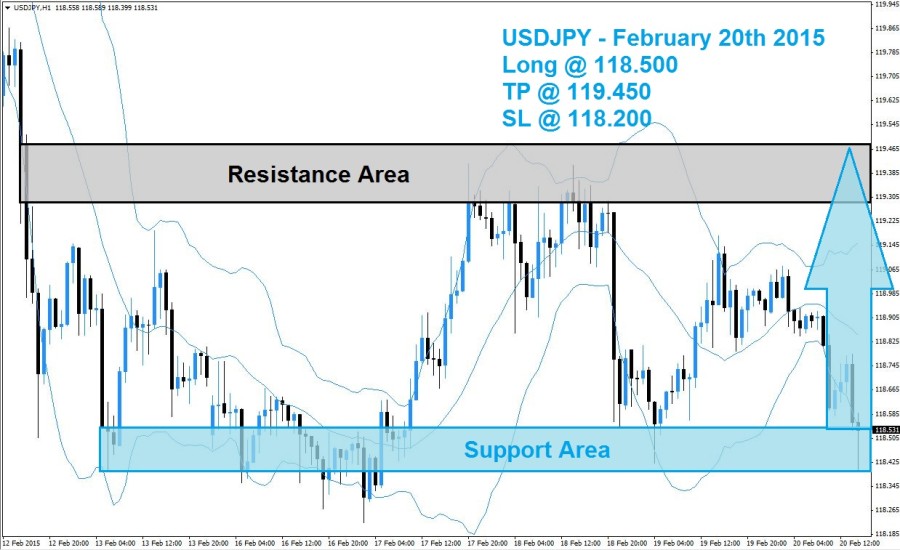 The USDJPY was unable to breakout above its horizontal resistance area visible in the above chart and marked in grey which caused price action to reverse back to its horizontal support area marked in blue. Trading has been restricted to this zone as a rectangular chart pattern has formed. The moves in the USDJPY were additionally in line with the Bollinger Bands and respected the upper and lower boundaries of the technical indicator which allowed for orderly trading free of surprises.
Forex traders should expect the USDJPY to enjoy a short-covering rally as traders will realize floating trading profits and close their short positions. Long entries at 118.500 are favored over the course of the trading day and the last H1 candlestick has formed a hammer formation at the top of its horizontal support area; this offers another bullish trading signal and supports the call higher.
Price action may try to test its intra-day low of 118.225 just below its horizontal support area which would form a double bottom formation which is another bullish signal provided by the above chart. Any dip below 118.500 and above 118.200 should be taken as an opportunity to enter long positions in order to profit from the expected short-covering rally. A take profit target of 119.450 has been selected for a potential trading profit of 95 pips.
Forex traders should protect this trade with a stop loss level at 118.200 for a potential trading loss of 30 pips which will result in a Risk-Reward (RR) ratio of 3.17.
USDJPY
Long @ 118.500
TP @ 119.450
SL @ 118.200
RR: 3.17