NOTE: Your opinion is very important to us. Use tab "Comments" in top of the page to write your comment/review/feedback, if you have any experience with "CabEX Forex EA !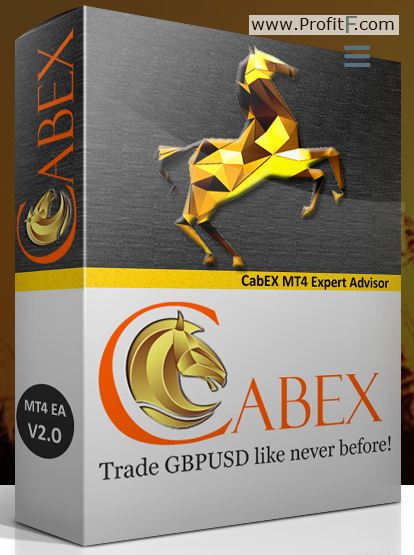 Trading Style: Price Action around Moving Averages
Forex Pairs: GBPUSD.
Timeframe: 1 Hour
Recommended Broker: Broker Independent. (choose Forex broker in our Rating)
Recommended Minimum Deposit: $500.
CabEX Manual: Available after Subscription.
10% Discount Coupon code – profitFcom
License: Two live and two demo accounts.
Refund Policy: No Refund Policy.
We have a standard purchase protection gaurantee – Refund can only be claimed in case of Non-Delivery or Non Activation of EA. CabEX EA's performance over short term of 30 days cannot be guaranteed – The EA can be expected to deliver consistent profits on the short and medium term if it is run continuously without manual intervention. If you are not convinced about the startegy, we recommend tracking the EA's live performance for a few months. You can also find a great deal of information at http://cabex.phibase.com/analysis.html – The statistical analysis presented will enable you to understand the trading sytle of the EA better.RayBOT live myfxbook statistic:
NOTE from ProfitF: But we think you can request refund 6via avangate payment processor  

  😉
CabEX joins the caliber of very few EAs that offer long standing back-test and live test periods for the user to analyze before deciding to use the EA. CabEX EA has a 3 year verified track record since April 2013. Let us look at the strategy behind CabEX EA;
The GBPUSD pair is mainly referred to as the Cable hence the name of the EA, CabEX, which is designed to trade on the GBPUSD pair exclusively.
CabEX EA Strategy
Unlike most if not all EAs, CabEX EA uses a line chart instead of candlestick chart to define its trading conditions. The reason behind using a line chart is to remove the noise experienced in GBPUSD prices.
So why the GBPUSD
The GBPUSD pair is one of the most volatile currency pairs available for trading and often shows spikes and fast price movements. Due to this characteristic, short term strategies seeking to capture quick price movements thrive if traded on GBPUSD. Numerous economic releases from both the United Kingdom and USA fuel further volatility on GBPUSD. The features on CabEX EA allow it to successfully identify trends and reversals on GBPUSD on the hourly timeframe while locking in profits due to the high volatility of the pair.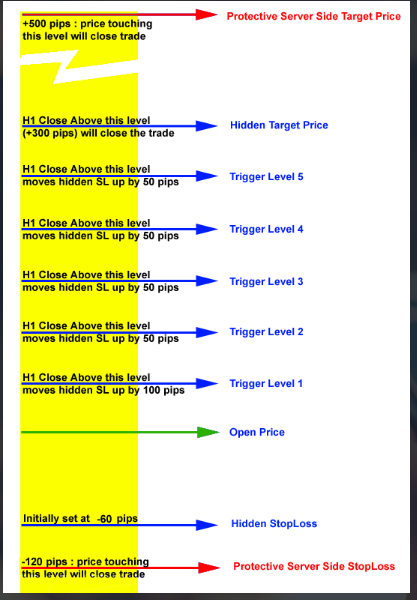 Figure; CabEX EA Long trade management example
It utilizes hidden stop-loss levels and targets. It trails its stop-loss once the one hourly candle closes above or below a certain target locking in profits as the markets moves in the favorable direction. The average gains are usually around 100-200 pips while the average losses are usually between 50-100 pips. It has built-in money management depending on the account size and makes one trade at a time. After installation, noparameter setting or optimization is required since everything is built in. Below is a long trade example of how CabEX EA manages its trades;
CabEX EA Performance
Back-tests on CabEX EA have been done with Dukascopy tick data leading to a 99% quality in back-test results. This is very important since back-tests should be simulated to be as close as possible to real trading conditions. Let as look at a 6 year CabEX EA back-test using medium risk;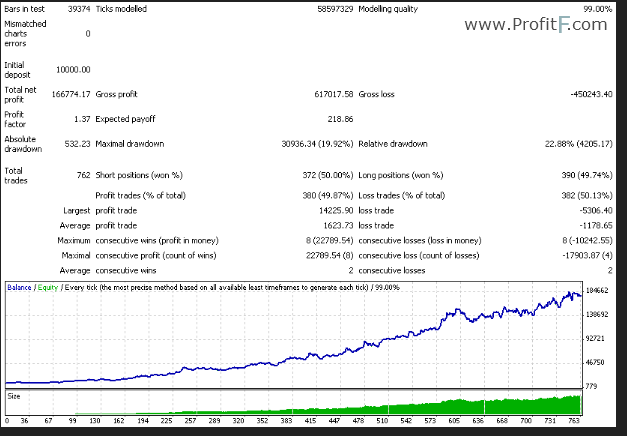 Figure; CabEX EA Back-test using medium risk
From the back-test above, it is important to first note that the modelling quality is 99% hence a good level of accuracy in the results.The profit realized from 10,000 is 166,774.17 which is around 1667% in growth over a 6 year period. Notably, the drawdown is only 19.92%. The drawdown level is one of the attractive characteristics of CabEX EA since even using very high risk level the drawdown is below 22%. Many other Forex robots and systems has dradown about 30-40%
The EA shows a win rate of around 50% hence it makes its money from a good reward to risk ratio of around 3:2.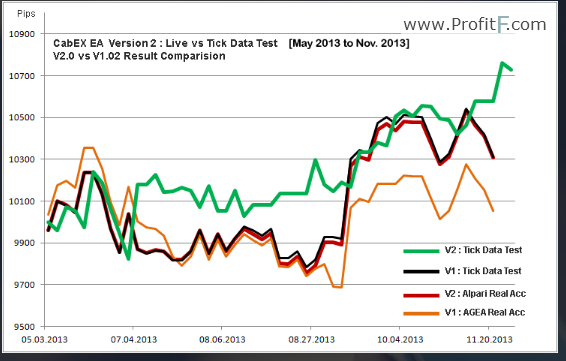 Figure; CabEX EA back-test vs Live trading results
Given the high level of back-testing quality done on CabEX EA, it back-test results are very close to those observed during live trading as shown below;
CabEX EA has a live account verified by myfxbook running from January 2015. (link to this myfxbook acc.) The overall gain on the account is 124.76% with a drawdown of 9.53%. This translates to an annual gain of around 60%. Since January, 2015, the EA has experienced only 3 down months with the month with the highest drawdown experiencing only a 4.09% decrease in equity.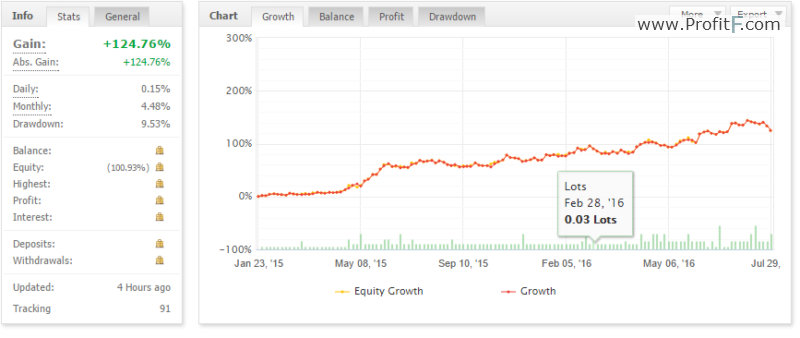 Figure; CabEX EA Live Account Performance
A second live account verified by myfxbook is available running from April 2013 to January 2015.
However, this account was discontinued due to the SNB even that happened on January,15th 2015 where the SNB abandoned its pegged exchange rate regime. This can be confirmed since the last trade of the EA was on 14th 2015 since other developers abandon their EAs after it loses heavily. The EA had made an overall gain of 61.1% with a drawdown of 16.63%.
Figure; CabEX EA Live Account last trade date verification
Pros and Cons of CabEX
Pros
It shows very low drawdown with a reward to risk of 3:2
Quick drawdown recovery
Long live testing performance is available
Cons
CabEX EA does not allow one to configure setting after installation hence one has to rely on the developer and pay some annual fees for continued updates.
Expensive Price
Conclusion
Apart from having conclusive, quality back-tests and a long live, verified performance; CabEX EA has very attractive drawdown levels and would be a delight to anybody whose first goal is capital preservation.
---
Please post comment/review about CabEX, if you have any experience with this forex expert advisor!
CabEX price = $1450, however you can buy it with Discount. ProfitF offers 10% Discount Coupon code – profitFcom