NOTE: Your opinion is very important to us. Use tab "Comments" in top of the page to write your comment/review/feedback, if you have any experience with "Forex Market Sentiment Indicator !

Forex pairs – any
TF (TimeFrame) – n/a
Broker – Forex Sentiment Indicator work with any MT4 broker
Recommended Minimum deposit – any
Price – $97 $77 ( with $20 CashBack from ProfitF)
Refund policy – 60 days money back (through clickbank payment processor)  

Before we dig in and review this Metatrader 4 custom indicator, let as look at what Investopedia defines forex market sentiment as;

Narrowing to the Forex Market, we would read the market sentiment as bullish if prices were trending upwards and bearish if prices were trending downwards. Market sentiment is driven by the crowd or herd psychology of the traders.
Look at vendor's website: So what does the Forex Market Sentiment Indicator show?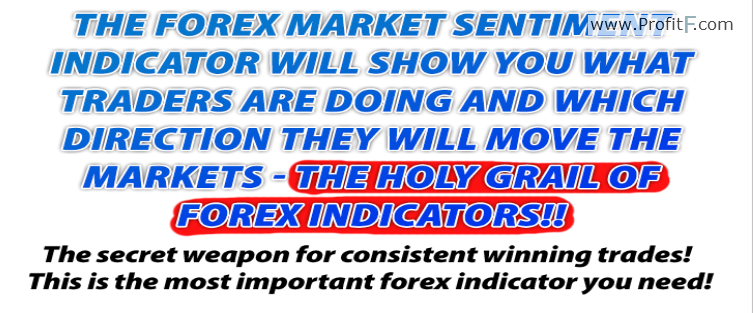 The indicator shows the direction of positions of Forex retail traders. Simply put; it will show how many traders are holding long positions and how many are holding short positions. It will also show the overall volume traded on the long side and that of the short side. This data will be shown directly on your Metatrader 4 charts.
It is important to note that this indicator gets it data from Myfxbook's community of traders. This data is composed of retail traders' live trading accounts. Myfxbook being a big community of traders, and retail trading psychology being the same, we can confidently say it is reflective of the whole retail Forex trading community. So, lets head to http://www.myfxbook.com/community/outlook and look at the data it provides;

Figure; Myfxbook Community Outlook per currency pair
Above is data for each individual currency retail positions. It will show the amount of long positons versus short positions, amount traded for that currency pair compared to others (symbol  popularity), average short price (plus the current price distance from it) and average long price (plus the current price distance from it).
Let us look at more statistics as provided by Myfxbook below;

Figure; MyfxbookMajor Stats from the Community Outlook
We can also see the amount of profitable positions versus the amount of non-profitable positions as well as other statistics such as total funds which is a nineteen figure number attesting to the fact that this data is a good reflection of the overall retail trading community even those not using Myfxbook.
Having looked at the data the Forex Sentiment Indicator uses to feed itself, let us look at how it displays it on our Metatrader 4 charts.
The first display shows the total size (trading volume) of long versus short positions.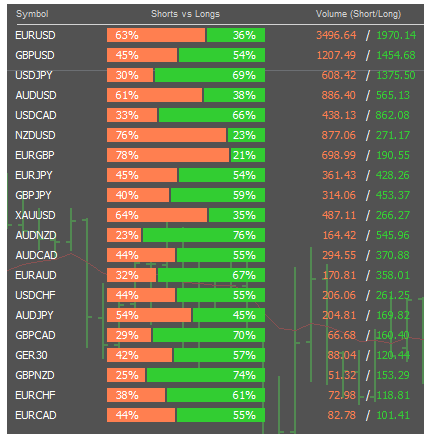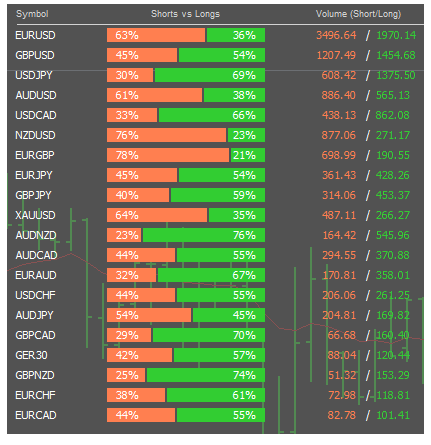 Figure; Forex Sentiment Indicator total volume display
The other two displays show the total number of positions (reflective of the total number of traders in either the long or short side) and the average short and long price for each currency pair.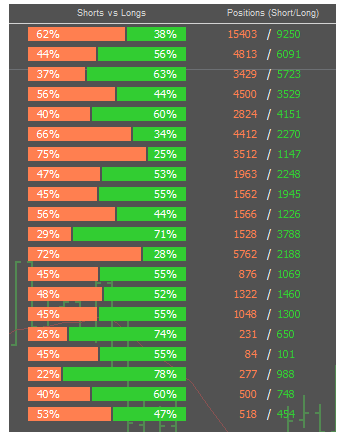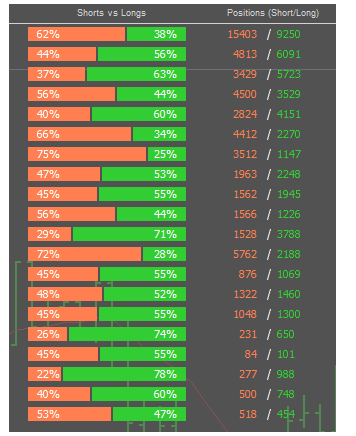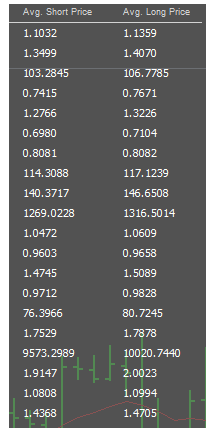 Figures; Display showing number of positions on each side and average prices for each side
One can also filter the display to show currencies with extreme conditions only for instance those that either the long or short side is more than 70% of the total traded volume for that particular pair.
Forex Market Sentiment Indicator – Features
Alerts (Sound, pop-up, email, phone notifications) for extreme conditions.
Multicurrency and multi-timeframe
Choose update time in minutes from http://www.myfxbook.com/community/outlook (hence data is real time)
Full documentation for setup (Approximately 5 minute setup time)
One can set the extreme volume percentage level e.g. at 60% or 80%
Those who do not know to setup email or phone notifications need not to worry since it is clearly explained in the documentation.
Now, let jump into the most important part:
Forex Market Sentiment Indicator – Trading Methods:
1. Contrarian Trading
It is always said; 95% OF RETAIL TRADERS LOSE MONEY IN THE FOREX MARKET. Hence trading against the crowd would be a very sound and profitable trading strategy. Using the Contrarian trading strategy, the Forex Market Sentiment Indicator let's you be among the five percent by telling you exactly on which side the crowd is. All one has to watch is for the Forex Sentiment Indicator to show extreme conditions in a currency pair and look for good price levels to enter against the crowd. Let us look at an example;
If the Forex Sentiment Indicator showed that 90% of traders on EURUSD are short; one should start looking for favorable prices to short the EURUSD pair for instance at bearish reversal points or bearish continuation patterns. The Forex Sentiment Indicators makes this even easier by including alerts, hence no need to watch the chart for extreme conditions; one can simply set alerts for this!
2. Orderflow Strategy
Most of us have heard of stop-hunting; this mostly happens when your stoploss is hit and the market then moves to your predicted direction. As mentioned earlier, retail traders psychology works in a similar way, hence most retail stoplosses and entry prices tend to cluster at around the same price.
To your advantage, the Forex Market Sentiment indicator will show you where average retail traders entry prices for longs and shorts are placed! Since retail traders will tend to place their stops above the last swing high or low near their entry price, or the nearest support and resistance level near their entry price; you will not only know where the institutional traders will drive price to hunt their stops and trade the same way, but you will also avoid placing your stops around this trap areas!
The above are just a few ways to trade using the Forex Sentiment MetaTrader Indicator. You can also combine the insights it gives to improve your own trading strategies.
Conclusion
This is a very unique and useful important indicator and a must have for every trader to avoid being among the majority 95% of losing traders. Once you have it, you will most likely never take a single trade without using it first.
Please post comment/review about Forex Market Sentiment, if you have any experience with this MT4 indicator!
Forex Market Sentiment price = $97, however you can buy it with Discount. ProfitF offers BONUS – $20 Cashback. … more info >>