NOTE: Your opinion is very important to us. Use tab "Comments" in top of the page to write your comment/review/feedback, if you have any experience with "ForexSeven forex EA !
ForexSeven – Expert advisor which is built to trade on the M30 time frame. The product was released in early 2015 after significant testing. It's automatedtrading software (Forex robot). Works on 20 currency pairs. It's advertised as very reliable, but don't forget that EA use light martingale algorithm (increase lot size for non-profitable positions)
Trading Style – Basket trading + martingale
Developer – forexseven
Forex pairs – AUDCAD, AUDJPY, EURUSD, AUDUSD, CADJPY, GBPNZD, GBPCAD, USDJPY, GBPUSD, EURJPY, USDCAD, EURCAD, GBPAUD, EURAUD, EURNZD, AUDNZD, NZDCAD, EURGBP, NZDUSD, GBPJPY
Broker – ForexSeven work with MT4 broker
Recommended Minimum deposit – $3000
Price – $297
Refund policy – 30 days money back (through Avangate payment processor)   

ForexSeven live myfxbook statistic:
Real (USD), FXOpen, Technical, Automated, 1:500 , MetaTrader 4
Forex Seven General Features
The ForexSeven expert advisor is loaded with certain features designed to enhance the user experience and the profitability of the trader. These are:
The EA is programmed with an algorithm which permits the synchronized ability to analyse 20 forex pairs at once.
ForexSeven is able to compensate for drawdowns.
The ForexSeven EA is built to use sensible risk management. Therefore, risky techniques such as the Martingale strategy are never used.
By being able to detect and initiate profitable setups in as many as 20 pairs, the EA is able to use the profits made from trading other pairs to compensate for any losses sustained.
The strategy is very profitable.
ForexSeven How the Signal Works
The mechanism by which the ForexSeven EA works is not public information. Perhaps this is an attempt by the makers of this EA to conceal their proprietary secrets. However, it is clear that the EA has been built with an algorithm which is able to pick out situations in the market when profitable opportunities occur in several currency pairs.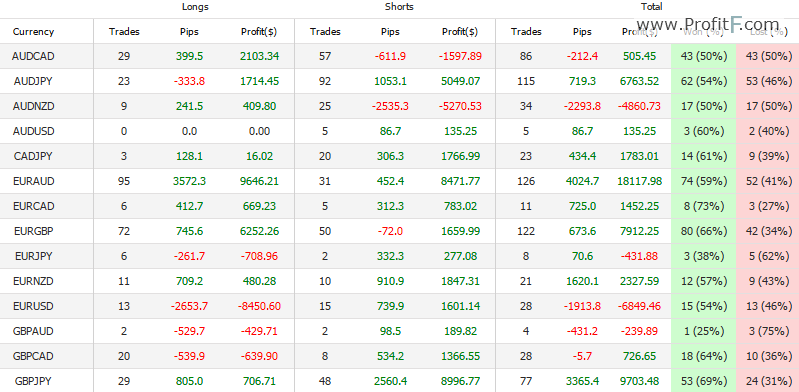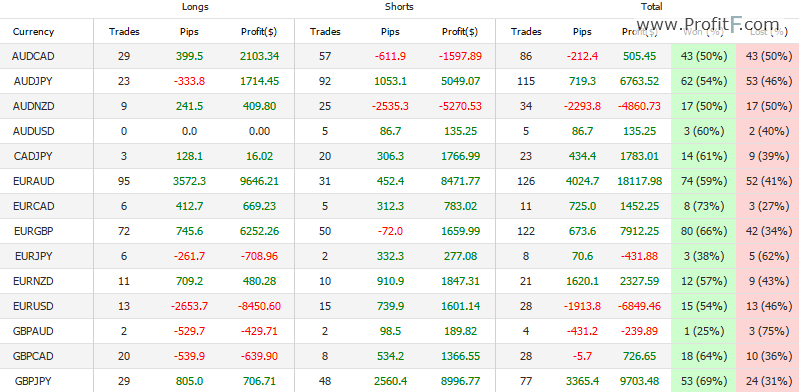 The average duration of trades performed by the ForexSeven EA is 5 days. Therefore, the strategy used in coding the EA is a swing trade strategy. The most profitable currency trades are those performed on the AUDCAD, EURAUD, EURGBP, GBPJPY, CADJPY and AUDNZD pairings. The performance of the EA on USD pairs is not very strong, except for the USDJPY. This is confirmed by the analytics of the trades performed by the EA over time.
Traders are advised to start trading with at least $3,000 to get the best out of the ForexSeven EA.
ForexSeven Performance
How has the ForexSevenEA fared in backtests as well as in actual trades since the software was released into the market in 2015? The performance snapshot of the ForexSeven EA on real money trading accounts is shown below. Images and snapshots are from Myfxbook.com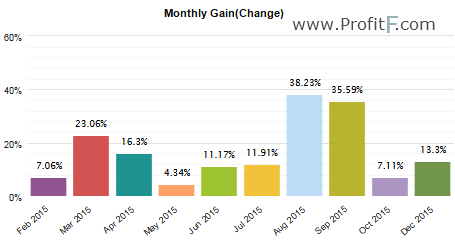 The chart was updated to March 11, 2016. It shows the performance chart on the left, which clearly shows growth in equity as well as in amount of pips gained per trade. The EA has realized an account growth of 467.56% since February 2015. This means that an account deposit of $10,000 has grown to about $46,756 in thirteen months. Daily gain has averaged 0.44% and monthly gains were an average of 14.14%, boosted by strong showings of the EA in August and September 2015 as shown on the bar chart.

The ForexSeven EA was also very successful in trading positions, with 58% of all long trades won and 57% of all short trades won.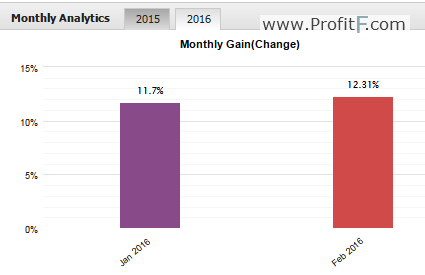 The snapshot above mirrors the monthly performance of the ForexSeven EA for the present year. The software can be seen to have made a profit of 11.7% in January 2016, and 12.31% in February of 2016. This shows an improvement in performance month-on-month.
NOTE: Look at screenshot below. EA can open additional positions (increase lot size). As you can see forex Seven use martinagle

ForexSeven package contain:
orexSeven EA optimized to trade 1 real account
ForexSeven EA which is optimized to trade 2 demo accounts.
A complete user manual to help the buyer install, setup and use the EA correctl
Technical support 24/7.
All updates are free
Conclusion
The ForexSeven EA's performance looks very stellar and promising. The fact that it has never had a losing month since the EA was introduced into the forex market is highly commendable. A major problem with most EAs is that they do not give sustained performance over time, but this is what ForexSeven seems to have done. Thirteen months down the road, the EA is still delivering profitable performances.
Despite the positives of the ForexSeven EA, there are two areas where the team needs to have a review. The first is in its policy of not providing a free trial period. Free trials allow traders to test the product for themselves so that any lingering doubts as to the EA's performance are removed. IT is not just about giving a 30-day money back guarantee; it is about ensuring that traders are satisfied with what they are eventually paying for. This also reduces the chances of traders asking for refunds if their expectations are not met. Secondly, the cost of the EA is quite high. Perhaps there should be a reduction in price or a change in pricing structure such as the introduction of monthly or quarterly payment plans. This is what the market seems to tolerate.
All in all, the ForexSeven EA is recommended for use by traders who want to start making money in the market using this type of forex EA. Coming soon we'll post article keys to successful trading by "hazardous" Expert Advisors. so don't forget subscribe to updates))
Please post comment/review about ForexSeven, if you have any experience with this forex course!
ForexSeven price = $297, however you can buy it with Discount. ProfitF offers 5% Discount Coupon code – "5%OFF"