NOTE: Your opinion is very important to us. Use tab "Comments" in top of the page to write your comment/review/feedback, if you have any experience with "#8 MFM5 forex EA !
MFM5 – Forex Expert Advisor (EA). Automated forex system developed by a real, highly skilled MQL4 programmer named Matthew.
The basic principles around which this Expert Advisor was built are account survivability during hard to trade times, moderate but safe profitability, and strict criteria for minimizing risk. Matthew has many years of experience designing Expert Advisors, and also in studying their behaviour against the market charts. So he came up with the idea of focusing on the US-Asian forex time zones, and mainly but not exclusively on the Australian dollar and its crosses. The main trading principle is scalping. (read more about this method trading here>>)
Trading Style – scalping
Developer – Matthew
Forex pairs – any
TF (TimeFrame) – n/a
Broker – MFM5 work with MT4 broker
Recommended Minimum deposit – $100
Price – $99 $79 ( with $20 CashBack from ProfitF)
Refund policy – 60 days money back (through clickbank payment processor)  

MFM5 myfxbook statistic:
Real (USD), FX Choice, Automated, 1:200 , MetaTrader 4
MFM5 History of Trades:
(taken from myfxbook)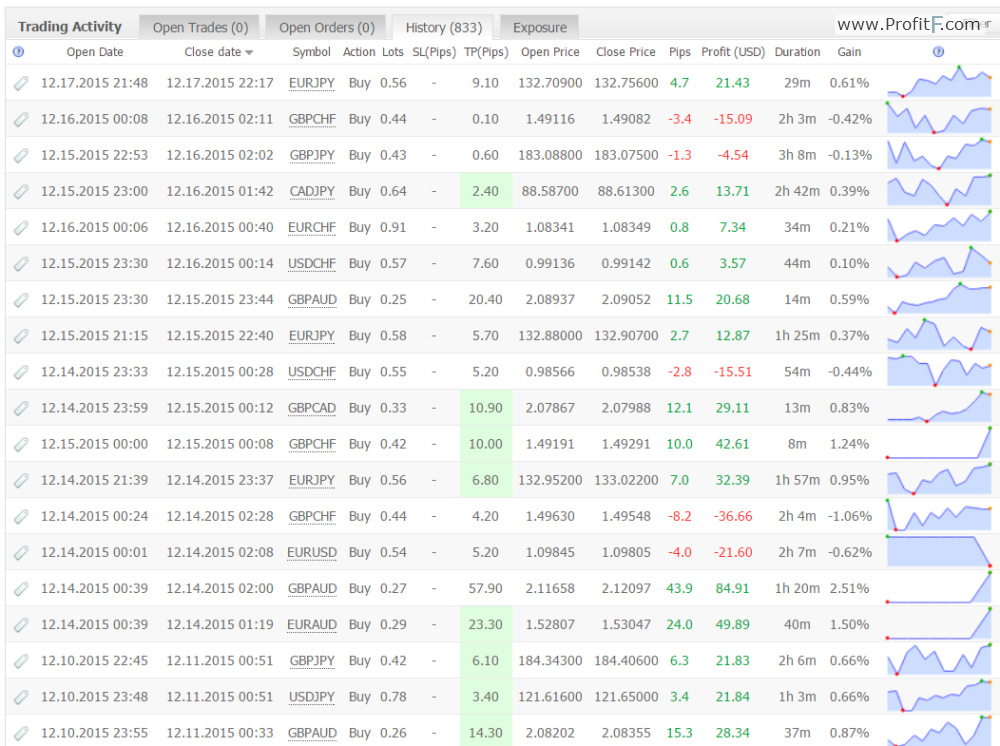 MFM5 General Features
Scalping is great indeed, when implemented by a highly experienced trader, it can actually generate $100s in profits almost every day. However there is the risk of volatility, which can cause the market to break out of the established trading range and cause extreme losses. Usually it is possible to lose one entire week's scalping profits in a single scalping trade if not appropriate stop losses are in place. Matthew managed to overcome much of this risk, by filtering out a lot of risk, and this inevitably required using a high risk-reward ratio. It may seem wrong to use such high risk reward ratios, but he did in fact do the right thing. High risk-reward ratios are the only way to have room for movement, so that the market moves enough, so as to be able to make money without having the stop loss orders triggered for no good reason. MFM5 typically will allow up to 50 pips of risk, and will capture only few pips of profit, usually fewer than 10, so it seems like nonsense. But it is actually good, as the probability of the trade being successful increases exponentially when one uses high risk-reward ratios! Any scalper knows this very well. (on our website you can find other Forex EA )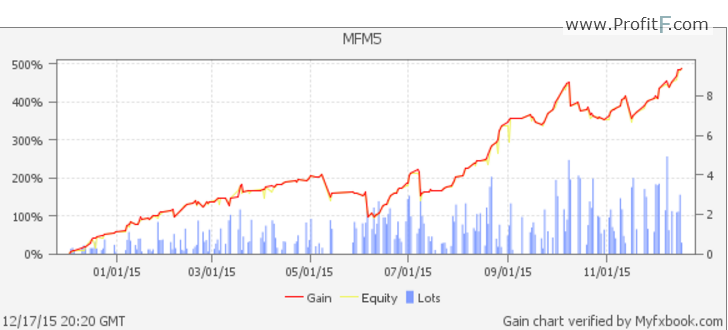 MFM5 forward test
MFM5 does achieve very good returns, on average around 0.46% per day, and over 400% per year. The algorithm is designed so as to never risk more than 50 pips per trade, and no more than 8% of the trading capital.
MFM5 is NOT a Martingale!
MFM5 really does not use martingale elements in any way, and this is a huge safety factor. It does have a large drawdown of 36% as the tests show, but despite this, the probability of success is impressively high. Users stick to the default settings first, or may use shorter time frames such as 15 minutes, but there is no need to be very picky about that. As going shorter than 15 minutes may introduce other problems.
MFM5 Focused on US And Asian Sessions!
The US and Asian sessions are much less risky than the European session, and more specifically, as any scalper would know, pairs such as EURUSD become less risky and more predictable for scalping during the Asian session. While AUD crosses such as AUDCAD remain slightly more active but are still relatively predictable as well.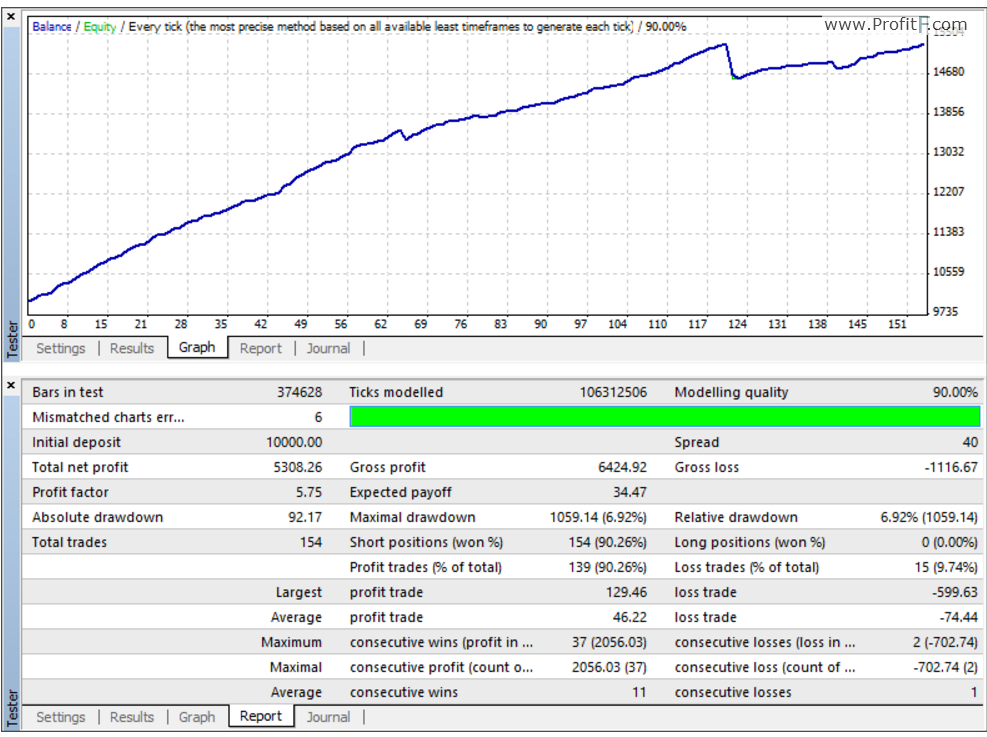 MFM5 EA backtesting
 MFM5 really does handle most of the market risk well, and even senses many losing trades before they get too bad. Such trades are handled accordingly, and risk is managed first, while leaving the market to provide any profit, even few pips.
The AUD Factor
The Australian dollar is strongly correlated to gold, this is perhaps one more reason, if not the main reason why Matthew has designed MFM5 around AUD crosses. We don't know how exactly the algorithm works, but gold is most volatile during the European trading session, and sometimes during the NY trading session too. But it stays quite and more predictable during the Asian session. So the risk of sudden, large movements is further reduced. Because if gold makes such a dramatic move, AUD crosses will be instantly impacted and some trades will become big losers in no time.
MFM5 Risk Control
MFM5 senses risk quite well, and will not trade more than twice in a row on the same pair, scalpers trading manually actually trade the same pair on and on throughout the day. That's something many scalpers may not have thought about. But above all, it senses when risk is developing, and acts so as to minimize potential losses while still trying to catch the next trade. The Asian session is well known to traders, but many of them live in countries where the time zones are inconvenient to trade during those hours… so MFM5 would perfectly allow them to capture those hours, either with a $1,000 on a Standard account, or even with $100 on a Mini account, in the beginning at least.
Conclusion
MFM5 is a good Expert Advisor, worth a short. Some users don't quite achieve the results it claims, while some others do. Regardless of how it works, it is clear that it is no junk software. The selection of a high risk-reward ratio, AUD crosses in focus, and the Asian session, result in a seriously improved system, which offers very high probability of success. It is compatible with 20 currency pairs in total, and it is wise to follow the vendor's advice as to how to make the best of this product. Independent users may also provide good tips.
Low risk-reward ratios never worked in real life trading, they are just idealistic and unrealistic nonsensical theories mentioned in trading books, by writers who know nothing about stop running and market volatility. What matters is the probability of the trade becoming profitable, and that requires a HIGH risk-reward ratio at all times.  Moreover, the focus on AUD crosses boils down to gold, the gold market provides extra stability and scalping predictability during some hours, just like crude oil provides to CAD crosses. There is no doubt that Matthew really did his homework and got very creative in creating MFM5!
Author working to improve "MFM5 forex EA". So after buying this robot all updates of the MFM5 EA will be sending for free.
Please post comment/review about MFM5, if you have any experience with this forexexpert advisor!
MFM5 price = $99, however you can buy it with Discount. ProfitF offers BONUS – $20 Cashback. … more info >>