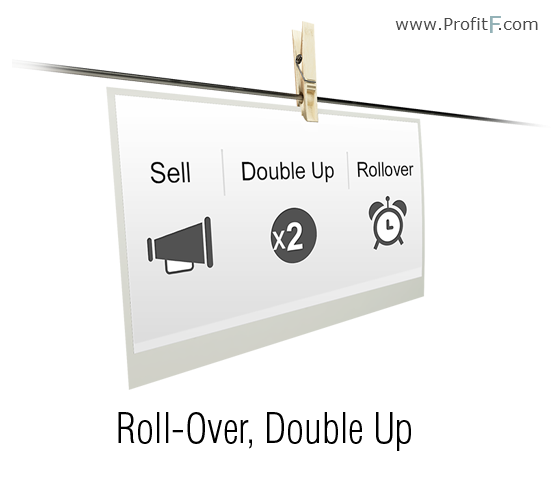 How To Use Binary Options Sell, Rollover, and Double Up
Many modern binary options platforms now include a number of optional trade feature. The features can help traders to earn more, so long as they are used correctly. Additionally, some features can help traders to minimize losses. Should your platform include these elective features and you have yet to use them, now is the time to learn how to use them to your advantage.
Sell
The most popular feature being offered at this time is Sell, which is sometimes referred to as Buy Me Out. This feature makes it possible for the trader to sell an open trade back to their broker. When the open position is in the money, the position can be sold for a profit. When the open position is out of the money, the position can be sold for less than the investment amount in order to reduce a possible total loss. Some brokers do only offer to purchase one or the other (in or out of the money), but many do offer to purchase both. The question that most traders have is in relation to when to sell. There is no set answer to this question, as each individual has their own opinion about risk. However, as a general rule, selling is wise when the position is in the money, but the price action is erratic and could change direction. It may also be wise when it becomes clear that the position is not going to end well. Exiting the trade with some of the investment amount recovered can be the best move under these circumstances.
Rollover
Next up is Rollover. This feature makes it possible for traders to extend an open trade by pushing it into the next matching expiry period. Rollover should only be used when it seems clear that more time is needed in order for the asset price to move as predicted. There is a cost to use this tool, typically 30% of the initial investment amount. This extra cost makes it extremely important to only use the feature when analysis is showing that the price may perform as originally expected if more time is added to the trade.
Double Up
This is simply a trade replication tool which can be used to replicate a position that looks to be profitable. When used, all of the elements of the original trade will be applied. However, it is important to note that the replicated trade will start with the most current entry price, and not the entry price of the original trade. This can certainly make a difference in the outcome. For this reason, Double Up is best used when a strong price trend in a single direction is occurring.
Conclusion
All of the aforementioned features are elective, with the trader having to make the decision of whether or not to use them. They should be ignored during times when they are not likely to provide any benefit, and used when they could prove helpful. Although they generally work the same within all platforms, each binary options broker (see Binary Options brokers Rating here> ) may have their own specific rules for their use. Be sure to read and understand these rules prior to using any elective feature.