Pair options trading are a new variant of binary options trading that is perhaps one of the most interesting ways to trade binary options. While traditional binary options itself comes with various contract types such as Touch/Yield and so on, Pair options trading is entirely different and in most cases limited to a certain asset classes only. Pairs option trading was pioneered by Stockpairs.com (review) which initially started off by offering only pair options trading before venturing into traditional binary options. Sooner than later, regular binary options brokers also started offering pairs option trading for their traders.
Trading pair options requires a different approach than binary options. In this article we explain what are pairs trading and some tips to bear in mind while considering trading pair options.
What is Pair Options Trading?
Pair options trading are nothing but determining how one instrument trades in relation to other. As the name explains, Pair options combines two instruments either within an asset class (such as Google vs. Apple) or instruments between different asset classes (Gold vs. Apple).
So, when Google rises in relation to Apple's stocks, a CALL option is purchased on Google vs. Apple, or when you think that Apple outperforms Gold prices, then you would purchase a PUT option.
It is important to note here that prices are viewed rising or falling in relation to the other instrument and not individually.
The chart below gives an example of Apple vs. Google on the left side and the right side charts are subdivided into only Apple and only Google charts to illustrate Pair options.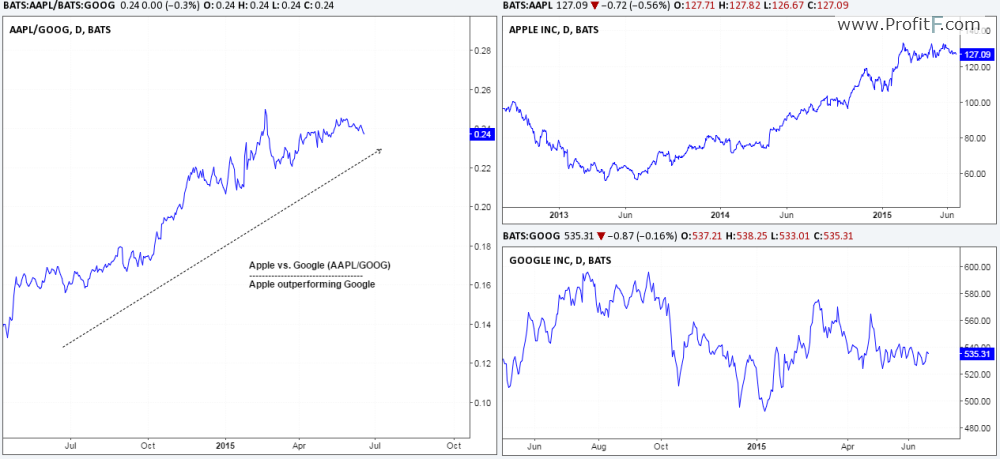 Apple vs. Google – Pair Options Trading
The chart above shows how the AAPL/GOOG pair options chart has been in a steady uptrend. On the right side, we notice that while Apple chart has been in an uptrend, Google's share price has been volatile, trending up and down. As noted earlier, Pair options trading is all about how price of one instrument performs in relation to the other.
In the above example, it is clear that Apple's shares have been outperforming Google's shares and therefore a trader would purchase CALL options on AAPL/GOOG.
The expiry for the Pair options contracts work similarly to regular binary options. In other words, if your contract expires in the money, then you get 85% profits.
Benefits of Pair Options vs. Binary Options
Pair options trading have certain distinct benefits over traditional binary options. The following list gives a summary of the advantages of Pair options over regular binary options.
Pair options trading is strictly between two instruments and is therefore Market neutral

Market sentiment does not apply to Pair options

The risk of return or profits from Pair options varies depending on how risky the instruments in the pair options are

Technical analysis of Pair options is the same as one would apply technical analysis to an individual stock or instrument

Pair options trading offers a good way to hedge against exposure to a particular instrument (Ex: If you have CALL options in Gold, you could hedge the risk by trading Gold/Apple Pair options)
As we can see from the above, pair options not only offers variety but also can be used as a way to hedge one's risk within binary options.
Pair Options Brokers
On our website you can find comparisson table of brokers that offers PairTrading. Here screenshot How you can do it: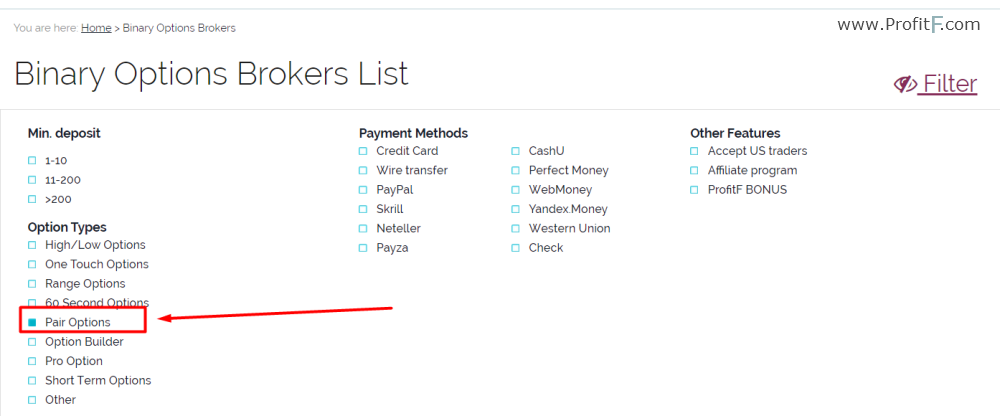 Read here How to choose Binary options broker