In this article, we explain :
What is Forex Mobile Trading
How to download Forex Mobile apps.
How to trade with Mobile app
Pros and Cons of Forex Mobile Trading
Forex mobile trading has taken the industry by storm and has become very popular among traders. With new and advanced touch and smart devices now available, it was only a matter of time that the retail forex industry caught up with the trend as well. Forex mobile trading has many benefits, one of the most obvious ones being that a trader is no longer tied to their PC or laptop and can in fact trade on the go from their handheld or tablet devices.
Forex mobile trading is now offered by almost every forex broker that offers MT4 trading (see best forex brokers here>>) and is compatible with Android, iOS and in some instances Blackberry devices as well. For traders who use a custom handheld or tablet device besides the above (such as Windows Surface), there is no direct apps available. However, traders can still be able to access their trading accounts via their mobile browsers and can manage their existing trades as well as placing new trades.
How to download and use a Forex Mobile trading app
Android users can download the MT4 version or MT5 version of the mobile trading apps by clicking on the respective links. The apps can be downloaded directly from the Google play store and is free of cost.
iOS mobile users can download the MT4 version or the MT5 version from the iTunes store for free.
The above forex mobile trading apps can be installed on both the Android and iOS phones as well as on tablets.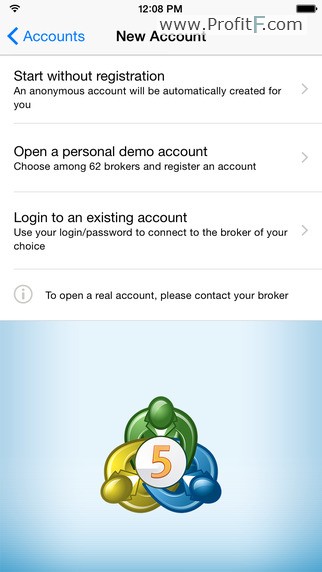 Once you download and install the above apps on to your phone or tablet, you can simply login by searching for the forex broker of your choice. You can of course create a demo account directly from the forex mobile trading app. As long as your broker offers MT4 trading, you are sure to find the forex broker from the search function. There is also an option to create an 'anonymous' trading account that you can use. You do not need to enter your personal details to use this feature and can be used as a quick way to get started with opening a trading account to trade from your mobile or smartphone device.
When it comes to the trading interface, depending on the screen size traders can enjoy the enhanced trading experience. The mobile forex trading app is divided into five main sections, which can be used to toggle between different screens ranging from viewing charts to placing trades to managing your existing trades as well as being able to access the 'news' section from the mobile MT4 trading platform. The main navigation sections are as follows:
Forex mobile trading: Quotes
 The Quotes interface gives you a list of the currency symbols and their bid/ask details. Traders can switch between the simple and advanced view to see the fractional pricing or the 5th decimal.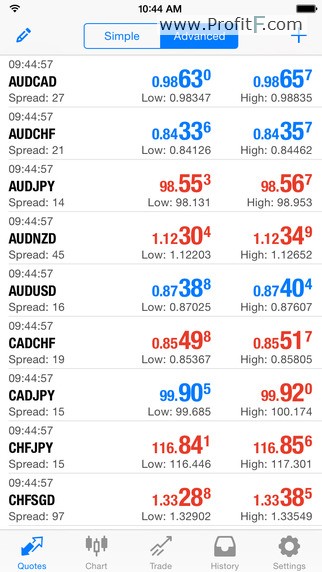 MT4 Quotes screen on mobile device
Forex mobile trading: Charts
Clicking on the 'Chart' function opens up the charting on the mobile interface. From the charting section, you can also select the instrument of your choice and also switch between the different time frames as well as being able to change the colors of the chart besides choosing between Candlestick or Line or bar chart. Clicking on the 'f' icon on the top of the screen opens up a list of default indicators that you can add to your mobile trading interface as well.
Charts interface on MT4 mobile
Forex mobile trading: Trade
The trade function opens a list of existing trades as well as displaying your current account balance. From the trade function tab, traders will be able to directly modify the trades including placing new trades as well.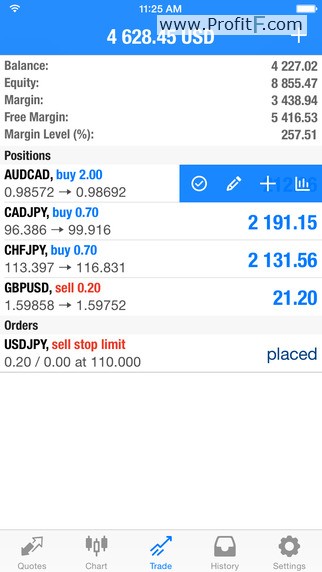 MT4 Mobile Trading – Trade Feature
Disadvantages of using Forex mobile trading
As you might have guessed by now, mobile trading interface will not allow you to run any automated trading strategies using expert advisors
You are also limited to using only the default set of indicators available in the mobile trading interface. So if you are used to trading with custom indicators, mobile trading might be a bit of a problem, although it will still allow you to manage and modify your existing trades. (Here you can find popular forex indicators for PC)
Advantages of forex mobile trading
It is simple and easy to use. There is no cost involved and you can download from the Google Play store or the iTunes store for free
For traders trading with price action or with only some of the default indicators will find forex mobile trading to be truly liberating