The Harmonic Cypher pattern is visually an inverse pattern of the more common Butterfly harmonic pattern (read more about  butterfly pattern). It is not as commonly occurring as the Butterfly pattern and is distinct by the strict rules that govern the Cypher harmonic pattern. The Cypher pattern was discovered and defined by Darren Oglesbee.
The chart below illustrates a bullish and a bearish Forex Cypher pattern.


Forex cypher pattern– Bullish and Bearish
The main rules of the Bullish and Bearish Cypher patterns are as follows:
Cypher Pattern –  Rules
The Cypher pattern starts with a market price that establishes the X and A points. Once this leg is determined, the pattern evolves.
Point B retraces to 0.382 – 0.618 Fibonacci level of the leg XA
Point C is formed when prices extend the XA leg by at least 1.272 or within 1.130 – 1.414 Fibonacci extension level
Point D is formed when it retraces 0.782 Fibonacci level of XC
Point D is also where prices are expected to reverse
Targets are determined as 0.382 and 0.618 Fibonacci retracement levels of the CD leg
Stops losses are placed a few pips below or above the high or low of point X

Forex cypher pattern Targets
Bearish Cypher Pattern – Sell Trade Example
The following chart illustrates a bearish cypher pattern example.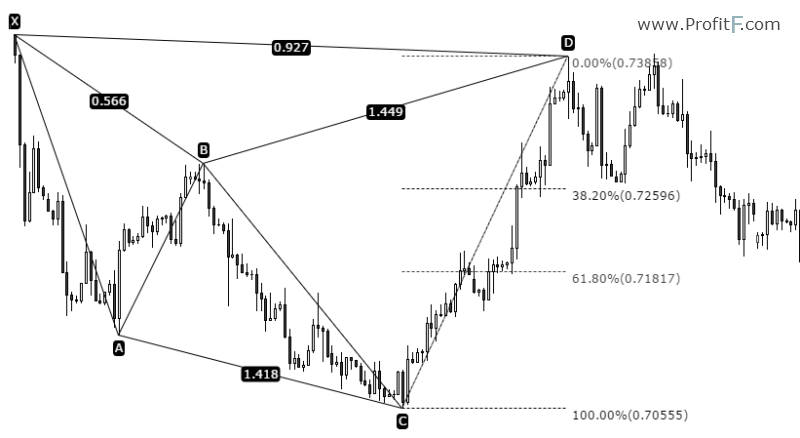 BearishCypher Pattern, Sell Set up
After forming the (XA) leg, price retraced to 0.566% to form point (B)
From (B), the (C) leg extended (XA) by a 1.418%
From (C), price then rallied to point (D), marking a 0.972% retracement of (XA)
The short position after point D saw prices falling to 0.382% and 0.618% of the CD leg with stops at the high above or near (X)
Bullish Cypher Pattern – Buy Trade Example
The following chart illustrates a bullish cypher pattern example.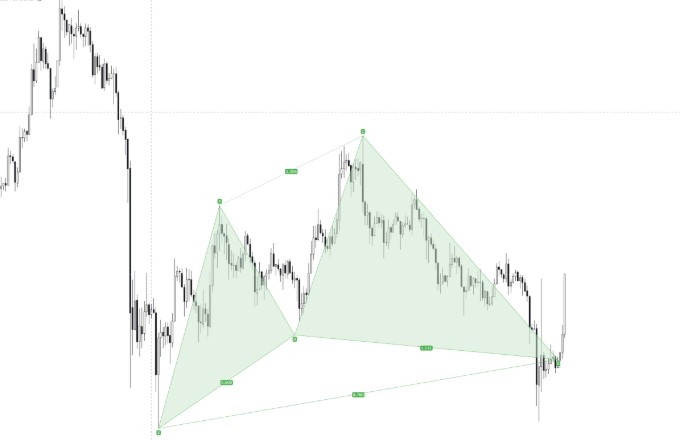 BullishCypher Pattern buy set up
After the (XA) rally, prices retraced to 0.462% to mark point (B)
From B, price rallied back but did not make a new high, but just close enough to point (A) high to mark (C)
From (C), prices then fell below (B) but above (X), retracing (XA) to 0.763
From (D), price then rallied to reach the 0.382% and 0.618% retracement level of (CD). The entry would have been a few points above (D) with stops at (X)
Important points when trading the Cypher Pattern
The cypher forex pattern is not as common as other harmonic patterns such as Gartley's or butterfly patterns
Although the occurrence of the cypher pattern is rare, it is by no means a pattern that offers a higher probability
Due to the rare occurrence of the cypher pattern, traders should make room for adjustments to the Fib levels
Waiting for the perfect cypher pattern will result in the trader watching the charts for a very long time with no valid set up occurring
The cypher pattern can occur on any time frame, but is best to use on H1 and higher
see other forex patterns >>