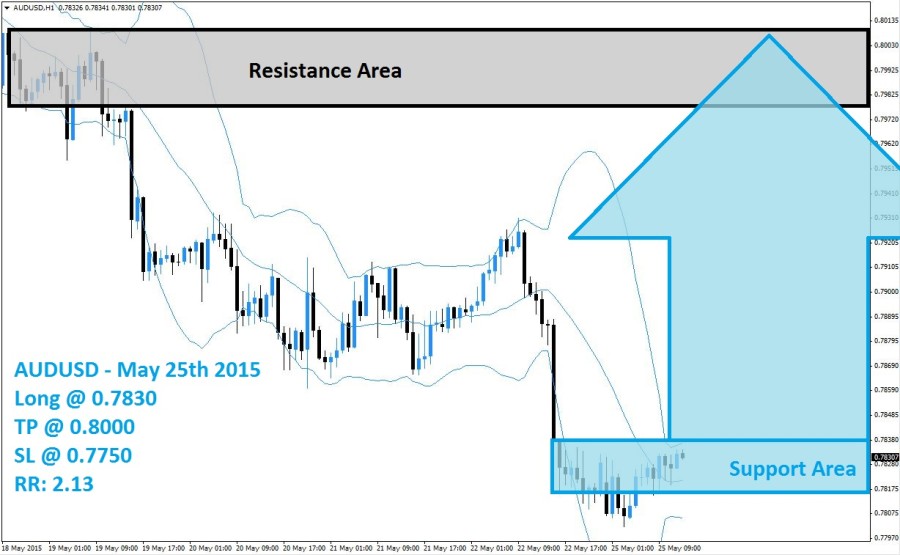 The AUDUSD dropped sharply after it failed to breakout from its sell-off. This currency pair first broke down below its resistance area which is visible in grey in the above H1 chart, but initially found support as the Bollinger Band indicator moved sideways. After an advance which took the AUDUSD from its lower Bollinger Band to its upper Bollinger Band fundamental factors led to a sharp plunge in this currency pair which is now trading inside of its support area visible in light blue in the above chart.
The sell-off kept the AUDUSD between its lower band and its middle band of its Bollinger Band indicator, but as the sell-off lost momentum once it dropped to its support area the AUDUSD broke out above its range and is now trading between its middle band and its upper band which resulted in a shift in momentum. Forex traders may decide to realize floating trading profits and lock in gains enjoyed from short positions. This will result in a short-covering rally.
Forex traders are recommended to enter long positions at 0.7830 and below in order to positon their portfolios for the expected short-covering rally which is expected to unfold once the AUDUSD breaks out above its support area. Conservative traders may wish to wait for the breakout to occur. A take profit target of 0.8000 is recommended for a potential trading profit of 170 pips on the H1 Chart. All three Bollinger Bands are pointing towards a sideways trend for now.
Forex traders should protect this trade with a stop loss level at 0.7750 for a potential trading loss of 80 pips which will result in a Risk-Reward (RR) ratio of 2.13.
AUDUSD
Long @ 0.7830
TP @ 0.8000
SL @ 0.7750
RR: 2.13