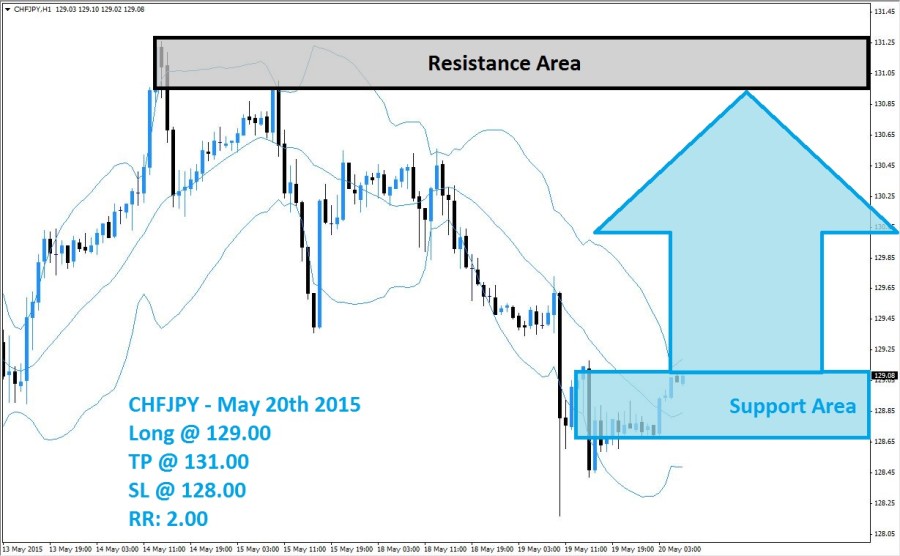 The CHFJPY is recovering from its breakdown below its support area, visible in light blue in the above H1 chart, and is now trying to breakout above it. The sell-off which dictated price action over the past few trading sessions appears to have lost its downward momentum and after what can be now classified as a capitulation sell-off low the CHFJPY reversed and with its reversal changed momentum. The breakout above its middle Bollinger Band has confirmed the momentum shift and the bias now remains to the upside.
The lower Bollinger Band has flattened out after a brief advance and the upper Bollinger Band is now sloping to the upside after bouncing off of its support area. Forex traders are likely to realize floating trading profits and close their short positions. This will create a short covering rally which may be powerful enough to take the CHFJPY back into its resistance area, visible in light blue in the above chart. A breakout above the upper Bollinger Band is expected to lead to an increase buy orders.
Forex traders are recommended to enter long positions at 129.00 and below as the shift in momentum indicates that the upside potential will outweigh the downside potential; conservative traders may want to wait for a breakout above its support area and the upper band of its Bollinger Band indicator. A take profit target of 131.00 is recommended for a potential trading profit of 200 pips on the H1 chart.
Forex traders should protect this trade with a stop loss level at 128.00 for a potential trading loss of 100 pips which will result in a Risk-Reward (RR) ratio of 2.00.
CHFJPY
Long @ 129.00
TP @ 131.00
SL @ 128.00
RR: 2.00