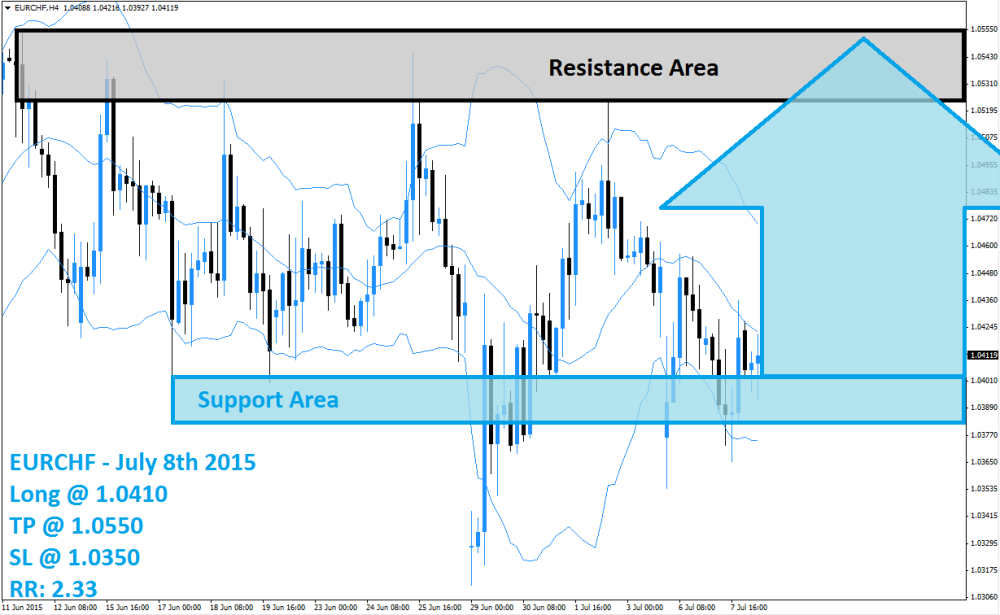 The EURCHF has endured hectic trading inside of a tight trading range. After a breakdown below its support area, visible in light blue in the above H4 chart, this currency pair reversed its sell-off and rallied on the back of short-covering to the bottom of its resistance are which is marked in light grey in the above chart. The Greek referendum over the weekend and the no vote which was delivered has a severe impact on price action.
After this currency pair touched the bottom of its resistance area forex trader took profits which dropped the EURCHF back down to its support area from where it is now in reversal mode once again. The Bollinger Band has support the sell-off as all three Bollinger Bands are sloping to the downside. The lower Bollinger Band is trading just below its support area and price action is located between the lower band and the middle band.
Forex traders are advised to seek out long positions at 1.0410 and below in order to take advantage of the expected rally which will take this currency pair back into its resistance area. Conservative forex traders should wait for this currency pair to breakout above the middle band of its Bollinger Band Indicator before going long. A take profit target of 1.0550 has been set for a potential trading profit of 140 pips on the H4 Chart. More buy orders are expected after the EURCHF break outs above its middle Bollinger Band.
Forex traders should protect this trade with a stop loss level at 1.0350 for a potential trading loss of 60 pips which will result in a Risk-Reward (RR) ratio of 2.33.
EURCHF
Long @ 1.0410
TP @ 1.0550
SL @ 1.0350
RR: 3.41