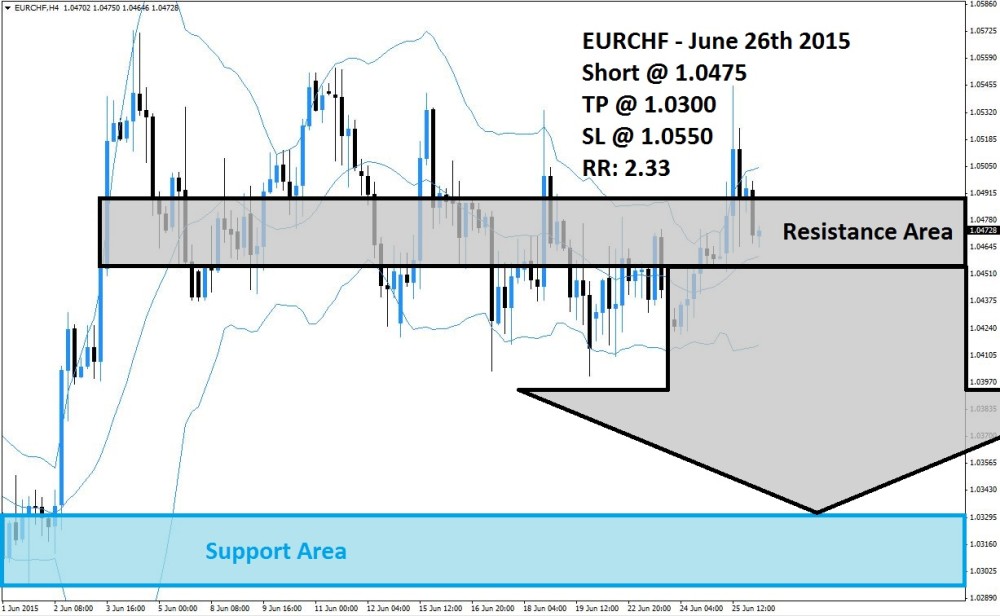 The EURCHF has traded sideways near its resistance area which is visible in light grey in the above H4 chart. The overall sideways trend saw several attempts at a breakout, but each one was reversed. A series of lower highs are visible which is a bearish trading signal and suggests forex traders have no reason to bid this currency pair higher. News out of the Eurozone in regards to the Greek debt crisis will dominate technical patterns and the sideways trend may continue until early next week.
Forex traders may realize floating trading profits and exit their long positons in the EURCHF should the sideways trend persist. This would lead to a profit taking sell-off. The lower band of the Bollinger Band indicator is also trading sideways, while the middle band as well as the upper band are sloping higher. The EURCHF is currently trading between the middle band and the upper band of its Bollinger Band indicator and a breakdown below the middle band could result in an increase in selling pressure.
In order to be positioned properly for the expected sell-off in the EURCHF, forex traders are advised to enter short positions at 1.0475 and above. Once price action will break down below the middle band of its Bollinger Band indicator an increase in sell orders is expected. Conservative forex traders should wait for the breakdown before entering this recommended trade. A take profit target of 1.0300 has been selected for a potential profit of 175 pips.
Forex traders should protect this trade with a stop loss level at 1.0550 for a potential trading loss of 75 pips which will result in a Risk-Reward (RR) ratio of 2.33.
EURCHF
Short @ 1.0475
TP @ 1.0300
SL @ 1.0550
RR: 2.33