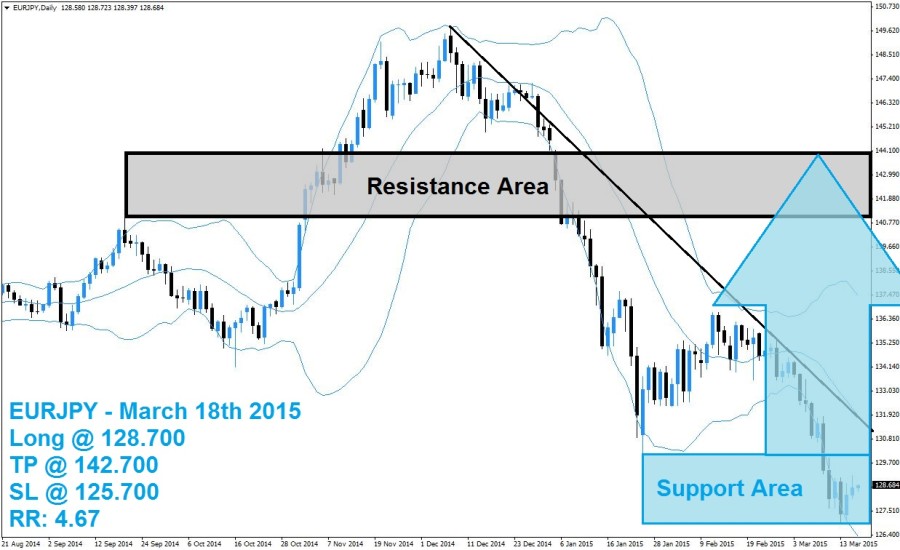 The EURJPY sold-off sharply after it broke down below its resistance area which is marked in grey. After this currency pair rallied into the higher band of the Bollinger Band indicator it started to lose momentum and reversed until it traded at the bottom of its resistance area. Selling pressure was strong enough to lead to a breakdown which was followed by new sell orders and the EURJPY sold-off heavily over a rather short period of time.
Once the EURJPY touched the top end of its support area, which is marked in light blue, price action managed to reverse some of the losses and the Bollinger Band indicator stabilized as well; but the bounce off of its support area was short lived as a descending resistance level halted the advance and this currency pair sold off until it reached the bottom of it support are. Now the EURJPY has once again started a bounce higher which is expected to last for several trading sessions.
A short covering rally is expected to take place as the EURJPY is trading in extreme oversold territory, but forex traders can capture a good amount of pips with long positions at 128.700 and below in order to position their portfolios for the short-covering rally. A take profit target of 142.700 is recommended for a potential trading profit of 1,400 pips on the H4 Chart. A breakout above the support area as well as the descending resistance level is expected to fuel the short-covering rally.
Forex traders should protect this trade with a stop loss level at 125.700 for a potential trading loss of 300 pips which will result in a Risk-Reward (RR) ratio of 4.67.
EURJPY
Long @ 128.700
TP @ 142.700
SL @ 125.700
RR: 4.67