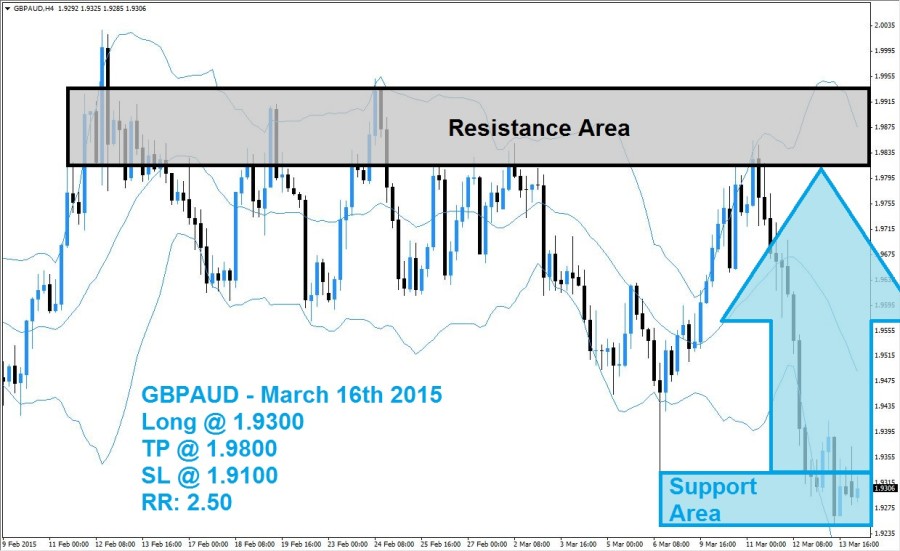 The GBPAUD was exposed to s sharp sell-off after it rallied from a previous breakdown below the lower band of its Bollinger Band Indicator to the bottom of its resistance area which is marked in grey in the above chart. Momentum was unable to carry this currency pair higher and as the technical picture weakened a dose of fundamental data which supports a weaker British currency was released and gave forex traders a reason to change course. This led to a sharp sell-off in the GBPAUD which has now found support inside of its support area which is marked in light blue.
Selling pressure is now slowly being depressed as the GBPAUD was able to prevent a breakdown below its current support area. An inverted hammer candlestick has formed which further supports a reversal in the downtrend. Forex traders are likely to realize floating trading profits and exit their short positions after a solid sell-off. This will result in a short covering rally which is expected to gather steam as soon as the GBPAUD will trade above its support area.
The GBPAUD is currently trading in oversold territory which limits more downside for the time being and forex traders are advised to look for long positions at 1.9300 and below in order to position their portfolios for the expected short-covering rally. A take profit target of 1.9800 is recommended for a potential trading profit of 500 pips on the H4 Chart. A breakout above its support area is expected to ignite the short-covering rally.
Forex traders should protect this trade with a stop loss level at 1.9100 for a potential trading loss of 200 pips which will result in a Risk-Reward (RR) ratio of 2.50.
GBPAUD
Long @ 1.9300
TP @ 1.9800
SL @ 1.9100
RR: 2.50