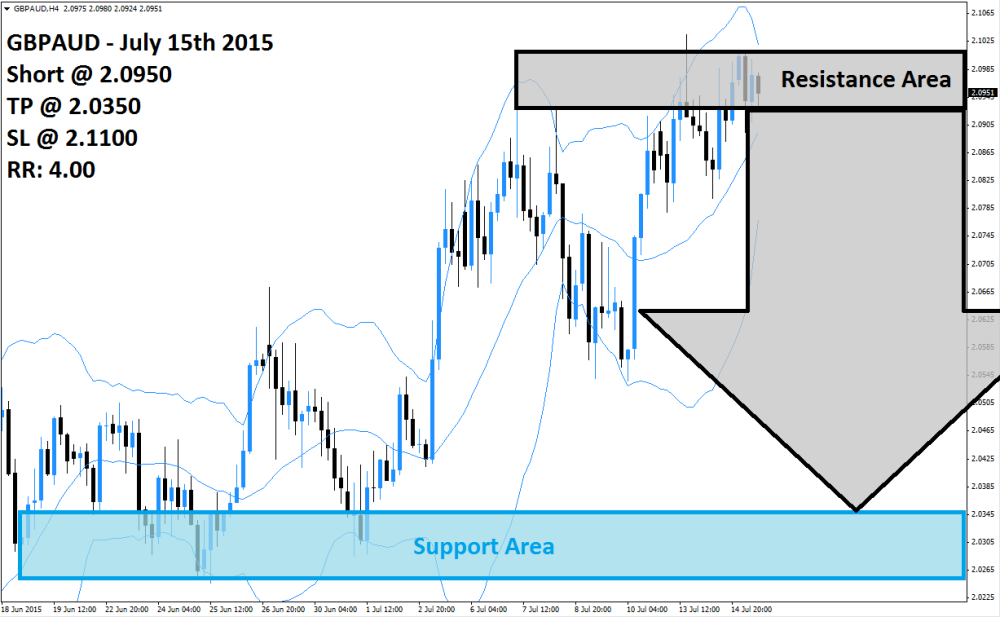 The GBPAUD has enjoyed a solid rally from its support area which is visible in light blue in the above H4 chart, but this currency pair has struggled with tis resistance area which is marked in light grey. The GBPAUD was reversed once before by its resistance area and is now facing the same outcome. Price movements in the GBPAUD have spanned several hundred pips and forex traders should expect the pattern to continue.
The Bollinger Band Indicator has started to divergence with the lower band and the middle band pointing towards a move higher while the upper band is starting to favor a price action reversal. Forex traders are expected to realize floating trading profits and exit their long positions as the resistance area offers a good opportunity to take positions for a profitable reversal. A breakdown below the middle band is expected to force a momentum shift.
Forex traders are recommended to enter short positions at 2.0950 and above in order to be positioned on the profitable side of the sell-off. Conservative forex traders are advised to wait for the GBPAUD to break down below the middle band of its Bollinger Band Indicator which will further decrease risk in the trade. A take profit target of 2.0350 has been selected for a potential trading profit of 600 pips.
Forex traders should protect this trade with a stop loss level at 2.1100 for a potential trading loss of 150 pips which will result in a Risk-Reward (RR) ratio of 4.00.
GBPAUD
Short @ 2.0950
TP @ 2.0350
SL @ 2.1100
RR: 4.00