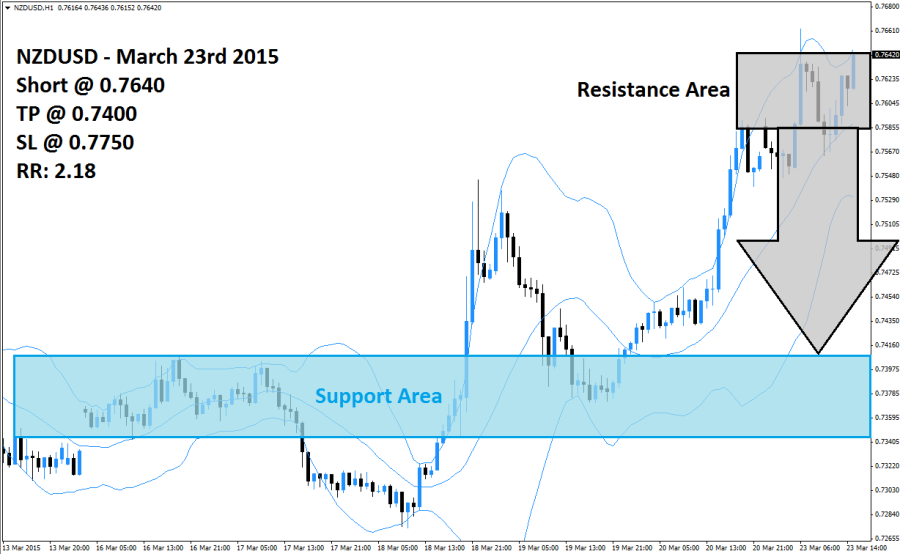 The NZDUSD rallied sharply after it briefly trade below its support area visible in light blue. This currency pair initially rallied sharply and broke out above its support area, but this move was countered by profit taking and the NZDUSD trended back down and inside of its support area while forming a higher low. From this level this currency pair initiated another powerful rally which has taken the NZDUSD to the top of it Bollinger Band indicator from where more gains may be hard to come by and a pause in the rally should be taken into consideration.
A retreat from the upper Bollinger band to the middle Bollinger Band is expected to take away more upward momentum and should price action breakdown below its middle Bollinger Band forex traders may decide to realize floating trading profits and exit their long positions. A breakdown below the lower Bollinger Band is likely to result in the addition of new net short orders which can take this currency pair back inside of its support area.
Forex traders should look for attractive short entry opportunities which are located in the area between the middle and the upper Bollinger Band which also forms the resistance area visible in grey in the above chart. For a short entry at 0.7640 a take profit target of 0.7400 has been selected for a potential trading profit of 240 pips. Any potential breakout above the resistance area is expected to be temporary and would represent a better entry opportunity into this recommended short trade.
Forex traders should protect this trade with a stop loss level at 0.7750 for a potential trading loss of 110 pips which will result in a Risk-Reward (RR) ratio of 2.18.
NZDUSD
Short @ 0.7640
TP @ 0.7400
SL @ 0.7750
RR: 2.18