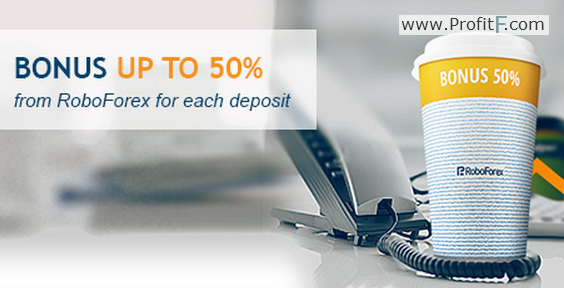 Broker: RoboForex (review)
Name: Trading Bonus Up To 50%
Bonus Duration: until cancellation
Bonus size: up to 50%
Maximum amount of bonus: $15000
Bonus for: New Traders, Existing traders
Withdrawal requirements: Trader need to make a trading volume in the amount of Number of lots> = Total amount of Bonus in USD
Link: RoboForex 50% Forex deposit bonus
Robo Forex 50% deposit bonus Agreement
Source: roboforex.com
Forex Deposit Bonus is available for all traders with MetaTrader4 (MT4) accounts: Fix-Cent, Fix-Standard, Pro-Cent and Pro-Standard (except for CopyFX and ContestFX accounts).
Deposit Bonus is up to 50% of the payment you make via automatic deposit service in your Live Account. Other ways of depositing trading accounts (for example, via trading terminal) do not participate in the "Forex Deposit Bonus up to 50%" program. The total sum of all bonuses on one account (depending on the account currency) can't be more than 7,500 USD / 7,000 EUR / 45,000 CNY /6,250 GOLD. Maximum amount of bonuses on all of the client's accounts can't be more than 15,000 USD / 14,000 EUR / 90,000 CNY / 12,500 GOLD.
All deposit bonuses can't support reserve and can't be used for the maintenance of an opened orders i.e. your current bonus will be written off the account, if the equity (see figure below) on your account is less than the sum of active bonus. Note: Information on minimum Equity, after which the bonuses are written off your account, can be found in "Your Bonuses" section of Live Account.
Until all requirements of the program aren't met, you aren't allowed to withdraw a sum which exceeds your Profit, which is calculated from the amount of free reserve (Free reserve – see figure below). The profit is calculated according to the following formula:<Profit available for withdrawal> = <Free reserve> – <Sum of all active bonuses> – <Sum of the deposits, to which bonuses are transferred> Note: if you have open orders on your account, Free Reserve may be different from Equity.
A client has a right to decline the bonus program of the RoboForex. In this case they can withdraw sums from their account without any limitations and restrictions, and the bonus is written off the account.
The bonus program has no limitations on the number of bonus accounts or a number of bonus transactions.
Get RoboForex 50% deposit bonus
Find other Forex Deposit Bonuses