Nihilist forex strategy is one of the most popular trading strategies that is available free of cost. Although it comprises of many different indicators, once a trader is well accustomed to trading this system, it makes for a well versed and fully complete trading strategy that is primarily targeted for the higher time frame such as H4 and Daily charts.
Strategy Set up
Nihilist_Ultra_Trend_V2
Nihilist_Trend_Filter_1
Nihilist_Trend_Filter_2
Nihilist_Ultra_ADX
Nihilist_Ultra_ADX_Dash_mtf
Nihilist Forex strategy Rules
Short Set up:
1st histogram (ultra trend)- Red.
2nd histogram (utf-1)- red or orange
3rd histogram (utf-2) – red or orange
Long Set up:
1st histogram (ultra trend)– Lime
2nd histogram (utf-1)- lime or dodgerblue
3rd histogram (utf-2)- lime or dodgerblue
Exit Rules:
after decent profit (it's up to you)
run the trade until got the opposite signal.
can be used weekly support/resistance.
you can use trailing stop.
or fixed TP- 50/100/150/200/ or more . (by reading the Higher tf like D1 & Weekly.)
Strategy Examples
Long Set up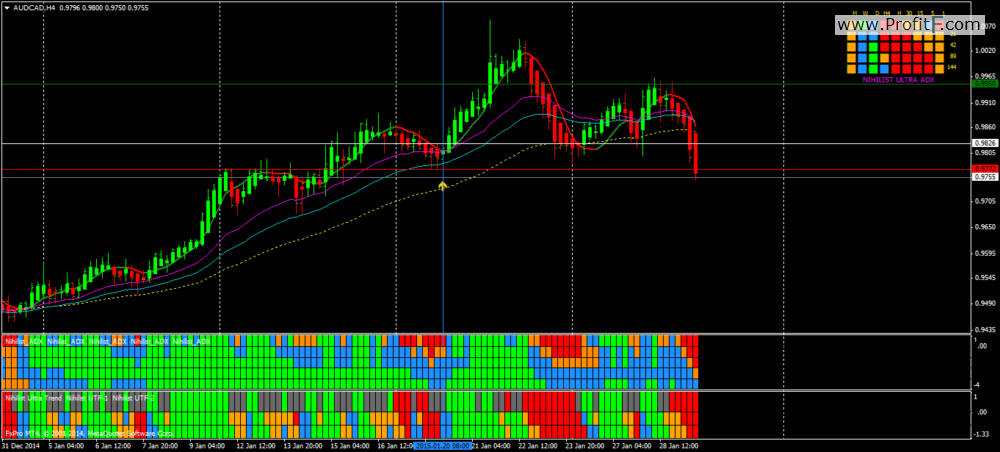 The chart above shows the candlestick marked where all the indicators show agreement for a long set up.
A long position is entered on the close of the candle, with the profits being trailed until an opposite signal is generated
The stops are placed at the low prior to the candlestick that signaled the long trade
The long trade quickly resulted in a profit
Short Set up
In the chart above, the candlestick marked with the down yellow arrow points to the price zone where all the short characteristics are met
With all the indicators showing an agreement for a short trade, the trade is entered after the candlestick closes with stops placed just above the high
In this case, the short trade's take profit level is taken until the oscillators show us about a change of the short term trend.
The short position would have resulted in a profit
Conclusion
Although Nihilist forex system might seem complicated it follows a series of logical buy/sell rules. With enough practice using this trading strategy, traders can easily trade this system on higher time frames as well as modify it to suit their requirements.
Download Nihilist forex strategy >>
(Indicators and Templates, How to install MT4 indicators >>)