TMS  forex system uses different indicators and helps to traders to find the best set up for opening new order. This trading system includes indicators such as:
Awesome oscillator
Stochastic oscillator (8,3,3)
ATR(7)
Traders Dynamic Index (TDI mfs)
TMS Angleator
EMA50(close) + EMA10(close) EMA200(close) + EMA800 (close)
Auto Pivot Plotter Weekly
Daily Open Line
Pip Counter
Synergy APB1 Alerts
How to install MT4 indicators >>
The TDI indicator and Synergy_APB1 are the main part of this trading system, as the other indicators such as EMAs, Stochastic and Awesome oscillator are additional help the traders to find the direction of the trend and what level is good for open order.
Daily Open Line and Auto Pivot Plotter will help you to determine where to put the stop loss and take profit.
So how really works TMS  forex system?
Before making your trade with this trading strategy, you must use mainly 30 minutes chart for open and close of your forex trade. Yes, you can also check other time frames such as 15 minutes, 1 hour or 4 hours chart, because it is very important to estimate the risk, but many traders use mainly 30 minutes chart.
Strategy example
TMS forex system Long Set up:
The Basic rule for long set up withTMS system is when TDI indicator showing that the green line crossed the red line, this is a signal for buy. THE BEST signal is when the green line crossedthe red line and also these lines are above the yellow line. This is how really works M30 Traders Dynamic Index.
As you can see on the chart, you will also receive signals for buy or sell with arrows. Important! You must trade away from The Daily Open Blue
line, EMA200 and Weekly S/R.  Keep in mind also the volatility, so you can use awesome oscillator. When EMA10(orange) crossed EMA50(purple)also confirm the signal for buy.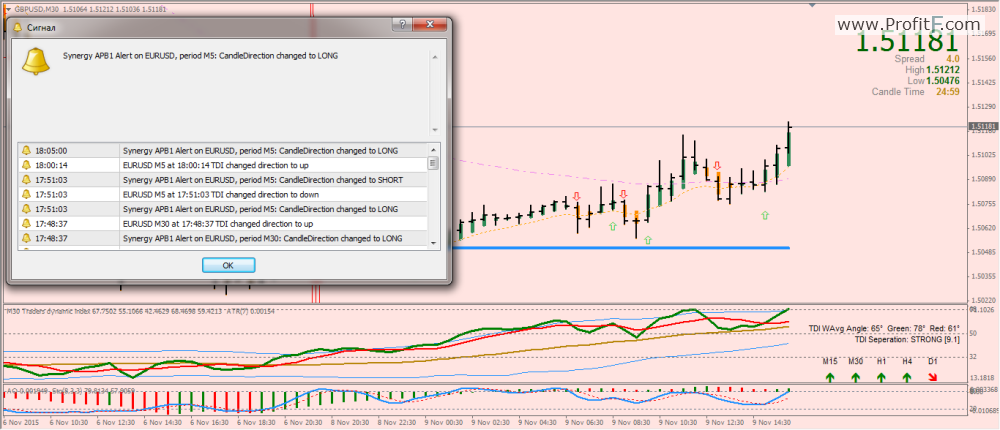 To confirm completely the bullish signal, you must follow Synergy APB indicator. This indicator will show you and send you alerts for candle direction changed.
Finally, you can use Stochastic oscillator (8,3,3) and all of above signals to find good level for opening trade.
You can use different trading time: Frankfurt Open(FO), London Open (LO), New York open (NY), as you wish.
TMS forex system Short Set up: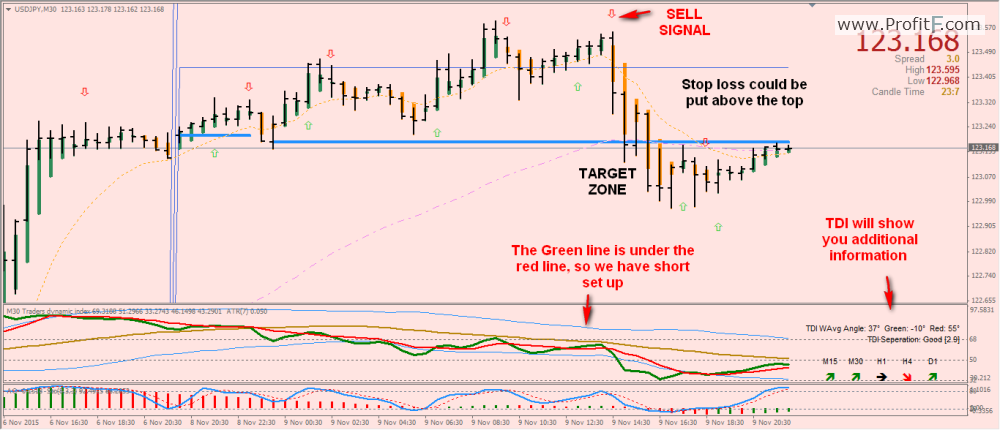 The Basic rule for short set up with TMS forex strategy is when TDI green line crossed the red line and these lines are under the yellow line, so this is a signal for short.
You must watch for TDI signals and also confirmation from the other indicator – Stochastic, Awesome oscillator and others.
Stop loss could be put above the top or above the sell signall arrow. The Blue Daily Open Line could be good for target zone. We recommend you to move your stop loss at plus, when your trade is profitable. So in this way, you will do the risk lower and also you could catch additional pips, if the movements continue.
Conclusion
TMS forex system is good for scalping the forex market. The combination of different forex indicators is great way to identify the next movements.