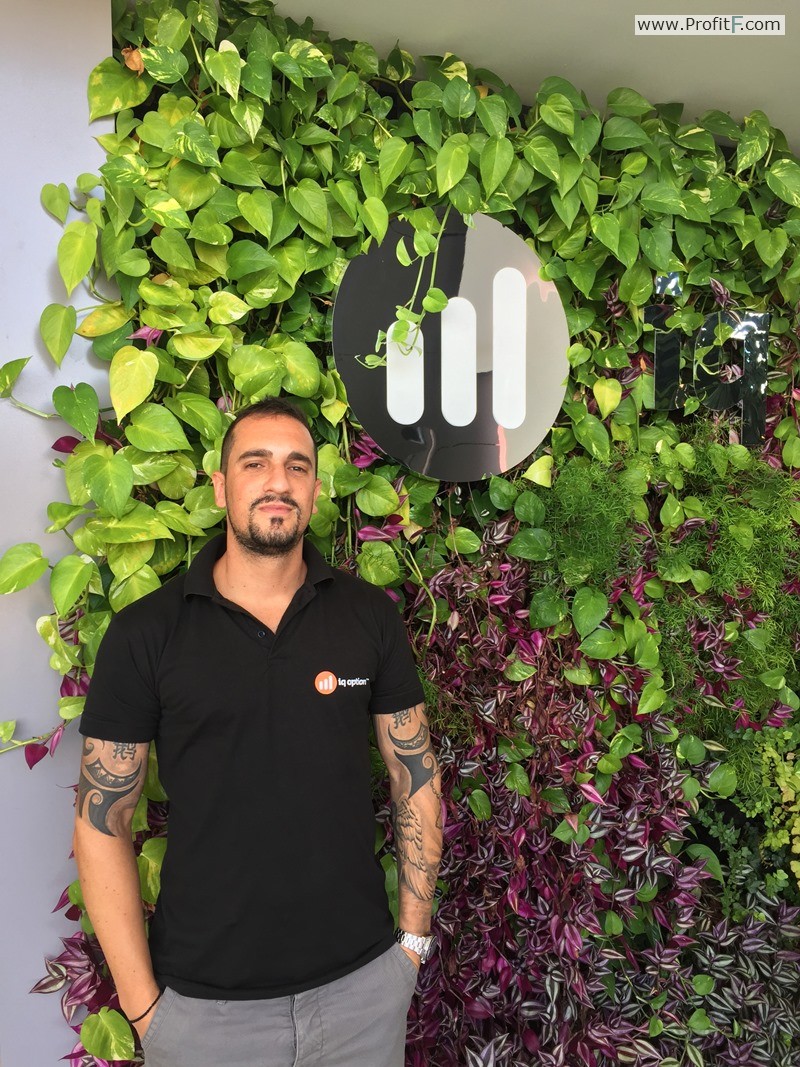 Modestos Papas
Interview with "IQ Option VIP Account Manager" (English speaking)
Modestos Papas 
During our lives, we travel many different paths which eventually lead us to the road we were made for. Mine was physical, having worked and travelled on a cruise ship for 4 years experiencing the cultures and lives of the world we live in. This came to an end when I decided to live a steady homebound life and found myself with 6 years experience working for a bank, on the beautiful island of Cyprus. I knew that the bank was merely the last stage of where my path was to lead me, and here I am today where I belong – IQ Option. The trading world was new to me, and so learning day by day became a huge part of why I love my job.
IQ Option – OUR PRODUCTS
As traders, we know that this market never stops working and neither should we. Innovatively IQ Option remains one step ahead of the industry, building and introducing the most amazing platform. A trader may require different ways of trading and being so, our platform began with Binary / Turbo trading, only to take from those forms and reimagine the trading instruments in a way we know them now – Digital Options, Forex, CFD, Cryptocurrencies and who knows what's next. The future is in the hands of IQ Option!
IQ Option – CRYPTOCURRENCIES
I have taken a personal interest in Cryptocurrency trading, after learning what it is and how to trade on it. This derivative is presented to you by just a click of an option button. A Cryptocurrency is a digital coin which holds a value. Have you heard of BITCOIN, ETHEREUM, IOTA? These are some examples of the available cryptocurrencies. You make an investment in one of the coins by exchanging your currency for a unit value of the coin. Having no expiration time on your option, you can monitor it on a daily basis, monthly basis or even yearly basis. You can close the position and claim your results at any time if you feel like it.
Thank you technology, thank you IQ Option!
TRADERS' COMMON QUESTIONS
As an account manager, it is my job to speak with my clients and answer any and all questions they might have, building a relationship that offers a high level of rapport and personal connections.
"How do i analyse the market Modestos?" "Well, I'm glad you asked – market analysis is the step one to becoming a real trader!"
TECHNICAL ANALYSIS: We have a variety of trading indicators, which are used on our platform, to build a guideline of trading the most effective way.
12 indicators offered can be used in many different ways to technically analyse the market movement. When I am asked: "which indicators are the best?", my answer is: "let's learn them all".
Thereafter, making certain adjustments to a trading indicator becomes so interesting, that technical analysis is a second nature.
FUNDAMENTAL ANALYSIS: Fundamental to me first sounded like something difficult, but taking the words "FUN" "DA" "MENTAL" in my terms means, having fun, mentally analysing da market!
Being able to follow the world news, companies figures, financial institutions, gives a trader the ability to understand the nature of movements of the assets they are trading on. What has affected EUR/USD?
Why has the earnings report for a company shown such results?
President Trump made a speech, why would USD be affected in any way? The only way to know is to analyse.
"Success is no accident. It is hard work, perseverance, learning, studying, sacrifice and most of all, love of what you are doing or learning to do."
---
Read our Review of IQ Option>>
Open account with IQ Option >>
General Risk Warning: The financial products offered by the company carry a high level of risk and can result in the loss of all your funds.  You should never invest money that you cannot afford to lose;