NOTE: Your opinion is very important to us. Use tab "Comments" in top of the page to write your comment/review/feedback, if you have any experience with "BinaryOptionsRobot !

Trading Style: N/A
Trade Expiry: Daily trades and 60 seconds.
Assets: Multiple Assets.
Brokers:
Porter Finance,
OptionFair (Not recommended by ProfitF),
24Option (Not recommended by ProfitF))
Recommended Minimum Deposit: $500.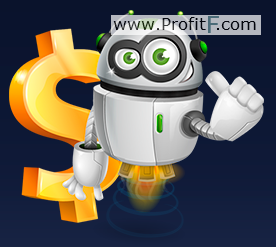 BinaryOptionsRobot is probably themost popular binary options auto trading software available. The developers have created a binary options trading software to trade with several regulated Binary options brokers taking opportunities as they unfold in the market. BinaryOptionsRobot, created in Denmark, has been available in the market. One of the things that make BinaryOptionsRobot stand out from the rest is the fact that its website has no exaggerated promises or sales videos targeted to make the visitor sign up.

Registration for the BinaryOptionsRobot is easy and involves opening an account with by filling in personal information on their website and then choosing one of the available brokers. One can then proceed to deposit funds to the broker and auto trading is activated.

BinaryOptionsRobot Registration Process
The minimum amount recommended for trading is $500, however, optimum trading conditions are achieved with a $1000 deposit and bet amounts of $25.
BinaryOptionsRobot Strategy
BinaryOptionsRobot applies martingale in its trade bets. (Read more about Martingae here >>) However, it uses the Fibonacci sequence in its martingale steps where the trade bet is increased after a losing trade according to the Fibonacci numbers. BinaryOptionsRobot has four levels of risk;low, moderate, medium and high. Lowering the risk level will reduce the number of trade signals generated but will increase the probability of winning which makes it much secure. The user can also set the daily risk level to limit the amount of total bet size to risk for the day.
Assets available to trade with BinaryOptionRobot depend on the broker chosen hence the user should choose the broker to suit the trading assets preferred. One can easily choose the assets to activate trading on by turning them on/off.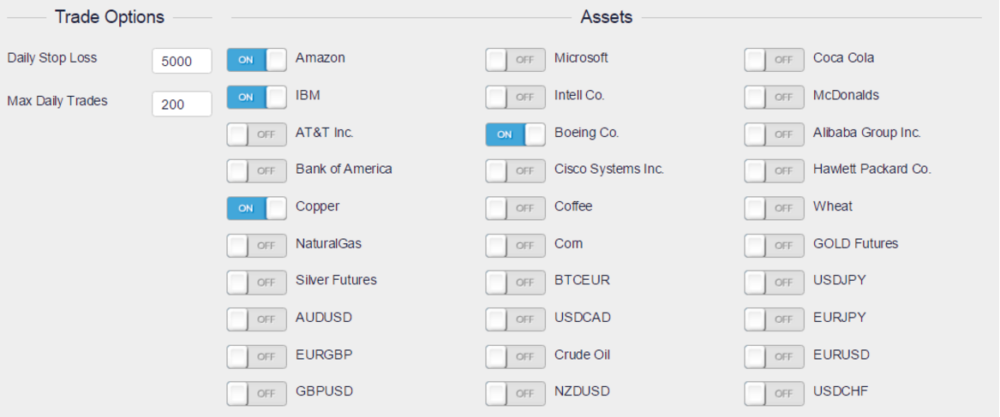 Figure; BinaryOptionsRobot Assets Example
Binary Options Robot – Features
Most features are unlocked by upgrading to the VIP account of BinaryOptionsRobot. The VIP level is also free but requires one to refer a friend in order to unlock. One friend referred unlocks two months of the VIP level, hence one is encouraged to refer as many friends as possible to gain years of the VIP level. These are some of the features available in the VIP level of BinaryOptionsRobot;
Risk level; one can choose between the four risk levels; low, moderate, medium and high.
Trading strategies;BinaryOptionsRobot has four different strategies to choose from each with different trading algorithms. The user has the choice of using only one or more of the trading strategies at once.Users are advised to use a single strategy at a time on one trading asset. The strategies available are;
Wise Growth Strategy
Perfect Pitch Method
High Yield Systems
Capital Gain Cue
Expiry time settings;users can choose between long term trades and 60 second trades, the later being more risky.

Figure; BinaryOptionsRobot VIP Account Feature
Reverse trading; if the user thinks that the signals generated by BinaryOptionsRobot are false, he can activate this feature and an opposite trade to the one generated will be placed in the market instead.

Figure; BinaryOptionsRobot Reverse Feature
Trade History tab; all the trades placed by BinaryOptionsRobot on behalf of the user are recorded and available from this tab.
"BinaryOptionsRobot" – Pros and Cons
Pros
Binary Options Robot is absolutely free (if you'll sign-up to BO brokers recommended by BinaryOptions Robot via their aff. link )
It is available for several regulated brokers
Trading is done on multiple assets
No exaggerated results
100% automated
Web based; no downloads required
Stoploss feature
Easy to signup
Support is available in English, French, German, Dutch, Arabic and Russian
Cons
No demo version for testing is available. BinaryOptionsRobot is available for real account users only
Upgrading to VIP features requires at least one friend referral every two months
It is an online web based software; hence one has to be online for BinaryOptionsRobot to make trades
You can not change algorithm in this robot (However, if you want to create your own Binary Robot, pay attention at service for creating  binary options robots – IQ Robots)
Conclusion
Trading Binary Options; especially those with 60 seconds expiry, involves a lot of discipline and can be difficult to execute manually. BinaryOptionsRobot takes this emotion out of trading by executing trades on your preferred binary options broker. One can also choose to trade conservatively or take more risk by choosing between the risk levels available. With all the features available for the user to customize; BinaryOptionsRobot is not only one of the most popular, but also one of the best Binary Options auto trading software available.
---
Please post comment/review about this "Binary Options Robot", if you have any experience with this robot!