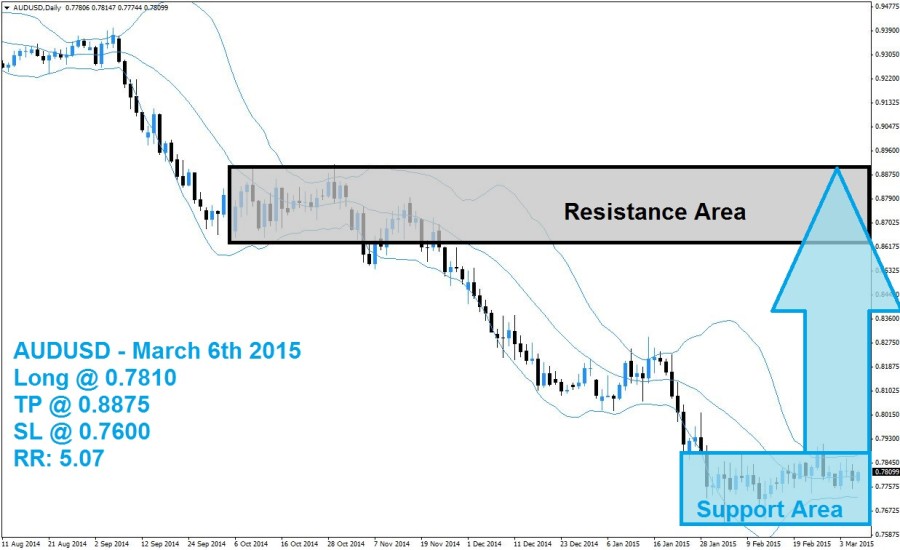 The AUDUSD was caught in a strong sell-off which most recently broke down below a very solid support area and has been turned into its next strong resistance area visible in grey. The breakdown followed a brief sideways trend after a breakdown, but fundamental data caused a new wave of sell orders and the AUDUSD sold-off further and deep into extreme oversold territory. A new sideways trend followed as this currency pair is trying to create a new support area from where a counter-trend rally is possible.
Forex traders may realize floating trading profits at its current support area and close existing short positions as the Bollinger Band Indicator is currently confirming support. This makes new short orders unlikely and fundamental data released today is expected to invite a short covering rally as the NFP report out of the US is expected to show slower job creation than before. A breakout above its upper Bollinger Band, which is currently trading at the top of its support are, is expected to invite new net long positions.
The final technical buy indicator is provided by a minor ascending support level which has inclined the lower Bollinger Band and forex traders should seek entry positions located between the lower band and the middle band. A take profit target of 0.8875 is recommended for a potential trading profit of 1,065 pips on the Daily Chart. A breakdown below its intra-day low and the bottom of its support area is not expected unless today's NFP report surprises to the upside. (see NFP dates here)
Forex traders should protect this trade with a stop loss level at 0.7600 for a potential trading loss of 210 pips which will result in a Risk-Reward (RR) ratio of 5.07.
AUDUSD
Long @ 0.7810
TP @ 0.8875
SL @ 0.7600
RR: 5.07