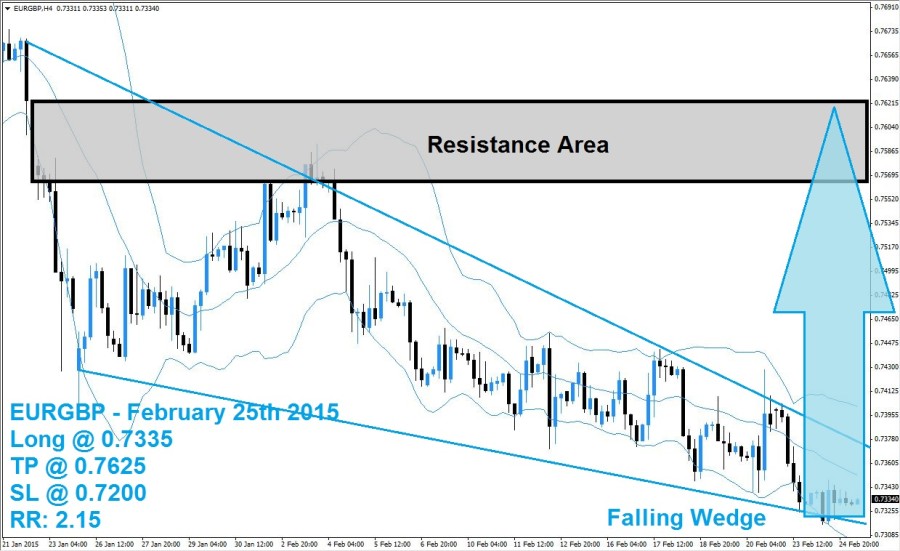 The EURGBP has sold-off heavily over the past few trading session as uncertainty over Greece and the renegotiations over the bailout, which are still not finalized, have reversed a previous attempt at a breakout rally. This failed breakout should not be taken as a disappointment as the formation of a falling wedge formation developed out from it. This is a bullish chart pattern and suggests that we could see a bigger trend reversal. The finalization of the Greek situation could provide the spark necessary for a sharp rally in this currency pair.
The EURGBP is extremely oversold at current levels and a short-covering rally should be expected as forex traders will realize floating trading profits and close their existing short positions. A green light on Greece will remove some of the headwinds for the Euro and new net long positions in the EURGBP are possible. The current combination of technical indicators with fundamental expectations favor long positions in this currency pair at 0.7335.
Price action is currently trending lower at its descending support level where it is greeted by the lower Bollinger Band. A breakout above the mid Bollinger Band is expected to invite new long positions and forex traders should set a take profit target at 0.7625 for a potential trading profit of 290 pips. A breakout above its descending resistance level is expected to initiate the short-covering rally. Forex traders should also expect choppy trading until the Greek deal is approved.
Forex traders should protect this trade with a stop loss level at 0.7200 for a potential trading loss of 135 pips which will result in a Risk-Reward (RR) ratio of 2.15.
EURGBP
Long @ 0.7335
TP @ 0.7625
SL @ 0.7200
RR: 2.15