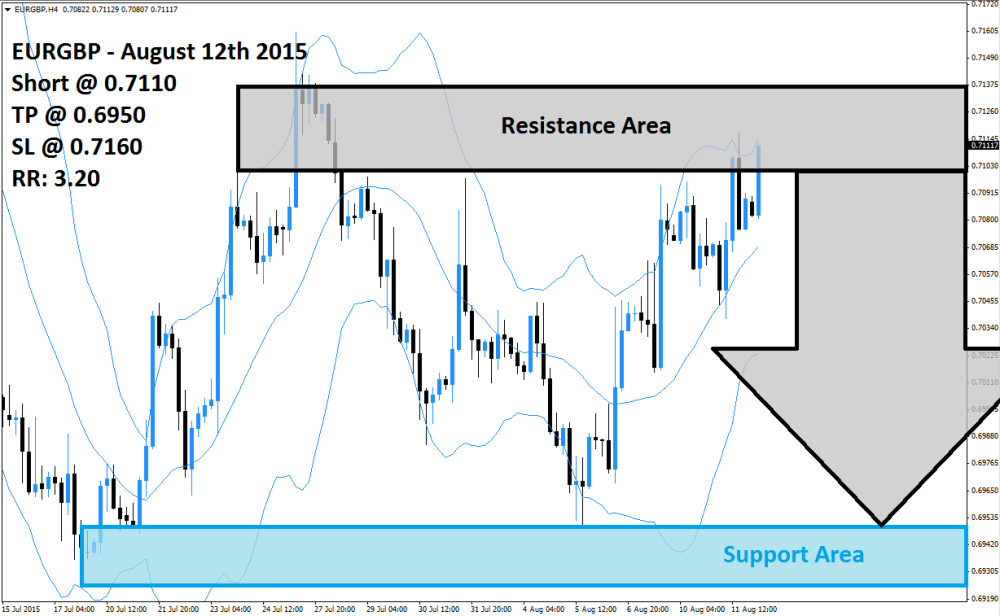 The EURGBP has rallied after a previous sell-off took this currency pair from its resistance area, marked in light grey in the above H4 chart, all the way down to its support area which is visible in light blue. The rally has now once again taken the EURGBP into its resistance area, but a double top may be created and this currency pair is not expected to be able to continue its rally. Forex traders hoping for more upside should be cautious
The strong rally is now stuck and forex traders may decide to realize floating trading profits inside a solid resistance area. This could lead to a profit taking sell-off as existing long positions will be closed. The Bollinger Band indicator shows all three bands sloping to the upside, but the upper band has started to show a decrease in its rate and is trading inside of its resistance area. A sideways trend could allow this indictor to catch up to price action before a sell-off will start.
Forex traders are advised to enter short positions at 0.7110 and above in order to be well position for the expected profit taking sell-off in this currency pair. Conservative forex traders should wait for price action to break down below the middle band of its Bollinger Band Indicator which will increase selling pressure. A take profit target of 0.6950 has been selected for a potential trading profit of 160 pips.
Forex traders should protect this trade with a stop loss level at 0.7160 for a potential trading loss of 50 pips which will result in a Risk-Reward (RR) ratio of 3.20.
EURGBP
Short @ 0.7110
TP @ 0.6950
SL @ 0.7160
RR: 3.20