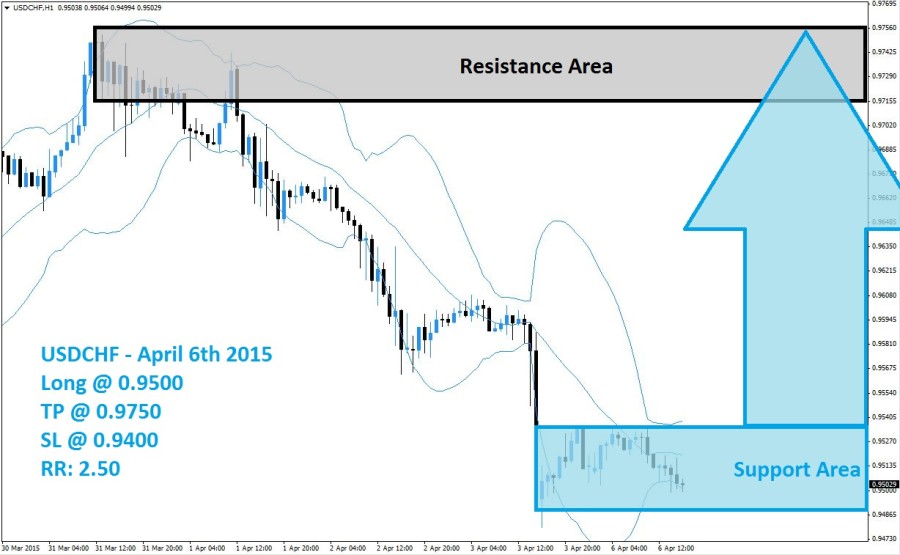 The USDCHF resumed its sell-off after Friday's NFP report delivered yet another disappointment to forex traders. Not only did the report come in at roughly have of expectations, but the prior two months were revised lower which left the US Dollar unprotected against an acceleration of the sell-off which started after this currency pair was unable to breakout above its resistance area, marked in grey in the above H1 chart, but the USDCHF may be in for a pause and some sideways trading until another catalyst will emerge.
The Bollinger Band indicator has been wrapped around the sell-off for the most part, from the start of it when the top band prevented further upside until the selling stopped with the low band breaking down below its support area, marked in light blue in the above chart. The middle band has acted as a strong resistance level and further applied strength to the sell-off. The support area appears to be holding up and the Bollinger Band indicator started to point towards a sideways trend. The more time the USDCHF can spend inside of its support area the less likely a breakout is.
Forex traders are advised to seek out profitable long opportunities in their forex portfolio with long positions at 0.9500 and below. More negative surprises out of US data are not expected during the next few trading sessions. A take profit target of 0.9750 is recommended for a potential trading profit of 250 pips on the H1 Chart. A breakout above the support area is expected to fuel a short-covering rally and further power this currency pair ahead.
Forex traders should protect this trade with a stop loss level at 0.9400 for a potential trading loss of 100 pips which will result in a Risk-Reward (RR) ratio of 2.50.
USDCHF
Long @ 0.9500
TP @ 0.9750
SL @ 0.9400
RR: 2.50